Mount Holyoke Study Abroad Program in Montpellier, France
Mount Holyoke Study Abroad Program in Montpellier, France
Undergraduate
Live and learn in the ideal location of Montpellier, France — a vibrant, historic city, where speaking French is a must and opportunities to experience French culture abound. Take courses alongside French students at the Université Paul Valéry (UPV), and make friends that will last a lifetime. This program is open to students from any institution.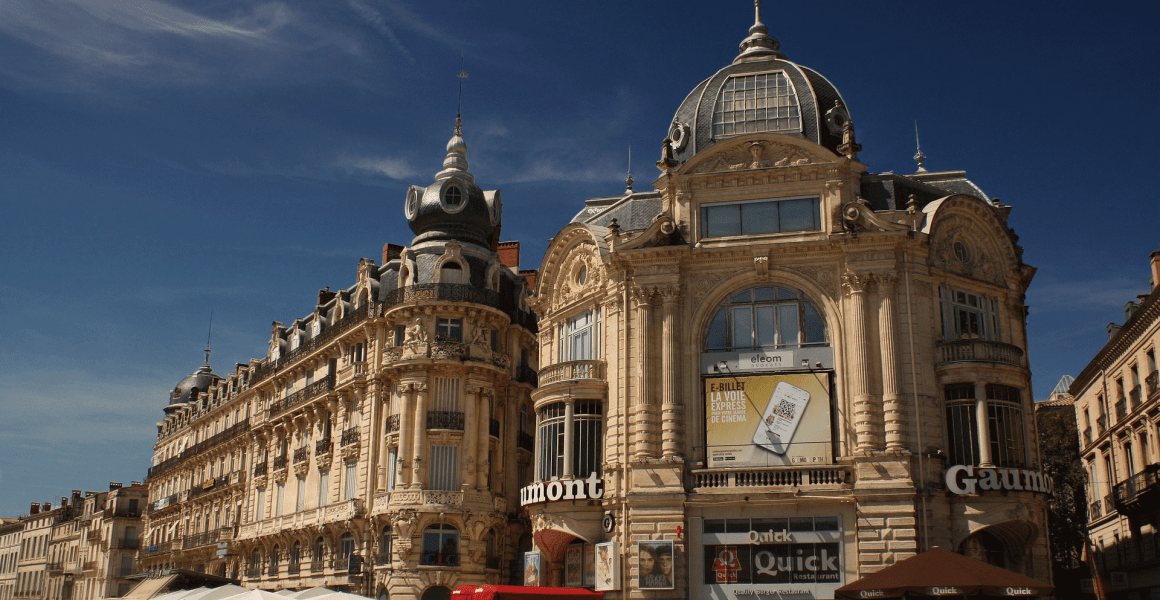 Program Overview
You will enroll in regular courses alongside French students at Université Paul Valéry, the liberal arts campus of the University of Montpellier. This unique opportunity allows you to experience French university life firsthand, to sample a wide variety of courses, and to make friends with French students. UPV is located in a 25-acre park within walking distance of downtown Montpellier. More than 15,000 students are enrolled each year in a wide range of courses in the humanities and social sciences.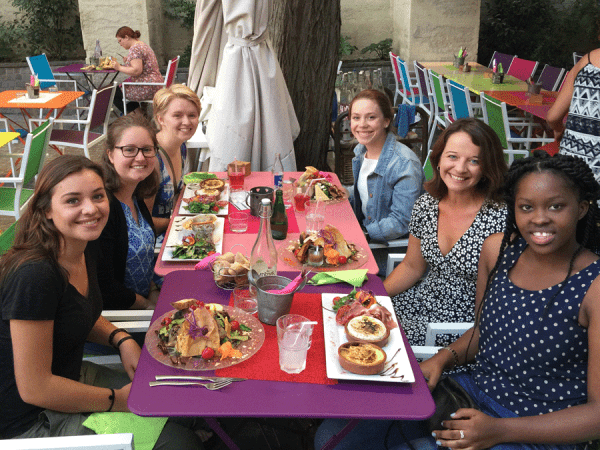 Additional Study Locations
If you have a strong background in French but are majoring in the sciences or mathematics, you may qualify to take one or two courses per semester at the Université des Sciences et Mathématiques, located across the street from UPV.  Dance majors or minors may qualify to take a contemporary dance class at the Conservatoire de Montpellier.  Religion majors or minors may qualify to take one course per semester at the Faculté de Théologie in Montpellier.  If you are interested in political science you may take one course during the fall semester only at the Université des Sciences Politiques in downtown Montpellier.
Length of program
The academic year runs from late August to May. You may enroll for the full academic year, for fall semester only (late August to the third week in December), or for spring semester (early January to May).
Housing
The MHC Program in Montpellier offers two housing options: homestays and furnished apartments.
Homestays provide a unique opportunity to experience first-hand the ways in which family life reflects cultural and personal differences, from attitudes toward food and privacy to socio-economic factors that affect one's daily life. They are also an ideal way for students to practice their French outside of the classroom setting. Homestay students typically have breakfast each day, and dinner five days a week, with their hosts. Students who are interested in a homestay should consult with Amy Loth upon their acceptance to the program. Homestays were suspended for the 2021-22 academic year due to the Covid-19 pandemic. A decision regarding homestays for the 2022-23 academic year to be made by June.
Students may instead choose to live in furnished apartments, with other program participants, or in individual studios at l'Observatoire, a residence for French and international students.  All apartments and studios are fully furnished and are located within short walking distances from each other, as well as from Amy Loth's own apartment, in the historic downtown district of Montpellier.  These options offer students the opportunity to prepare their own meals and to experience the typical French student lifestyle.  Apartments are mostly doubles and triples with one or two bedrooms (single bedrooms are not guaranteed), a kitchen, a living room, and a bathroom with either a shower or a bathtub; studios include a kitchenette and private bathroom.
Fees and Financial Aid
Program fee for 2022-2023
The program fee for the year is $42,600.
The fee for fall or spring semester is $21,600.
The fee includes tuition, orientation, round‐trip airfare from the US point of departure, program excursions and activities and housing.
Not included in the program fee are meals, books, personal and miscellaneous expenses, additional travel, etc.  Mount Holyoke students are also responsible for Mount Holyoke's administrative fee ($900 per semester).
Eligible Mount Holyoke students accepted to the program are guaranteed Laurel Fellowships (need-based financial aid).  For students who are approved for Laurel Fellowships, the budget for financial aid purposes will include the program fee, Mount Holyoke's administrative fee, and allowances toward meals, books, and personal expenses.
Admission
Requirements
a minimum grade point average of 2.7 overall
a minimum grade point average of 3.0 in French
have taken at least two courses in French (not counting Independent Study) and completed at least French 201 or French 203 (the Mount Holyoke French Department's requirements for study in a Francophone country)
How to apply
Mount Holyoke students apply for admission to the program and for Laurel Fellowships (need-based financial aid) by submitting the Request to Study Abroad in MyMountHolyoke. Applications are generally due in late November for the following fall or academic year, and at the end of March for the following spring.
Students from other institutions should complete the MHC Montpellier Study Abroad Application for 5C students and Home School Approval Form by March 1 for fall or academic year, and September 30 for spring. You should also consult with your home campus study abroad advisor about credit transfer and financial aid.    
Students who have particular health or medical concerns or requirements are encouraged to discuss them with us in advance so that we can determine whether appropriate resources are available in Montpellier.
Arrangements for students who began with French 101
Students who began their study of French with French 101 in their first semester and who wish to study in Montpellier for the full year may apply on the basis of four semesters of French (completing French 201 and 203 in the sophomore year), under a special arrangement.  Approval in this case is typically limited to students who have done strong work in French 101-102 and are doing well in French 201 at the time of application (typically, A or A- level work), have solid support from the instructors of those courses, and who wish to spend the entire year in Montpellier.  Coursework in the fall semester in Montpellier will consist of support courses for international students offered by RI ("Service des Relations Internationales").  These support courses, all taught in French, include grammar, phonetics, and theme-based options (such as theatre, art history, gender studies, etc.).  In the second semester, students would take a combination of "cours RI" and integrated courses, as our students in Montpellier have always done.
Students who began in French 101 and who wish to study in France for one semester should plan to follow the normal rules of eligibility for study abroad and go to France in the spring semester of the junior year, or fall semester of senior year, having first completed French 215, 219, 225, or 230.
About the City of Montpellier
The city of Montpellier, population 250,000, is the capital of the Languedoc-Roussillon region of southern France. Home to a renowned university system and nearly 70,000 students, Montpellier serves as an important intellectual and technological center. Its people and the charming historic city center epitomize the warm and friendly culture of southern France.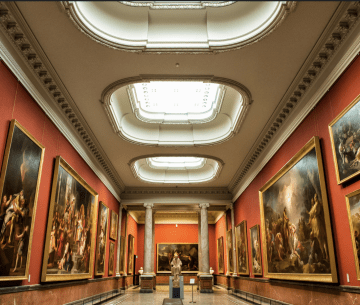 With beautifully preserved architecture dating back to the Middle Ages and ultra-modern cultural and sporting facilities, Montpellier is an exciting blend of the old and the new. This dynamic city is home to one of France's premier art museums, the Musée Fabre, and boasts national dance, music, theater, and cinema festivals that attract visitors from across Europe.
Montpellier is located just seven miles from the Mediterranean coast; the beach towns of Palavas, Carnon and La Grande Motte are just a short bus ride from the center of town (15-20 minutes). Les Cevennes, the mountainous region just north of Montpellier, offers excellent day hiking around medieval villages such as Saint Guilhem le Désert. Montpellier is a hub for both train and air travel around Europe. Spain is only 3 hours by train and the Italian border is only 4 hours away. The TGV from Montpellier to Paris takes just 3 hours, making it an easy (and inexpensive, with discounted train tickets for students) weekend getaway. There are regular flights from Montpellier to London, Dublin, and many other European cities.