Jean Jeffries
Instructor of Horn and Chamber Music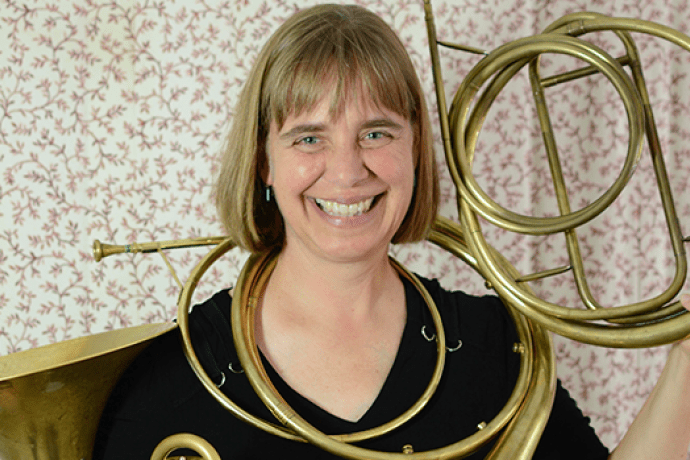 Jean Jeffries, horn, holds a BA from Harvard College and a MA from University of Massachusetts, Amherst. In addition to her work at Mount Holyoke College, Jean is a horn instructor, Horn Ensemble coach, guest lecturer, and Alphorn Club advisor at Amherst College.
Performance
Jean plays baroque and classical horn in early music performance with Connecticut Early Music Festival, Arcadia Players, Foundling and La Dona Musicale. She has also appeared with Handel and Haydn Society, ACRONYM, and in fringe performances at the Boston Early Music Festival. As a modern hornist, she performs regularly with Juno, Barrington Stage, Eclectic Arts Trio, Fanfare Brass, Ragtime Five, Valley Festival Brass and Tuesday Morning Music Club and is a active freelancer across the region. She is Co-Principal horn of Pioneer Valley Symphony. The pandemic interrupted Jean's detour into rock 'n' roll, canceling the last few scheduled performances of The Collective's Complete Tommy Album. Jean collaborates regularly with tenor Peter W. Shea in concerts of vocal chamber music.
Jean has appeared as horn soloist in recent performances with Mount Holyoke Symphony Orchestra, Holyoke Civic Symphony, and Friends of Music at Guilford. Her haunting horn playing is featured on the sound track of the film, Here am I, Send Me, a documentary about civil rights activist, Jonathan Daniels.
Commissions
Through her commissions, Jean engages composers to bring new work to life. Recent commissions include The Rusalka by Clifton J. Noble, The World is Too Much With Us by David Kidwell and The Fish by Pulitzer Prize winning composer Lewis Spratlan. Because she is known for her interest in promoting contemporary music, many composers have voluntarily written horn pieces for Jean.
Community Work
In support of community arts programs, Jean volunteers alongside students and amateurs in community theater, community orchestras and chamber programs. To her, this is one of the great joys of being a musician: to play with people of all ages and abilities, working together toward artistic excellence.
Teaching
In chamber music classes at Mount Holyoke, Jean acts as a facilitator, helping students to gather and synthesize their collective knowledge and experience. She encourages experimentation: Can we find a way to keep up the spirit of a piece at half tempo? Is it possible to communicate while playing with our backs to each other? Where is the boundary between sound and silence? She teaches students to strive for excellence in their playing so they can better express their musical selves and and share their art with others. Led by the belief that music is an expression of our humanity, Jean teaches the students to commit to their musical ideas and interpretations and perform with confidence and ownership. Jean encourages generosity and open communication in her coaching sessions, and models kindness, honesty, empathy and a sense of humor. From years of experience as a chamber musician, Jean is skilled at fostering generous and sophisticated listening, watching, perceiving and communicating.
Over the years Jean's wind chamber program has developed a tradition, popular with musicians and community alike, of arranging performances in non-traditional settings. To this end, Jean has forged relationships with faculty and staff from other departments across campus. Chamber music students are regularly welcomed to rehearse and perform in Talcott Greenhouse and Mount Holyoke College Art Museum, and have appeared in the Interfaith Sanctuary, the Gettell Amphitheater and on the banks of the Lower Pond. Jean's chamber groups have also been invited to perform at celebrations and special events in Abbey Chapel and Chapin Auditorium and appear annually at the Spring Flower Show.