Art exhibition aims to make philosophy visible.
Art exhibition aims to make philosophy visible.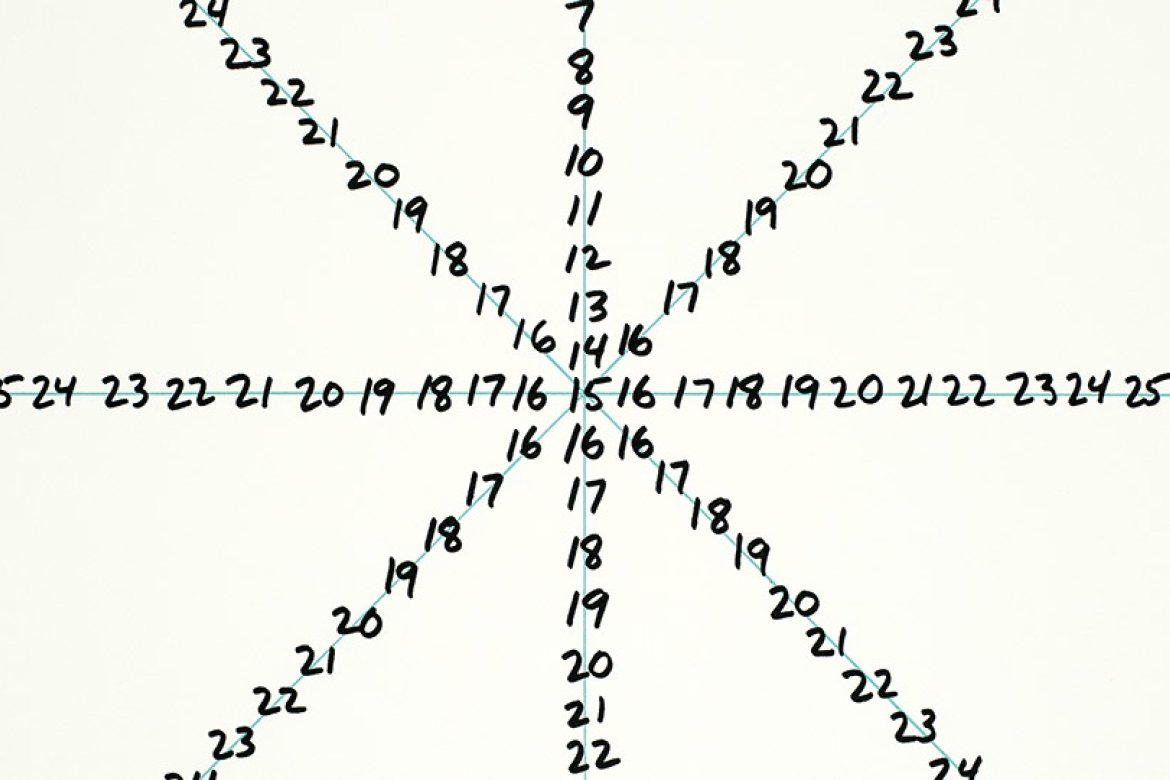 The Mount Holyoke College Art Museum exhibition rewards deep thinkers with art by Mel Bochner that is "very simple, yet very complex"—like philosophy.
By Emily Harrison Weir
Some art is immediately understandable; viewers simply respond to the colors, style, or subject matter. But the new exhibition of Mel Bochner's art at the Mount Holyoke College Art Museum asks viewers to ponder and puzzle out its meaning.
That's certainly appropriate for a show titled Illustrating Philosophy, which remains on display through December 20.
The exhibition's centerpiece is a set of prints Bochner created to illustrate a volume of twentieth-century philosopher Ludwig Wittgenstein's thoughts, On Certainty. Each piece shows sequences of red and black numerals arranged along blue grid lines that divide the print into sections.
Professor of Philosophy Thomas E. Wartenberg, who curated the exhibition, acknowledges that the works can seem hard to understand at first.
"Wittgenstein is a very difficult philosopher who writes in a style very much like Bochner's art," said Wartenberg. "In both, you have to puzzle your way to understanding. But if you do spend the time to work with this conceptual art, you can understand it."
Wartenberg was preparing to teach a Philosophy of Illustration course when he realized that Bochner's creations are apparently "the only serious attempt to illustrate a work of philosophy."  He got intrigued and kept asking more questions about the art.
"I don't think of illustration as people normally do—where an image simply replicates the words of a text," he said. "What's interesting here is that you learn about the philosophy by seeing what Bochner's done visually with the ideas. Seeing them in a visual medium conveys the philosopher's points with great force."
Art Museum Assistant Curator Hannah Blunt said that Bochner is interested in "making thoughts visible." And although the connection between Wittgenstein's work On Certainty and Bochner's illustrations for it might not be immediately apparent, Wartenberg's close analysis revealed parallels.  
The background grid of each piece represents what we know with certainty—unchanging rules—while divergences in the number sequences represent decisions made in a context of uncertainty—what we doubt we know for certain. It's a visual way of representing Wittgenstein's attempt to disprove philosophical skeptics, who believed that everything we take for granted might be wrong.
The exhibition, then, rewards viewers willing to think their way through ambiguous images to reach satisfying intellectual conclusions. As Blunt puts it, "Bochner's art is very simple yet very complex—just like philosophy."
• Mel Bochner is scheduled to visit Mount Holyoke for a public conversation with Wartenberg on October 6.
• Wartenberg gives an informal lunchtime gallery talk on the exhibition October 20.
Learn more about what's on at the Mount Holyoke Art Museum. Start here.