Celebrating the work of Mount Holyoke staff
Celebrating the work of Mount Holyoke staff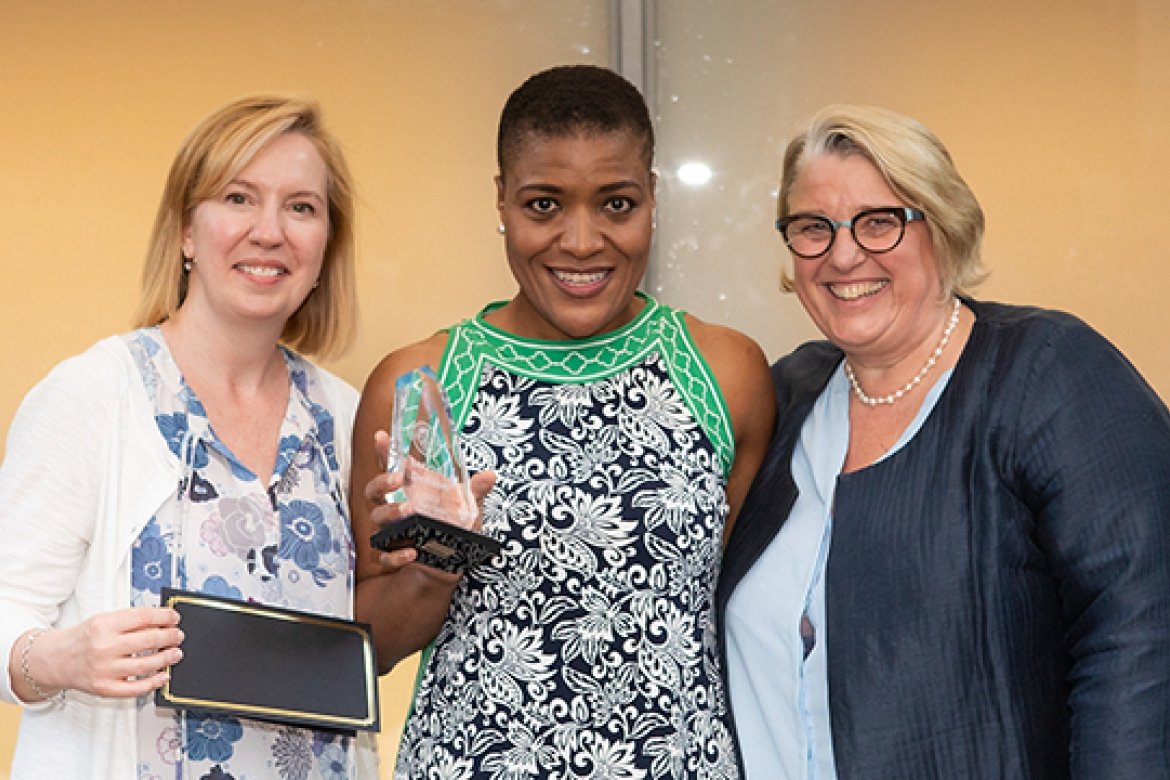 Mount Holyoke recognizes the extraordinary efforts of the staff in making the College the extraordinary place it is.
By Keely Savoie
With a table of strawberries and Champagne at her elbow and more than 100 staff members gathered around, Acting President and President-elect Sonya Stephens bestowed awards on Mount Holyoke staff members who have been singled out by their colleagues and managers for their outstanding efforts.
The awards were voted on by a committee of representatives across College divisions. Before the individual awards were given, Stephens acknowledged the efforts of the community as a whole.
"While we are recognizing just a few individuals and teams today, this event is also about celebrating everyone's work," she said. "So let's take a moment to applaud everyone here for their efforts, perseverance and excellent performance. Thank you!" 
The staff award celebration is part of a new initiative by the College's human resources office to encourage staff collaboration and recognition. Two other newly-established awards, the Heartfelt Thanks Award and the Spotlight Award, provide recognition from colleague to colleague or manager to employee and are given on an ongoing basis.
At the May 30 ceremony, Stephens and Executive Director of Human Resources Heidi Friedman bestowed Trailblazer and Mary Lyon Leadership awards.
Trailblazer Award
According to the citation, the Trailblazer Award is given to "individuals or teams who have completed a project, or met a challenge head-on, and, through their collaboration and creativity, have advanced the College's mission and incorporated our shared values into their work."
One Trailblazer Award was given to Janice Kane, coordinator of student employment and internships at the Career Development Center. In the transition from individual residence-based dining halls to the Dining Commons in the new Community Center, Kane helped more than 1,400 student employees, many of whom work in dining services, find new roles and positions.
The second individual Trailblazer Award went to Ivonne Ramirez, assistant director for student involvement and leadership, who helped usher the vision for the new Leadership Living-Learning Community into a campus reality.
Two Trailblazer awards were given to teams. One was given to the staff of the Mount Holyoke College Art Museum for their efforts to transform the museum into a space for active teaching and learning.
The second went to the Volunteer Hub team, made up of staff from Advancement, the Alumnae Association, Admission and LITS, that conceived of and implemented a web portal that gives tools and information to alumnae volunteers so they can coordinate and collaborate with each other and with College employees.
Mary Lyon Leadership Award
The Mary Lyon Leadership Award is given to groups or individuals who, as the citation reads, "reflect Mount Holyoke's institutional core values of integrity and excellence, whose contributions advance the mission of the College and the initiatives of the strategic plan, and who through their exemplary service have demonstrated their dedication to the institution."
These awards went to Latrina L. Denson, associate dean of students for community and inclusion, and Shani Mensing '15, coordinator and technical specialist of the College's Makerspace. 
"Latrina creates meaningful opportunities for students, staff and faculty to strengthen connections," Stephens said about the associate dean. "Her ability to drive actions that demonstrate our community values and to bring fresh approaches to the work has been key to the success of initiatives and programming on campus this year."
Mensing received the Mary Lyon Award for her contributions to the shepherding of Mount Holyoke's art and maker culture from a great idea in a small provisional space to a full-fledged program with a $3.5 million investment in a new dedicated Maker and Innovation Lab, now under construction. Her accomplishments also include co-founding the popular iDesign Studios course while still a student.
"I am honored to be a part of and experience firsthand the direct impact that our Makerspace is having on our community," said Mensing, who could not be present, in a statement read by Friedman.
A Mary Lyon Award was also given to the staff of Dining Services, which has gone through a tremendous change, with the closure of individual dining halls in residence halls at the end of the fall semester and the January opening of the Dining Commons.
Praising their "professionalism, responsiveness, equanimity and inclusion," Stephens noted that each staff member has "gone above and beyond to launch the new Dining Commons and to continue to enhance the provision and environment for the whole community."