Computing for social impact
Computing for social impact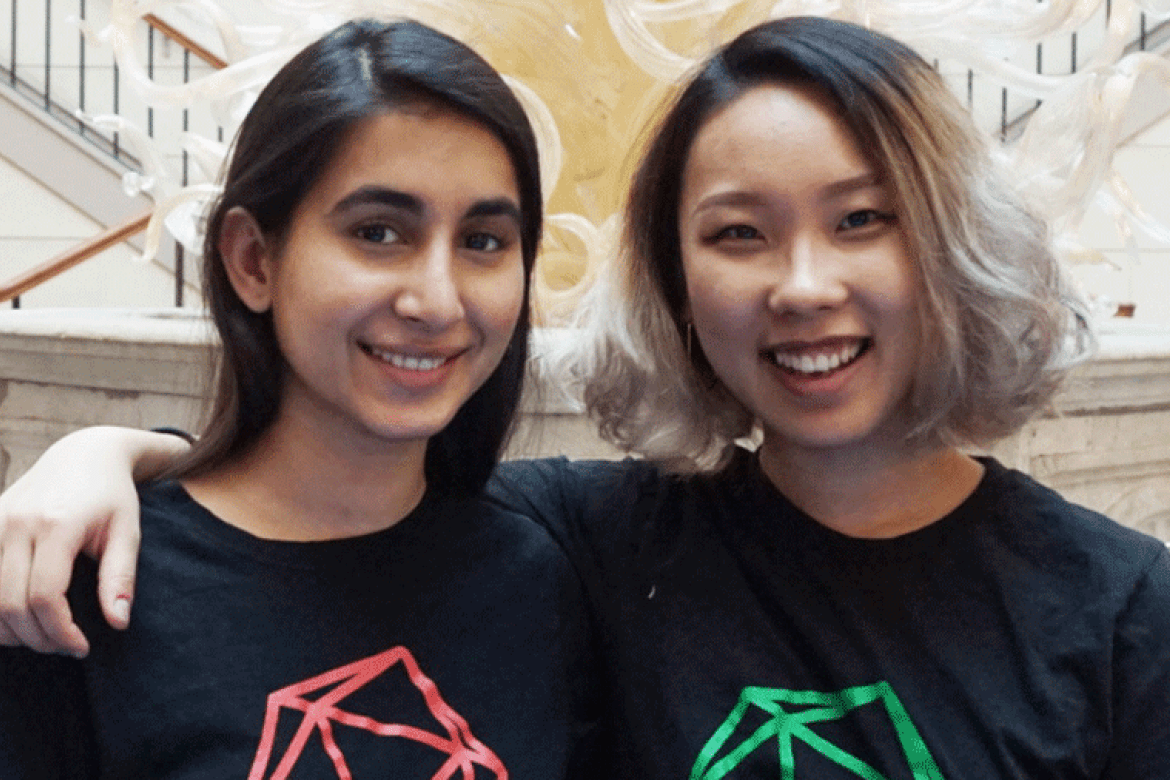 Girls in Tech, a day-long conference, was created by two Mount Holyoke students to introduce high school girls to the possibility of careers in technology.
By Sasha Nyary 
Neither Onji Bae '18 nor Hashma Shahid '17 had thought much about computer science when they enrolled at Mount Holyoke College. 
Bae had grown up in New Jersey and Seoul, South Korea, and was passionate about education — she had been a tutor since the sixth grade. Her interest in computers was largely based on their use as teaching tools. 
Shahid, who is from Lahore, Pakistan, wanted to be a diplomat and wasn't interested in technology. 
But that was before they encountered Mount Holyoke's enthusiastic computer science community. Here, with the encouragement of faculty and students, each found their way to the field. First, they took classes in the department. Then they became majors. Ultimately, they joined up to found the extraordinary Girls in Tech conference. 
Girls in Tech is a one-day, entirely student-led conference devoted to introducing high school students from nearby communities to coding, apps, elevator pitches and all things technology. The idea is that exposing high school girls to the possibility of careers in tech can radically change their trajectories as students and professionals. The first conference was held in spring 2016 and last month's edition more than doubled in size, from 15 to 33 participants. 
The March event, which garnered local media and campus coverage, featured workshops in hardware and software, public-speaking practice and inspirational talks, including from one alumna who works for LinkedIn and another who is a social entrepreneur. 
It's not surprising that this conference was born on the Mount Holyoke campus, said Heather Pon-Barry, a professor of computer science who co-led a session at the conference for the high school teachers, counselors and parents who had accompanied the students. 
"Mount Holyoke students are passionate about technology and computing," she said. "And they are equally passionate about encouraging other women, at all levels, to consider this pathway. At Mount Holyoke, you will likely see people that you identify with taking computer science classes, working together — not alone in a residence hall room — having fun, creating amazing projects and using computing to make a social impact." 
The path to computer science 
That's just what happened to Bae and Shahid, right down to using computing for social impact. They had met as first-year students when they were both on the board of the Mount Holyoke Model United Nations, where they learned important leadership and organizational skills that would prove essential to the success of Girls in Tech. Each followed separate paths to computer science. 
Bae came to college wanting to major in film studies. Her interest in computer science grew out of her experience as a first-year student when she became intrigued by an innovative educational toy for the iPad. She liked it but thought it needed improvement. So she created a slide presentation with specific suggestions and sent it to the company's C.E.O., who gave her a paid internship at their Silicon Valley location for the summer — and implemented many of her ideas. 
That fall, Bae took her first computer science class, Computer Science 101: Problem Solving and Object Oriented-Programming, and is now a computer science and critical social thought double major. 
Shahid had been "dead set on diplomacy or the U.N." when she started at Mount Holyoke. But she took Computer Science 101 in the spring of her first year, at the encouragement of her then-roommate, who was majoring in the subject. She is now combining both interests as a computer science and international relations double major. 
That's how Mount Holyoke students often find their way to computer science, Pon-Barry said. "Maybe a classmate, a peer mentor or an instructor suggests that you should consider studying computer science, and you try it out and discover you love it." 
The computer science department also works hard to make the subject appealing and inclusive, Pon-Barry said, including through the Megas and Gigas Educate (MaGE) peer mentorship program, which connects students in certain introductory classes with student mentors. 
The beginning of Girls in Tech 
Girls in Tech grew out of Bae and Shahid's involvement with the Computer Science Society, a student organization, where they were connected by Pragya Bajoria '15, who now works at Google. 
"We each told Pragya we wished we had known more about computer science when we were younger, that lots of men in the field started coding as teenagers or doing robotics," Bae said. "I wish I'd had that when I was little." 
Both Bae and Shahid knew that the proportion of women in technical positions is alarmingly low, often less than 20 percent in many companies. They knew the working environment in technology is often hostile to women. And they knew that the problems for women were both getting into the tech-job pipeline and staying in it — the pipeline is leaking, said Audrey St. John, a professor in the computer science department. 
"At a time when the tech industry is losing an already small population of underrepresented groups," St. John said, "I feel fortunate to be able to interact with students who are not only committed to their own success, but are so passionate about technology that they want to meet this challenge head-on. Programming like the Girls in Tech conference can have a significant impact on changing the composition of the field." 
They were at the right college to make it all happen, Bae said, noting they had support from the Computer Science Society, the Student Government Association, the Weissman Center for Leadership and faculty from the computer science and math departments. 
"If you have an idea at Mount Holyoke, the institution and your peers will support you," Bae said. "We know it's possible here on campus — more than possible. We are surrounded by people who have ideas. We see that our friends are doing it and we can do it too." 
From the beginning, the student founders felt it was important that the conference be accessible and completely free for all teachers and participants, who are given free transportation, swag and breakfast and lunch. The students pursued relationships with local businesses to arrange for funding and support. 
It was also essential that the majority of the speakers identified as a woman of color, Bae said. 
"In the United States, only one to three percent of those working in tech are black or Latino," she said. "That's often because they're told they can't do STEM subjects. But now the Girls in Tech students have seen over 25 Mount Holyoke women, with different ethnicities, from different countries and backgrounds. For many, this was the first time they had seen a woman of color computer scientist." 
Life after Mount Holyoke 
Bae, who will intern with Microsoft in Seattle, Washington, this summer, plans to pursue a career in technology and also hopes to stay involved in education. 
"I think there will be a national curriculum for computer science and I want to be involved in it," she said. "And maybe found my own company." 
Shahid will teach with Girls Who Code over the summer and then will find a job as a software engineer in San Francisco, California. Eventually, she expects to apply to law school, or a graduate program in public policy or perhaps follow the entrepreneurship route as well. 
Ever the organizers, Bae and Shahid are making sure that Girls in Tech won't stop after they graduate. So they have trained the current co-chairs, Srishti Palani '18 and Kat Aiello '18, to lead the conference. Because, as Bae said, "we are all about setting a good example of leadership and passing it along."
What will you create? Learn more.