Convocation 2016: Can't Stop the Feelin'
Convocation 2016: Can't Stop the Feelin'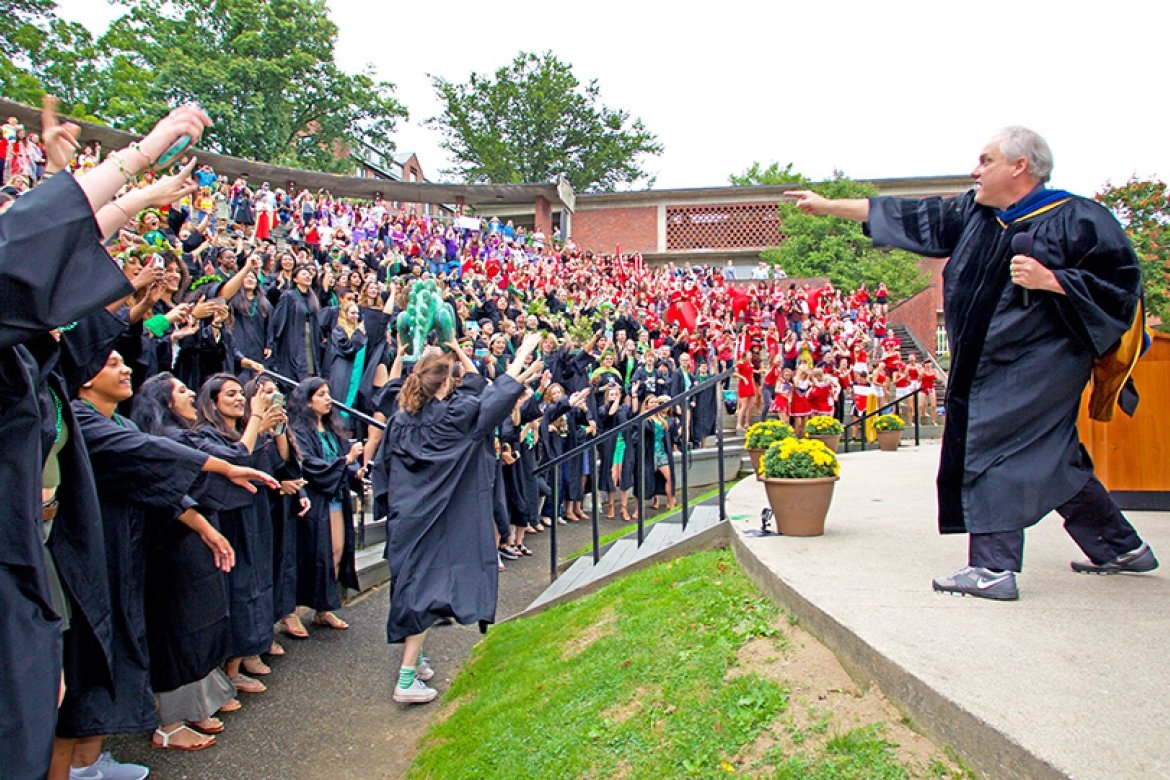 With cheers and roars, the Mount Holyoke College community officially rang in a new academic year under an overcast sky, with sunshine in their pockets.
By Keely Savoie
There was no stopping the feeling as Convocation got underway at Mount Holyoke College on September 6. Jubilant students, dressed in their class colors of brilliant blue, bright red, canary yellow, verdant green, and vibrant purple streamed into the rows of the Richard Glenn Gettell Amphitheater.
Acting President Sonya Stephens, in her first community address since her July 1 appointment, greeted new and returning students, faculty, and staff, including 580 first-year students and more than 50 new transfer and Frances Perkins scholars to kick off the academic year.
"This is the moment—the opening-of-school-moment—when, for each of us, change occurs," said Stephens.
Convocation is a rite of passage, Stephens said, a ceremony to mark the beginning of a new year—and the continuation of the Mount Holyoke community that began on November 8, 1837, with a humble bell, rung to announce that the seminary was open.
Stephens quoted a letter written by a student who attended Mount Holyoke that year. The student described the construction around the seminary that was to be her home: "How uninviting the plain brick building! ... no trees, no fences, and not a blade of grass, but a deep bed of sand lay all around the house."
Today, Stephens noted, the campus has dramatically expanded, and those brick walls now bear the weight of much history and knowledge, even as construction continues with a new Community Center with Dining being added onto Blanchard.
"I hope," she said to the class of 2020 and all new students, "that the brick buildings all around you now feel inviting ... and that your rooms are filled with things that make these spaces home."
"This moment of Convocation, this assembly of students, faculty, staff, and administration is more than an opening ceremony—it is an enactment of our collective incorporation and of Mount Holyoke's regeneration," Stephens said. "It is our opportunity to be a part of this social fabric and to make our conversations not only about the challenges of community, but about the possibilities of community."
Citing Mount Holyoke's recognition for classroom experience, LGBTQ friendliness, and one of the best college libraries, in the Princeton Review, Stephens noted that the College community offers even more. Interactions and affiliations within and among the groups that comprise the variegated community of Mount Holyoke are an opportunity for students to speak and listen to one another and to change the world through the willingness to engage with others, with ideas, and with possibility.
Most importantly, Stephens said, Mount Holyoke is a place to question, "for what is education if not the opportunity to raise and pursue questions?"
Jon Western, the recently appointed vice president for academic affairs and dean of faculty, congratulated the incoming class of 2020 on their "perfect vision" for seeing a future at Mount Holyoke, then reminded them that the liberal education they were about to receive was not just geared toward getting them their first job out of college, but preparing them for a world as yet unimagined.
"You will get as a liberal arts education here at Mount Holyoke the knowledge and skills, the intellectual capacity, critical reasoning, and the writing so that you can embrace and adapt to the changes that are coming," he said. "And when you come back here in 60 or 70 years you can tell the story of how Mount Holyoke prepared you for a world you couldn't have imagined when you graduated."
Brent Ciszek, business intelligence analyst in library, information, and technology services and a member of staff council, spoke about the less visible parts of the Mount Holyoke community—the staff members who support students and faculty in every way—then introduced Professor of Economics James Hartley.
As Hartley launched into a satirical poem, music began to pour out of the speakers and faculty members onstage broke into a choreographed dance to Justin Timberlake's "Can't Stop the Feeling." Staff filtered through the crowd, shaking pom-poms and dancing to the beat, some throwing bags of rainbow-colored Skittles to the cheering students, who joined in Mount Holyoke's first-ever official flash mob. Stephens, flanked by a staff member dressed as Mary Lyon and the College mascot Paws, danced center stage.
When the crowd had settled, graduating senior and president of the Student Government Association Marwa Mikati spoke about the magic of Convocation and the three lessons she had learned in her time at Mount Holyoke: embrace change, develop resilience, and fight for yourself.
"Being at Mount Holyoke is a transformative experience for each of us. We are acquiring the tools to change the world," said Mikati. "You are leaving a mark here, and I trust that we will leave a mark wherever we go."
After the Convocation ceremony, students congregated for a picnic on Skinner Green, the center of the Mount Holyoke College campus, their home for the academic year. Classes began on Wednesday, September 7.
Convocation Slideshow