Convocation celebration 2017
Convocation celebration 2017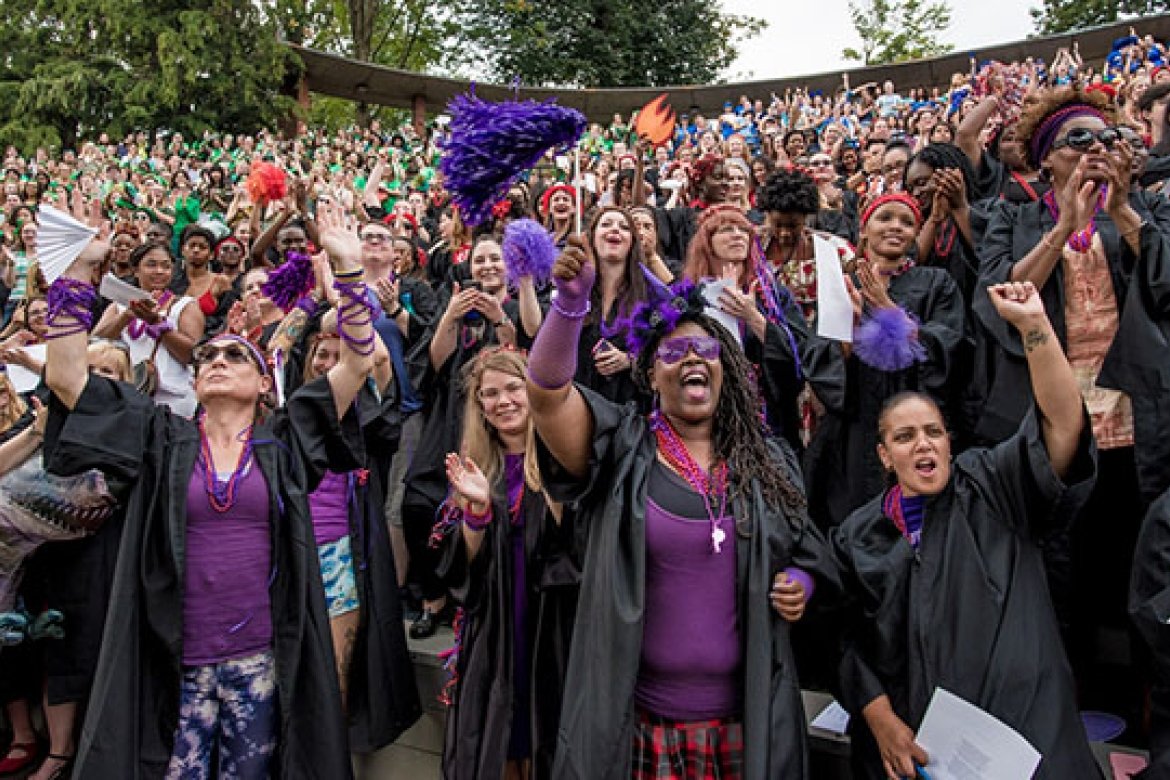 Cheers, music and a festive celebration for Mount Holyoke's newest and returning community members at the start of the academic year.
By Keely Savoie
Ebullient cheers and chanting could be heard across the Mount Holyoke College campus as students, faculty and staff kicked off the new academic year with Convocation 2017.
The incoming class of 2021 — 540 strong — whose signature color and animal are green griffins, were joined by blue-lion sophomores, yellow-sphinx juniors, and purple-phoenix Frances Perkins scholars from the College's program for students 25 years and older who have experienced an interruption in their education.
The last group of students to enter the Richard Glenn Gettell Amphitheater was the indomitable senior class, the red Pegasuses dressed for the first time in their graduation gowns, processing in accompanied by the drumming of the Five College West African Music Ensemble.
Each class dressed in a mashup of clothing, face paint and hair dye in their color, with accessories ranging from blue pompoms and pinwheels, yellow garlands, red plastic firefighter helmets, and everything inflatable: watermelons, pizza, a banana — even a T. rex.  
College staff, many in custom Mount Holyoke blue T-shirts, also joined the celebration with their own noisemakers and cheers.
The ceremony's jovial mood created the very thing that was to be the central theme of the moment: community.
Watch the recap video:
Watch the full ceremony:
Acting President Sonya Stephens exhorted the assembled students to do the work of community building by celebrating similarities and embracing differences. "Each of you belongs here. This is your college now. Your campus. Your community," she said.
The expanded Community Center will help facilitate the building of that community by providing a unifying space, Stephens said.
"The Community Center will stand and provide what, together, we will create and be: a community of thinkers and doers, a network of contemporary change agents, a community for intellectual, creative and social exchange. A microcosm of Mount Holyoke as we conceive of it, it will be a place that is generative of energy, activity and organization," she said.  
"I hope that you will today and always make a conscious commitment to make Mount Holyoke yours. To make your imprint on the paths and greens, and on all those around you. To fill the library not only with the energy of your work in the moment and the joy of learning here together, but also to fill its future shelves with your histories and your stories. To build the community you want to be a part of and to make the history of Mount Holyoke's present and its future," Stephens said.
Read the transcript. 
Dorothy Mosby, associate dean of faculty, urged the assembly to create a "beloved community," borrowing the words of Martin Luther King Jr., who delivered a sermon in 1963 in the very same amphitheater.
"Members of this beloved community, we are in this thing together," Mosby said. "We all have to do our part to make this place our home, MoHome, where we can all thrive, learn from each other, challenge each other and be able to give each other grace. So, beloved community, let your beauty, your brilliance and bravery shine all over the world like glitter."
The Mount Holyoke College Convocation Choir sang playful a song by Finnish composer Jaakko Mäntyjärvi before Camille Gladieux '18, president of the Student Government Association, took the podium.
Gladieux lauded the College's commitment to diversity in all forms, and asked her fellow students to embrace the work of upholding their commitment to diversity in the name of building a stronger and better community for all.
"We chose Mount Holyoke and Mount Holyoke chose us because we believe that we can change the world in both large and small ways," Gladieux said. "This year, I challenge us all to go beyond our comfort zones and build the community we want to be." 
Find your community. Visit.