Diverse food for a diverse campus
Diverse food for a diverse campus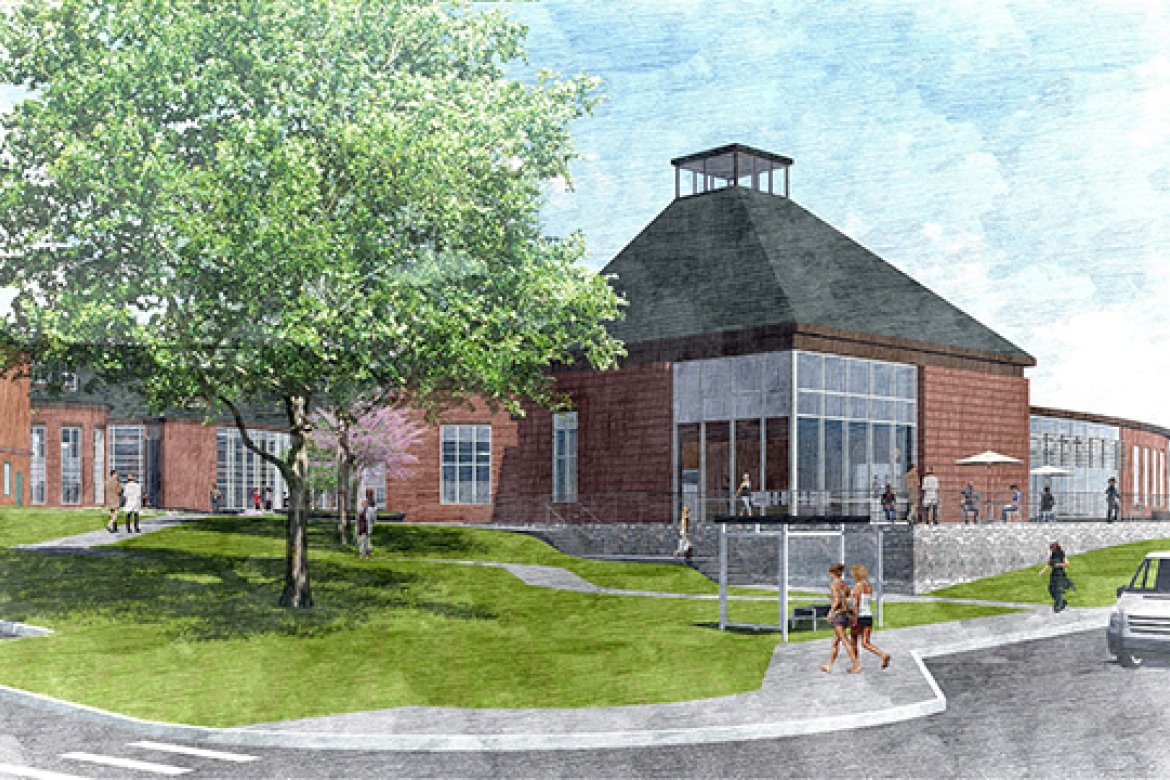 The Community Center will open in January with a greater focus on flexibility and sustainability, says John Fortini of Dining Services.
Interview by Sasha Nyary
Along with a coffeehouse and pub, an art gallery, and offices for student affairs and student organizations, the new Community Center at Mount Holyoke College will offer an expansive dining addition. Scheduled to open in January 2018, the new dining facilities will provide an entirely new eating experience that's designed to meet the needs of a vastly diverse student population. A wide variety of food will be available and themed dining areas will suit different preferences for mealtimes. John Fortini, project manager for Dining Services, is helping oversee the transition.
What are you most excited about in the new dining facilities?
I'm thrilled that students will have a huge variety of food under one roof — and all day until midnight, except for the restocking time of 4 – 5 p.m. Students will have unlimited swipes, which means they'll be able to come and go as much as they like. If they walk out after eating and run into a friend coming in, they just swipe back in, which they can't do now.
This will be an all-you-care-to-eat program. We will have nine food stations that combined will have 22 lines. For instance, the first will have two soup and two entree lines. We'll offer a variety of comfort foods: American, Mexican, Latin, Caribbean. The broiler and griddle area will be similar to what's in Blanchard now. The breakfast area will include a cereal wall with as many as 30 types of cereal. We will offer omelets all day and a self-serve waffle bar. The deli area will include two daily special sandwiches and a place to make custom sandwiches. Of course we will have a salad bar, which will include desserts from the bakery, three beverage stations and two ice cream dispensers.
But wait, there's more! We will offer pizza and tapas. Our global food will include dishes from the Mediterranean and the Middle East: a gyro machine, a rotisserie and a pasta area are part of this station. The Asian area will include a counter where a student picks the veggies and the chef adds the protein and cooks it all in a wok, as well as sushi and a premade entree such as a stir fry. We will offer a "free-of-all-eight station," which means we will offer food that is free of all eight major F.D.A. allergens: soy, shellfish, fish, tree nuts, peanuts, wheat, dairy and eggs. We will offer a daily halal meat and a meat-only kosher food. Eventually, we will have grab-and-go breakfast and lunch.
How else will the new dining services benefit the College?
Environmental sustainability is an important priority for the College and the new dining addition will support it in a couple key ways. First, we expect much less food waste. Studies have shown tremendous food-cost savings in a plan like this. At first, students may overfill their plates. But we expect that will even out as the students adjust. When you look at these models around the country, because students can come whenever they want, they eventually eat less and they also eat better. Also, we're serving, they're not helping themselves, which means less waste.
We're also very excited about the way we will be composting in the new facility. Today, compost is put into barrels — we pay by the pound — and trucked to a local farm, where it takes six months to turn into compost. In the new building, all food scrap and paper scrap that's compostable will be put into a dehydrator that will remove all the water. Within 24 hours the scraps will have been turned into compost and ready to use on campus in landscaping and groundskeeping projects.
This gives us a tremendous energy and carbon saving. And we will be using 100 percent of the product we're buying. It's very exciting to be closing the loop. 
Will there be expanded opportunities for student employees in the new facilities?
Definitely. The facility will seat 1,000 people. We will need a lot of student help and there will be lots of opportunities for student workers.
Find your diverse community: Learn more.