Documentary on MHC class wins an Emmy.
Documentary on MHC class wins an Emmy.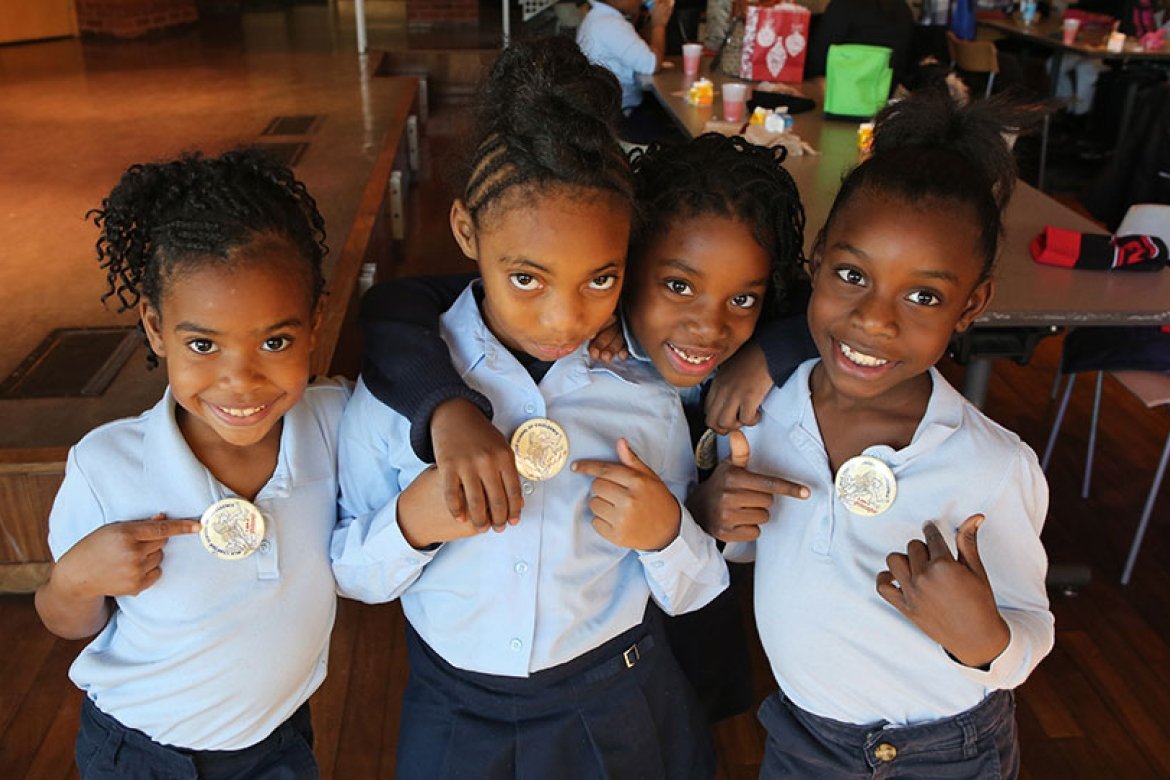 A documentary focused on teaching philosophy to kids, led by Mount Holyoke College professor Tom Wartenberg, has won a regional Emmy.
By Keely Savoie
Big Ideas for Little Kids, a documentary featuring Mount Holyoke College Professor Thomas E. Wartenberg's Philosophy for Children class, has been nominated for an award in the 38th annual Boston/New England Emmys.
---
• UPDATE: On May 30, Big Ideas for Little Kids won a New England Emmy in the education/schools category! 
"Winning the Emmy is just so wonderful. It feels like the culmination of nearly two decades of work," says Wartenberg. " Director Julie Akeret and her crew—Terry Lajtha, Mark Langevin, and the others at WGBY—did an amazing job of communicating the importance of giving children a chance to really think for themselves. I hope that people all over the country watch the film and realize that children thrive in an environment that allows their natural intelligence and curiosity to structure their learning."
---
The film, a WGBY production directed by Julie Akeret, documents classes conducted at Springfield's Martin Luther King Charter School by Mount Holyoke students under the guidance of Wartenberg and MHC President and ethicist Lynn Pasquerella. The goal of their unique class is to give children an opportunity to pursue their natural curiosity and inclination toward philosophy. In the curriculum, children's picture books become catalysts for philosophical discussion and an effective way to foster critical-thinking skills and a lifelong love of reading.
When the class was filmed last fall, the Mount Holyoke students used six books, each focusing on a different philosophical question. Frederick, for example, prompts the question "What is work?" through the story of a mouse who composes poetry while his family and friends gather food for winter. The Giving Tree inspires an impassioned examination of whether a tree surrendered "her whole self" when she gave up her lush branches and towering trunk so her friend could build a home. And Emily's Art incites a debate about whether a judge really knows best in an art contest.
Big Ideas for Little Kids'nomination for a regional Emmy award is absolutely fabulous," said Wartenberg, who has been teaching the class for more than 15 years and has written two books on the subject. "[The producers] did an amazing job of telling the story of our work bringing philosophy into elementary schools. I'm hoping that the nomination attracts even more attention to this important project and encourages other teachers and schools to try their hand at using picture books to teach philosophy."
The film shows how, through this unusual curriculum, young students can begin to ask—and answer—profound questions of philosophy.
"The second graders learn some of the basic rules for having a philosophical discussion, from what it means to be a listener who respects differences in opinion to how to build a good argument when making a point," said filmmaker Julie Akeret, who won a regional Emmy for her prior work. "These young students are excited to be asked not only what they think, but why."
The Mount Holyoke students who assist with teaching the class spend several weeks learning the principles of philosophy and how to teach them on an elementary level, before facilitating discussions among the children and their teachers.
The lessons have been so successful that the Springfield school has made philosophy a component of its curriculum. Many second graders have even put the ideas into practice on the playground, where they have learned to resolve disputes through an exchange of ideas.
Furthermore, the Mount Holyoke students who teach them serve as role models for the children, many of whom may not have considered college as a possibility, their teachers say. At the end of the semester, the second graders visit Mount Holyoke College, exploring a laboratory and other learning spaces.
"The course involves community-based learning and it's about getting our students into the schools and preparing them to teach," Wartenberg has said. 
• A public screening of the film is set for August 8 at 1:30 pm at the Eric Carle Museum in Amherst. Wartenberg, Akeret, and others associated with the film are expected to be present.