Get ready for BOOM! 2018
Get ready for BOOM! 2018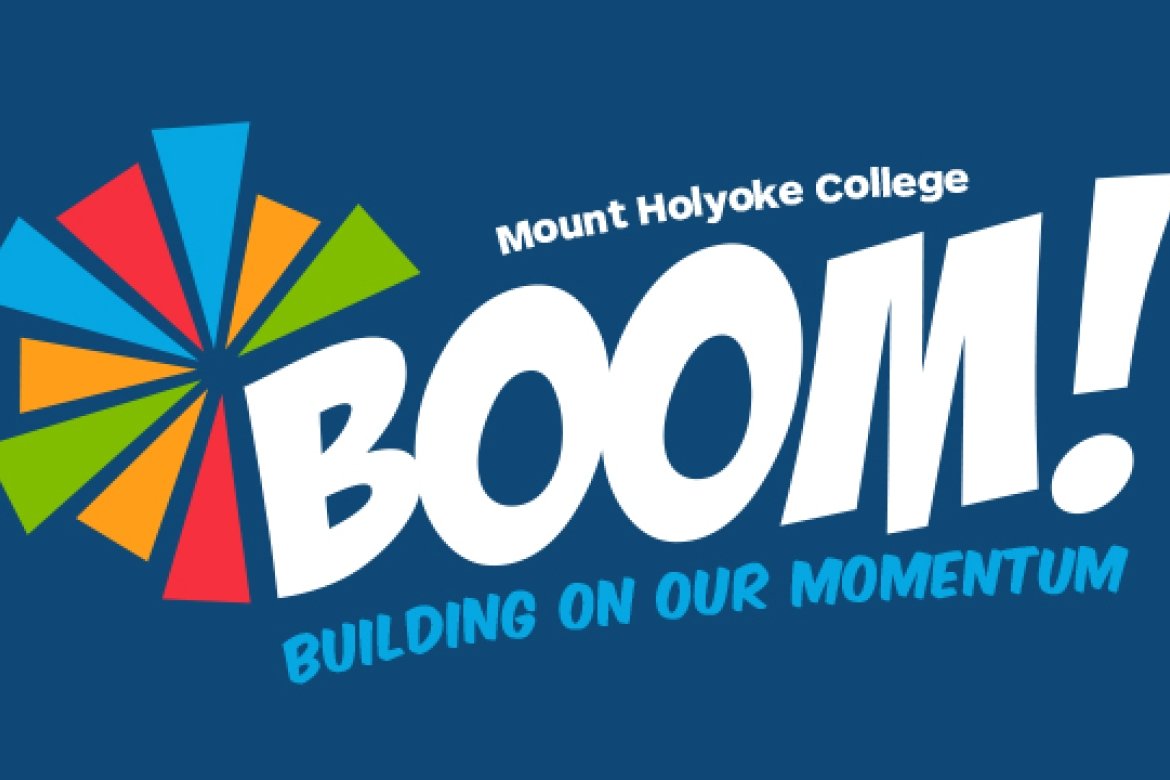 Mount Holyoke continues to work toward equity and inclusion as the BOOM! Learning Conference returns for a second year.
By Sasha Nyary
BOOM! is back!
Now in its second year, the 2018 BOOM! Learning Conference is an opportunity for the faculty, students and staff of Mount Holyoke College to continue the hard work of — and demonstrate their collective commitment to — diversity, equity and inclusion in the community.
"BOOM! 2017 was a great way for us, as a community, to advance the work of diversity, equity, and inclusion that had been done by so many before us," said Acting President Sonya Stephens. "We know, though, that creating a truly equitable and inclusive community requires both continuous effort on the part of each one of us and an institution-level commitment."
This year's BOOM! conference runs over several days, from March 31 through April 7, and features workshops, lectures and more. The schedule is available on the BOOM! website.
Events include the presidential keynote lecture on Tuesday, April 3, with Brittney Cooper, who will discuss her new critically acclaimed book, "Eloquent Rage: A Black Feminist Discovers Her Superpower."
Cooper is a professor of women's and gender studies and Africana studies at Rutgers University. She writes a popular monthly column on race, gender and politics for Cosmopolitan. Her work has appeared in the New York Times, the Washington Post, the Los Angeles Times and Ebony, among others.
Other offerings through the week include sessions on microaggressions, first-generation students, inclusivity in the classroom, and several workshops hosted by MoZone, Mount Holyoke's social justice peer education program.
A panel discussion of "UnCommon Bonds: Women Reflect on Race and Friendship," a new collection of essays co-curated by Marcella Runell Hall, dean of students and vice president for student life, is slated for Friday, April 6, at 5 p.m. in Gamble Auditorium. Contributors to the book will discuss intersectionality, gender and the complexity of intimate relationships.
April 7, the final day of BOOM!, coincides with the Women of Color Trailblazers Leadership Conference, with keynote speakers Linda Sarsour, Tamika Mallory and Carmen Perez, the founders of the Women's March. Their talk is scheduled for 4 p.m. in Chapin Auditorium.
Looking back and moving forward
The College's focus on diversity and inclusion is part of the legacy of Mount Holyoke's original mission at its founding in 1837, Runell Hall noted.
"Mary Lyon established Mount Holyoke Seminary at a time when it was not legal for women to receive a college education," she said. "We all know what it sounds like when people only talk about diversity and inclusion, but we are here to do the very pragmatic work of learning how to do it together."
BOOM! was born out of The Plan for Mount Holyoke 2021. One of the plan's four core priorities is the shaping and sustaining of the College's increasingly diverse, global and inclusive community into an environment of mutual respect where everyone can thrive and contribute to the flourishing of others.
To that end, the newly formed DEI Steering Committee was tasked in January 2017 with gathering information about diversity work on campus that had previously occurred or was currently happening. The committee also surveyed the community about the equity and inclusion concerns of students, faculty and staff, along with possible barriers to these efforts. This information provided background needed to move toward clarifying a vision for this work at the College.
In part to gauge the needs of the community, the steering committee created and oversaw the inaugural BOOM! Building On Our Momentum conference, held in March 2017. Classes and work were canceled so that the entire College community could come together. More than 1,000 participants attended over the two days, which included the rousing keynote speech by Marc Lamont Hill, and 72 workshops, discussions, performances and more that were facilitated by 150 students, faculty and staff, along with outside consultants.
Into action
Following the success of the inaugural conference, and on the recommendation of participants, the steering committee has planned for BOOM! to be an annual event through at least 2021. To that end, an annual day of collective action and engagement with each other has been added to the College calendar, beginning in 2019.
The committee also recommended that the College hire a chief diversity officer. After an extensive national search, Kijua Sanders-McMurtry has been named to this new position. She begins her work at Mount Holyoke on August 6, and will meet informally with the community during this year's BOOM! conference.
Students, faculty and staff have organized on campus to implement additional changes that are rooted in their commitment to equity and inclusion. Spurred in part by students, the Division of Student Life created new Living-Learning Communities dedicated to students of color and the LGBT community and their supporters. The counseling service diversified its staff to more effectively serve the needs of all students. MoZone expanded its reach and increased the type of modules offered.
"The goal is full and equal participation for all groups so that our community will be stronger," said Runell Hall, noting that everyone benefits from a more inclusive and equitable community.
"People are healthier, happier and more productive and can thrive when we are committed to these principles," she said. "We want to ensure that everyone's voice is heard so that we can operate from a place of true equity and authenticity. To the degree people feel silenced or marginalized or not seen, our entire community suffers."
Other actions taken in the past year include ongoing daylong diversity, equity and inclusion training for faculty and staff. So far, all the officers of the College and over 40 percent of the staff have undergone this training.  
"It is a core commitment of the College and a priority of the strategic plan to advance equity and inclusion on this campus — and beyond," Stephens said. "While it is both moving and motivating to witness positive changes in the ways we live, learn and thrive together, we know that our work will not be done until Mount Holyoke, and society more broadly, meet a much- desired diversity with an equal commitment to social justice." 
Walk the walk. Learn more.