MHC helps create Compass digital collection
MHC helps create Compass digital collection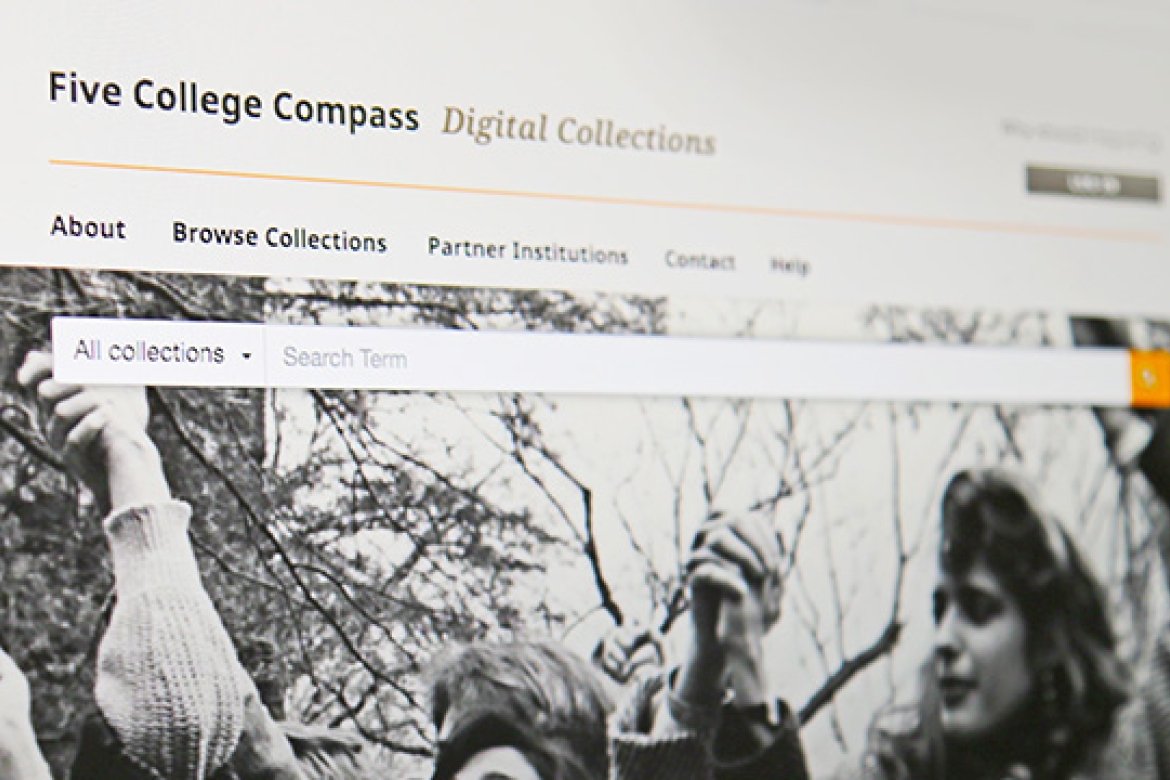 Five College Compass, a digital archive from Mount Holyoke, Smith and Hampshire, lets users search across schools or browse through a collection.
By Sasha Nyary 
When someone — student, professor, community member — searches for a book, journal or other material in Mount Holyoke College's online library catalog, they automatically have access to all the library catalogs across the region's Five College Consortium of Mount Holyoke, Amherst, Smith and Hampshire colleges and the University of Massachusetts Amherst. 
Now, Mount Holyoke has joined with Smith and Hampshire colleges to create a digital archive including letters, photographs, oral histories, campus newspapers and faculty and student research. Five College Compass: Digital Collections lets users search across institutions and browse through the scholarship, cultural and historical materials of a specific collection or school. 
The library plays an essential role in helping make those assets available outside of the classroom, said Alex Wirth-Cauchon, chief information officer and the LITS (Library, Information and Technology Services) executive director. 
"Compass makes our unique history more discoverable and useful while also preparing the College to share and preserve the born digital, multimedia scholarship that our faculty and students are producing," he said. "It highlights the importance of object-based learning and teaching — that is, using original materials such as rare books, photographs, audio and video recordings, records and letters. Supporting the College's emphasis in these areas is critical to the library's mission." 
Compass enables users to easily search across institutions or browse through the materials of a specific collection or school. The new digital library means that a user exploring the College's digital collections can easily access the Smith and Hampshire collections at the same time.
The ultimate goal is for all five institutions to be easily searchable on one site, said Sarah Goldstein, associate director of discovery and access in LITS, who led the project for the College. 
But for that to happen, they all need to be on the same framework. The choice was clear, as Amherst and UMass Amherst were already using Islandora/Fedora, a customizable open-source program. 
With administrative support from Five Colleges Inc., Goldstein and her colleagues at Smith and Hampshire worked for more than a year with Common Media, a local company, to create a repository capable of merging those three collections in the new framework. Mount Holyoke's portion of the project was partially funded by the Liskow Library Fund. 
"We all had these collections, which were already set up to different degrees in different legacy programs with different levels of description," she said. "If one college has a field called 'creator,' for example, and another named that field 'photographer,' we all had to agree that going forward we would call it 'creator.'"
Collectively pooling resources and working with a vendor allowed the collaborating team to include people with different skill sets: digital collections, library metadata and web development. Also participating were archives and special collections staff and others from each college, to ensure that the final product is informed by people who worked directly with users of the content. 
Launching over the spring and summer, the Compass collection includes featured collections from Mount Holyoke's Archives and Special Collections digital collections, the Art Department Teaching Collection and the full run of the Mount Holyoke News back to volume 1, 1891. Content continues to be added. 
"You could search the term 'protests,' for instance, and see how all the student newspapers covered the topic," Goldstein said. "We want to build a broad-based service that makes creating and managing the collections accessible. We envision this as a platform for stewarding and preserving the College's cultural collections."
What will you discover? Visit.