MHC Model UN: the drive for continued success
MHC Model UN: the drive for continued success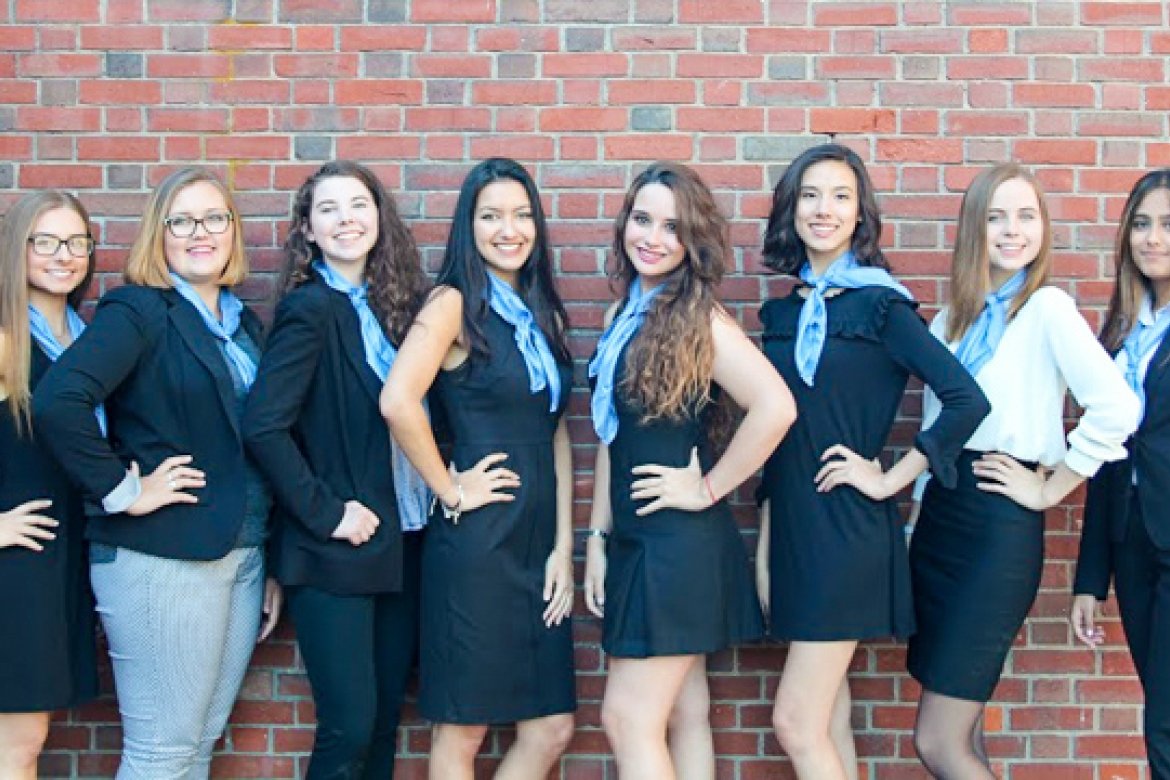 The Mount Holyoke Model UN team's continued success comes from working hard, building confidence and developing skills they'll carry far beyond the College gates.
Every Thursday night, the Mount Holyoke College Model UN team gathers in Dwight Hall for a two-hour practice. On this November evening, team president Kimberly Foreiter '19 kicked off the meeting with an ice-breaking name game. The team formed a circle filling the large auditorium. Hands clapped, feet stomped and the room thundered as Foreiter pointed to a teammate across the circle.
Chanting, the team called out, "Hey Emma, are you ready — to Jigalo?" Laughing, Emma Rubin '20 stepped into the circle to cut loose. "I put my hands up high, my feet down low and this is how I Jigalo," she sang, capping her response with a signature booty-shake. More than a dozen teammates followed, demonstrating the various ways that one can "Jigalo" — a dance athletes and cheerleaders often use as a team-building exercise.  
Foreiter likes starting meetings on united, powerful note. "Our team is a family focused on self-improvement through collaboration," she said. "Public speaking is scary, and we help our members see their own worth."
Watching the team practice, it's easy to see how this group of dedicated students has made a serious name for itself on the highly competitive Model UN collegiate circuit. As the practice continued, they reviewed UN lingo, such as the difference between "jus ad bellum" and "jus in bello." (According to the International Committee of the Red Cross, "jus in bello" — international humanitarian law — governs how warfare is conducted, so that suffering is limited. "Jus ad bellum" covers questions about the reasons for war or its prevention.)
They quizzed each other on UN intricacies such as the organization's number of sustainable development goals (17.) This information will come in handy down the road when they make speeches, debate issues or write resolutions.
They practiced thinking on their feet by giving 30-second speeches on a range of topics — anything from climate change to the quality of coffee in the residence halls. Each person received a set of random words and had two minutes to prepare. They remained focused and engaged, but still made room for fun. One student managed a cohesive connection between NASA, wormholes and "wiener dogs."
In addition to the weekly meeting, the team holds monthly four-hour UN conference simulations. Here they hone the speech-writing, public-speaking, debating and negotiating skills they need to thwart their competition and, according to the team's rallying cry, #MakeThemBleed.
The results of such determined focus are impressive. Since 2015, the 40-member team has repeatedly earned a spot among the top-30 schools nationwide, often besting delegations from larger colleges, universities and Ivy League schools. It's also the number-one women's college team in the nation. This year the team will compete in seven conferences, including its first international conference hosted by McGill University in Montreal.
The season, which started in October and runs through May, is off to a solid start. Demonstrating its commitment to developing long-term success, the team sent delegations consisting primarily of first-year students to both the Boston Area Model United Nations Conference and Georgetown's National Collegiate Security Conference. In November, the team won three verbal commendations at the University of Pennsylvania Model United Nations Conference, which is reputedly one of the toughest conferences on the circuit — second only to Harvard's.
The team delights both in representing MHC and in deflating tired stereotypes. "Ours is the only team without any cisgender men," said Joy Keat '20. "Cisgender" refers to people whose gender identity matches their anatomical identity at birth. "Roughly 50 percent of Model UN teams are cisgender men, and they just assume our team is weaker because we're from a women's college. Constantly proving yourself makes you stronger — and we love proving them wrong."
A deep commitment to training
Two weeks prior to a conference, delegates receive their assignments from the hosting school. The eight delegates then train daily — 10 pm to midnight — in addition to regular weekly meetings.
"We take practice very seriously," said Lorena Cacho '18. "Model UN helps you build confidence and learn to deal with difficult people to get what you want. We're building a team of go-getters and developing skills we'll have for a lifetime. It's empowering."
Mount Holyoke alumnae and former teammates echoed Cacho's point. "MHC Model UN taught me to rapidly immerse myself in new surroundings, remain calm under intense pressure and communicate my thoughts effectively," said Shanae McDonald '17, who is currently enrolled in the Erasmus Mundus Joint Master's Degree Programme in International Humanitarian Action. "I always have a plan, and I don't get frustrated when things don't go my way."  
Developing that kind of self-possessed fearlessness pays lifelong dividends.
"My experience on the team helped me speak to leadership with confidence, and it gave me the most crucial skills I'll need as I move from medicine to health policy," said Marwa Mikati '17, who conducts lab research at Washington University School of Medicine.
Mikati also expressed her appreciation for the College faculty, who the team can turn to for subject expertise. Dean of Faculty Jon Western, an international relations professor, is the team's official advisor.
"My professors were very supportive and understanding of the Model UN schedule," she said, noting that conferences run from Thursday through Sunday. "I always had science classes on Fridays and my professors would let me take exams early and send me assignments via email."
Meanwhile, on this brisk November night — just two short months away from the team's first international conference — their president reminded them that mental preparation goes hand-in-hand with intellectual prowess. After the team discussed assertiveness during competition, Foreiter cued up a video.
Suddenly, Oprah and Brene Brown filled the auditorium's giant screen with a timely reminder: "You cannot live a brave life without disappointing some people."
The team's next Model UN conferences will be at McGill (January), Harvard University (February), University of California, Berkeley (March) and New York University (April).
Focus your commitment. Apply.