MHC physics majors tell stories about art
MHC physics majors tell stories about art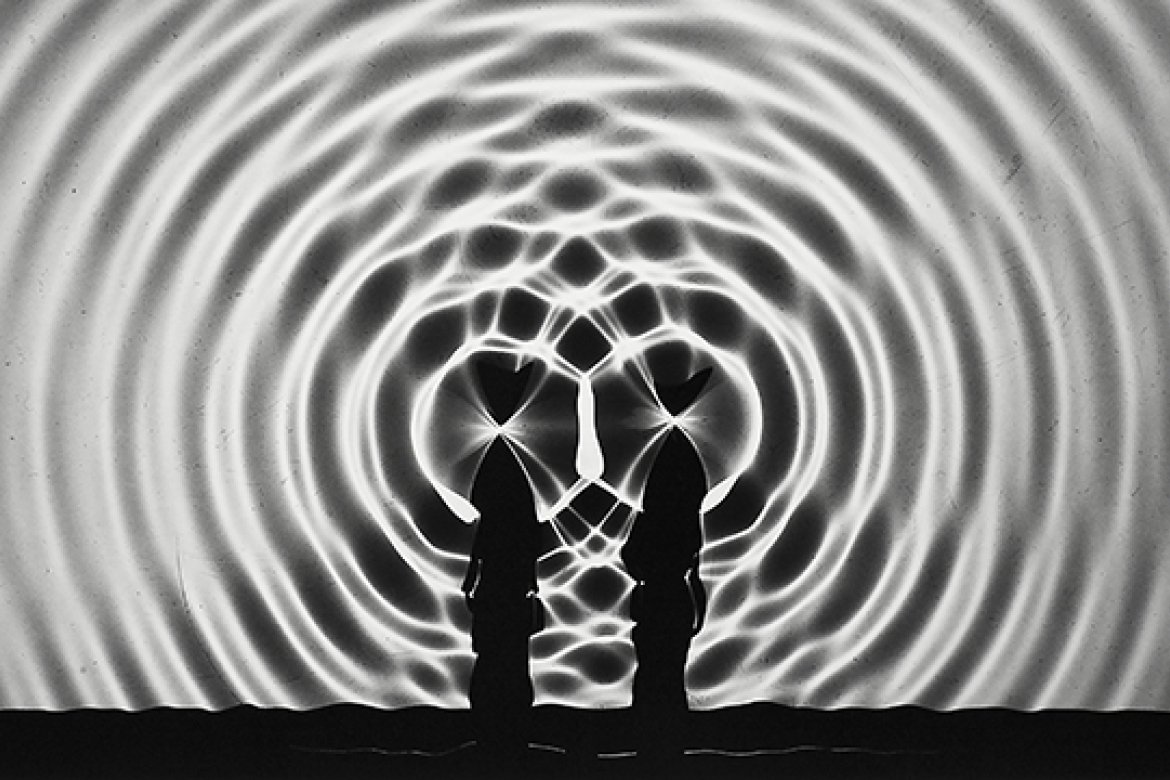 Spencer Smith, physics, curates a new show of Berenice Abbott photos that integrates physics with art and brings both subjects to new audiences.
Spencer Smith, an assistant professor of physics at Mount Holyoke College, is clear that his passion for physics and his love of the visual arts are a marriage made in heaven.
Smith has combined those two passions this fall by curating an exhibition, "Beautiful Physics: The Photographs of Berenice Abbott," on display through Dec. 17 in the Mount Holyoke College Art Museum. The exhibition is made possible by the Natalie Hofheimer Program Fund.
Smith also worked with museum staff to harness the expertise of physics students to write the labels introducing the photographs — and the physics concepts they illustrate — to museum visitors.
Abbott is an avant-garde photographer known both for her striking images of New York City architecture and for her images illustrating essential properties of physics for a broad, non-science audience. The College owns 12 of these scientific images.
Smith's exhibition grew out of a faculty seminar he is taking, "Teaching with the Original: MHC Faculty Seminar for Museums and Archives." The sessions run over three semesters and include 10 faculty participants from eight disciplines who are looking at engaging ways to use original objects and documents in teaching and for research.  
It might seem "a little bit unusual" for a physics professor to incorporate the arts into his science, as Smith put it, noting that he is the only STEM professor enrolled in the faculty seminar.
But Smith's experience is one of many ways that Mount Holyoke College works closely with faculty and staff across disciplines to facilitate innovative and collaborative opportunities in and out of the classroom.
The Abbott photographs were a perfect opportunity for this ongoing campus partnership of science, technology and art. One of the great photographers of the 20th century, Abbott took some of these images when she worked with scientists at MIT who were creating a high school textbook to educate a new generation of scientists.
"Not just pedagogically sound," said Smith, "Abbott's images are striking works of art that stand on their own. She wanted to give a friendly face to the new exciting advances in physics that were happening at the time."
In curating the exhibition, Smith selected 10 from the College's collection. The black and white images capture motion, such as a ball bouncing or a wrench rolling end over end, and concepts including symmetry and gravity.
Next, to explain how the photos illustrate key properties of physics, Smith and the museum's education staff summoned help from members of the College's chapter of the national Society of Physics Students. On a late afternoon in September, about a dozen students showed up for a workshop  on how to write museum labels.
"We really need your help," Ellen Alvord '89, Weatherbie Curator of Education and Academic Programs at the Art Museum, said in her welcome to the group. "A lot of visitors look at those pieces of art and have no idea what's in the pictures. You are going to help remedy that."
With students seated on stools arranged in a circle in the middle of the Anne Greer and Fredric B. Garonzik Family Gallery, the Abbott photographs hanging on the walls around them, Kendra Weisbin, the Art Museum's associate curator of education, led the workshop. When she asked who among them reads labels when they visit museums, all hands shot up.
"Oh, you're all so good," she said, smiling. "Well, it makes sense because you are science students and you're looking for answers. What do you want to learn when you read museum labels?"
 "I always look for more context," said Liz Post '19. "I'm looking for the story behind it — why did they paint that scene?"
Exactly, said Weisbin: "Even though you're talking about the physics of these photos, what you're really doing is telling a story."
And while brevity is essential for museum labels, the writer must also convey an excitement about the image.
"If an average museum-goer spends 30 seconds on an object, they spend even less time looking at a label," she said. "Draw the reader into something that you're excited about. Draw the visitor's eye to something they might not see on their own."
 After the discussion, the students circulated around the room, stopping to discuss the images on the walls.
 "I really like the wrench," said Emma Thackray '18, referring to a photograph titled "Spinning Wrench." "I think it's really cool when you can kind of visualize an object moving, because most of the things that are thrown or dropped are not actually a ball or a sphere."
A delighted Smith took it all in. He will give a gallery talk, "Interweaving Themes for Physics and Art," about the exhibition, on Nov. 16 at 4:30 p.m. He's also developed a new class with the same name that he plans to teach next semester, which will show how key abstract concepts in physics such as quantum mechanics and chaos theory can be explained with the help of works of art.
"There are these really cool physics ideas that I want to get to a broader audience," he said.
Want to be delighted? Visit.