MHC senior's travel renews commitment to home
MHC senior's travel renews commitment to home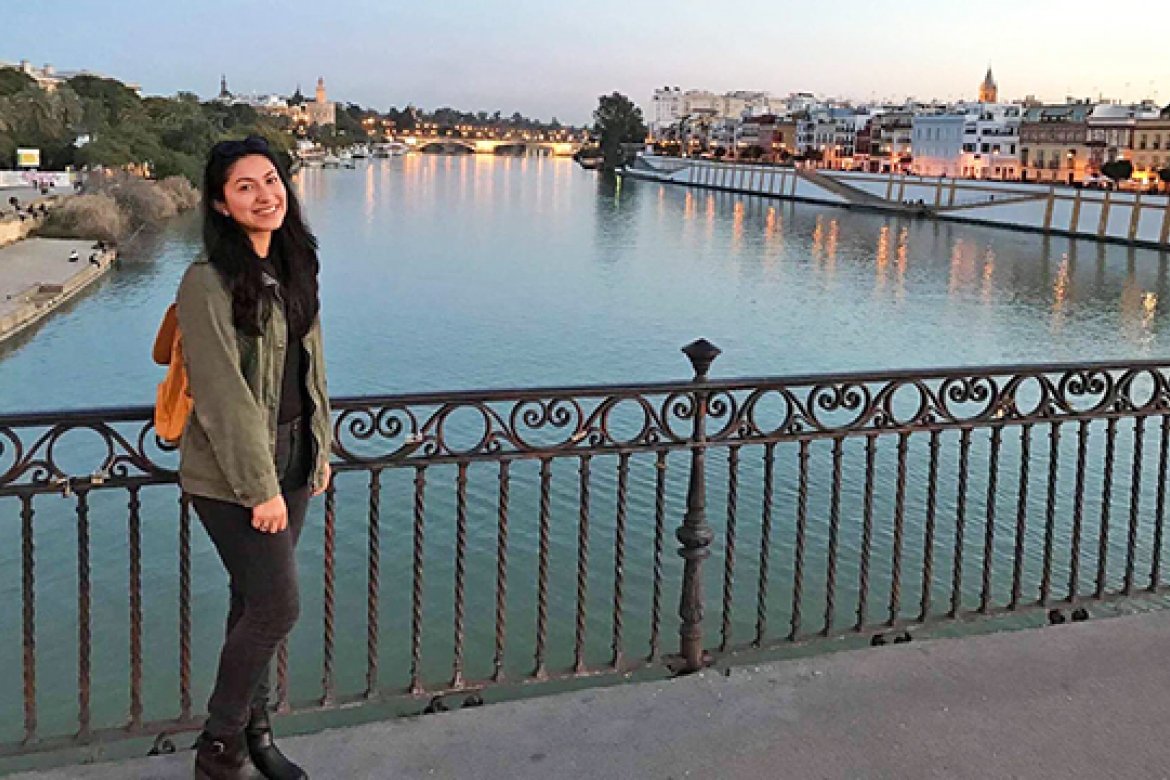 A Mount Holyoke senior finds study abroad brings her back home with a mission: to work with her Latinx community.
Mount Holyoke student Vanessa Rodriguez '18 is taking a break on a busy September day for a chat at the Thirsty Mind coffee shop. Earlier, she'd been at Convocation, wearing graduation robes like the rest of the senior class. Looking over at the excited crew of new students, precisely where she'd stood three short years ago, she teared up as she thought back to her own first semester. It didn't feel that long ago. And yet, so much has changed. 
"Obviously, college can't make you who you are fully, but it definitely helps," said Rodriguez, 21, with wide brown eyes, long, shiny black hair and a disarming smile. The daughter of parents who came from El Salvador to Washington, D.C., where her father worked as a dishwasher and her mother a hotel chef, Rodriguez is a first-generation college student. 
Those college years took her far away from home in time and distance and experiences, but in another sense, they nurtured and solidified her connection to her family heritage. She is majoring in Spanish and minoring in Latino/a studies, and after she graduates, she hopes to work with immigrant communities in Washington, D.C. 
If there's a theme to Rodriguez's time at Mount Holyoke, it's that she never limited herself to a preconceived plan. She was guided by the College's many opportunities and resources — from a dedicated mentor to funding for internships and international travel. As a result, her educational experiences and career trajectory are far different ("in a good way," she said) from what she had imagined as a first-year student in 2014. 
Unexpected twists and turns began even before Rodriguez stepped foot on campus. She'd planned to go to elsewhere, but as a high school senior, Mount Holyoke's admissions office offered her a place in its Focus on Diversity overnight. Rodriguez felt an immediate connection. 
"Mount Holyoke felt strong and accepting," she said. 
Once enrolled, she planned to major in international relations, but a Spanish class during her second semester changed all that. She fell in love with the department. Spanish became her major. She planned to minor in Arabic, but after taking a course in Latino/Latina studies, she said, "I realized that's where my passion lies." That became her minor. 
She is also pursuing a Nexus concentration in journalism, media and public discourse, which led her to spend the spring semester of her junior year abroad in Seville, Spain. 
Rodriguez had considered Mount Holyoke's established program with the Monteverde Institute in Costa Rica. But her advisor, Spanish professor Nieves Romero-Diaz, who is also the study-abroad advisor for Spain and Latin America, suggested she consider a brand-new study abroad program from CIEE, the Council on International Educational Exchange, that focused on journalism and communications in Seville. 
Rodriguez had previously traveled to the Middle East, and Central and Latin America, but never to Europe. "The whole point of going abroad is to experience new things," she said. "I wanted to experience a different kind of Spanish." 
She received a Laurel fellowship, which the College offers to students wishing to study abroad, that allowed to her spend a semester in Spain. She took journalism classes through CIEE, worked as an intern for an audiovisual reporting agency and translated interview transcripts from Spanish into English. 
Romero-Diaz, who is also the chair of the Romance languages program, said the CIEE program was perfect for Rodriguez because it incorporated her three main areas of interest: Spanish, working with immigrant communities and communications. 
"She could develop her Spanish skills while working with immigrant and low-income communities as well as her journalism and communication skills," said Romero-Diaz. 
An article Rodriguez wrote, "The City on the Margins," is now on the Seville program's online magazine, Más+Menos. The director of the CIEE program called it one of the most well-researched articles to be written for the site, Romero-Diaz said. 
Working on the article, she noted, helped Rodriguez reach her goals for her time abroad. "It gave Vanessa the opportunity to connect with the community in a very academic, but also personal way," she said. 
The article is yet another an example of how Rodriguez is guided by her interests and the opportunities at hand. Her decision to take a close look at a troubled and neglected neighborhood was inspired by a course she took at Mount Holyoke the previous semester, Latinos, Latinas and Housing. 
"It sparked an interest in me in public housing and gentrification," she said. "I come from D.C. and I've witnessed gentrification at its core." 
So when it came time to pursue a magazine story in Seville, she decided to focus on one of the poorest neighborhoods in Europe. 
"I wanted to see what there was beyond the touristy sites of Seville," Rodriguez said. 
After her semester in Spain, Rodriguez received funding from Mount Holyoke's curriculum-to-career Lynk initiative for an internship in Managua, Nicaragua. There she worked at Podcasts for Peace, a nonprofit co-founded by Mika Weissbuch '11 to provide enrichment education to children in a low-income neighborhood. Rodriguez lived with a family and taught journalism, English, and arts and crafts to students ranging in age from as young as 2 up to 17. 
Her travel experiences abroad had the effect of making her feel more connected both to her heritage and her place in the rich landscape of immigrant communities in the United States. 
"I think my presence abroad was a window for people to see that we are present in the United States and we are American and we don't have to choose between our American identity and our 'Latinx' identity," she said. 
Down the road, Rodriguez aims to go to graduate school, but first she plans to return to Washington, D.C., to spend time with her family and work with the Latino and Latina immigrant community. 
Meantime, she looks forward to her senior year, and then Commencement. That weekend, Martha Cutts '68, the former head of Rodriguez's high school, will bestow on her a scarf in her class color — red — during the Alumnae Association's Welcome New Alumnae ceremony. Cutts will be on campus to celebrate her 50th class reunion. 
In many ways, Rodriguez's four years at Mount Holyoke illuminated what is most important to her: her community. Now, she wants to immerse herself in it. 
"When you have that connection and knowledge of the community," she said, "it empowers you to do more in order to make meaningful change."
Immerse yourself. Visit.