MHC student brings community together
MHC student brings community together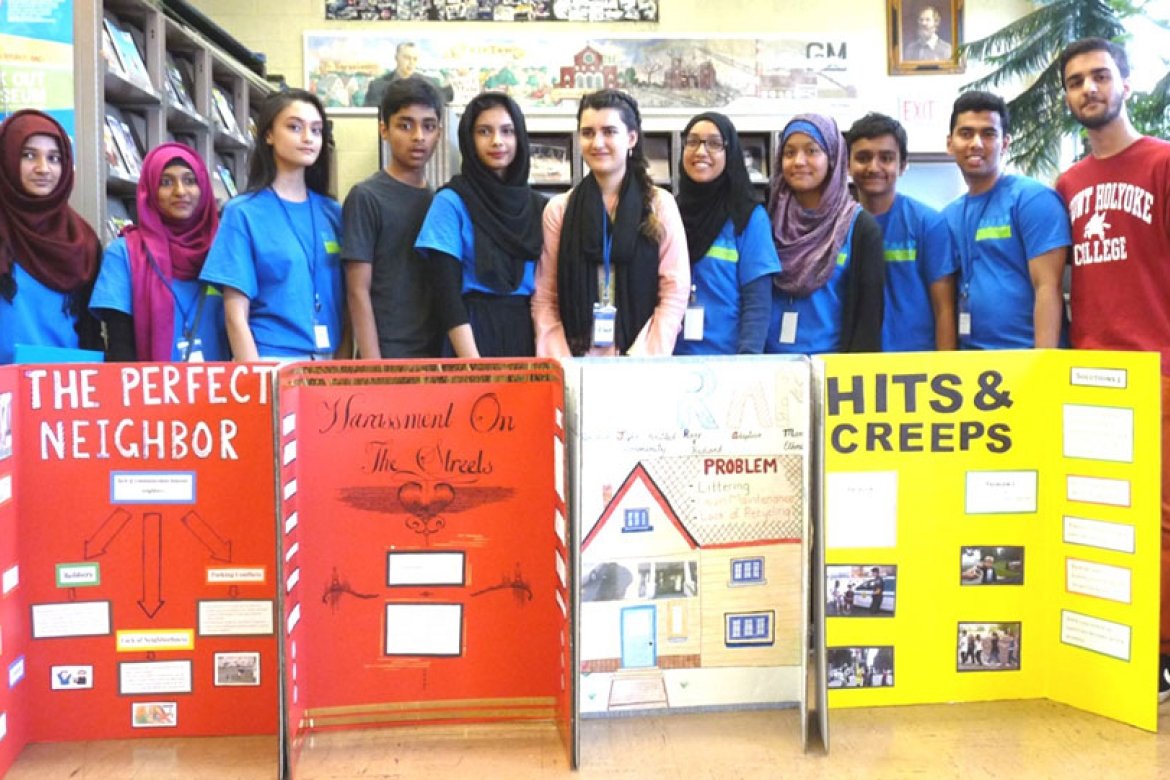 Uswa Iqbal '18 took on a project to foster civic pride and neighborly unity in Hamtramck, Michigan, a city torn by urban stresses and cultural differences.
By Keely Savoie
Transformation was the name of the game when Mount Holyoke College student Uswa Iqbal '18 developed her winning Davis Prize for Peace proposal with the help of the College's national fellowships advisor, Ryan Lewis, and her academic advisor, Assistant Professor of Anthropology Elif Babül.
Born in Virginia, Iqbal grew up in a progressive family. She spent most of her youth in her mother's native Pakistan, but moved to her father's home state of Michigan with her family when she was 14. She was conscious of wanting to preserve her identity as a Muslim, while also fostering a deeper cultural understanding among her new American friends and community.
In school, she used commonalities and humor to garner friendships and bolster relationships with her peers. By the time she graduated from high school, she was a beloved figure among both classmates and teachers.
When she came to Mount Holyoke, Iqbal, a double major in anthropology and biology, realized that she could bring her vision of unity and respect to the wider world.
After spending a summer tutoring Somali refugees in Hamtramck, where she connected with the youth in the community, Iqbal identified several key issues.
Hamtramck, a small city about 50 miles from her home that is almost entirely surrounded by Detroit, was riven with tension between the Polish residents who had thrived there during the boom years of the auto industry, and the new largely Muslim immigrants. The two populations eyed each other with distrust and distaste, and cultural differences fueled hostilities, preventing the immigrant communities from developing cohesion.
To address those issues, and with the guidance of her advisors at Mount Holyoke, Iqbal developed and submitted a proposal that would engage the city's youth in projects that would foster cooperation and communication among the different ethnic and national factions of the city, while addressing some underlying issues that were exacerbating tensions.
"I wanted a positive experience for Hamtramck's immigrant youth," she said.
Iqbal was awarded a $10,000 Davis Prize for Peace grant to start her project, "Be a Good Neighbor."
Iqbal had honed her proposal in part, through Babül's Research Methods class, which stresses how anthropologists need to approach their subjects with respect for their needs, rather than imposing an extrinsic agenda or set of ideals on them.
"Uswa arrived at Mount Holyoke with the intersection of identities and geographies that informed her perspectives, but Mount Holyoke gave her the academic vocabulary and consciousness to be able to articulate those values," said Babül. "She was able to draw from what she already knew and connect concepts to real projects so that she could affect positive change in the world and in the communities that she comes from."
But before Iqbal even began, the real-world challenges came one after the other.  One of the leaders of a key project partner had family issues that prevented her from helping organize. Another did not have her contract renewed and was unavailable. The organization that was meant to supply her with volunteer college mentors did not come through.
Undaunted, she took on the new landscape and adjusted her programs while holding onto her original vision.
She educated the youth who were unfamiliar with the "old" Hamtramck. She created a youth ambassador program, in which she had the annointed ambassadors brainstorm about the Hamtramck they'd like to live in, and identify ways to mitigate the barriers they faced in getting there. She began a youth public health educator program, which focused on ways to beautify the city — planting flowers and distributing trash can liners. She and her team identified ways that neighbors could help each other and fostered new connections. They held town halls and public forums.
All the while, the youth ambassadors were engaging in an unwritten curriculum: investing themselves — their hearts, their bodies and their minds — into the city, and engendering civic pride within themselves, as their community flourished under their attention and labor.
At the end of the summer, her youth workers wrote reflections on what the work had meant to them and their community. Bank Suey, a Hamtramck community space, showcased these reflections in a three-week exhibit with the support of the Hamtramck Community Initiative. There, the English sentiments were translated to Bangla, Polish and Arabic for all to read.
The program was such a hit that the Hamtramck Community Initiative and Bank Suey hope to carry the project forward in coming years, so Iqbal left the remainder of her stipend with them to seed future projects.
As for Iqbal, she imagines the project being replicable throughout the world where tensions between different immigrant populations can lead to fractured communities and seemingly intractable problems.
Currently, she is waiting on word from her application for a Fulbright scholarship this year.
"I discovered a passion for empowering and enabling youth," said Iqbal in her personal essay to the Fulbright Foundation. "I learned that by providing the youth with a structure, but not being too rigid and allowing opportunities for them to add personal touches and learn from their mistakes, yielded confident and enthusiastic recruits."
Iqbal hopes to use her experiences and insights to teach immigrant children around the world.
"Maybe Malaysia or Indonesia," she said. "This project really clarified for me the specific demographics of the children I want to be working with."
Improve your world. Apply.