A partnership sparks expression, mentorship
A partnership sparks expression, mentorship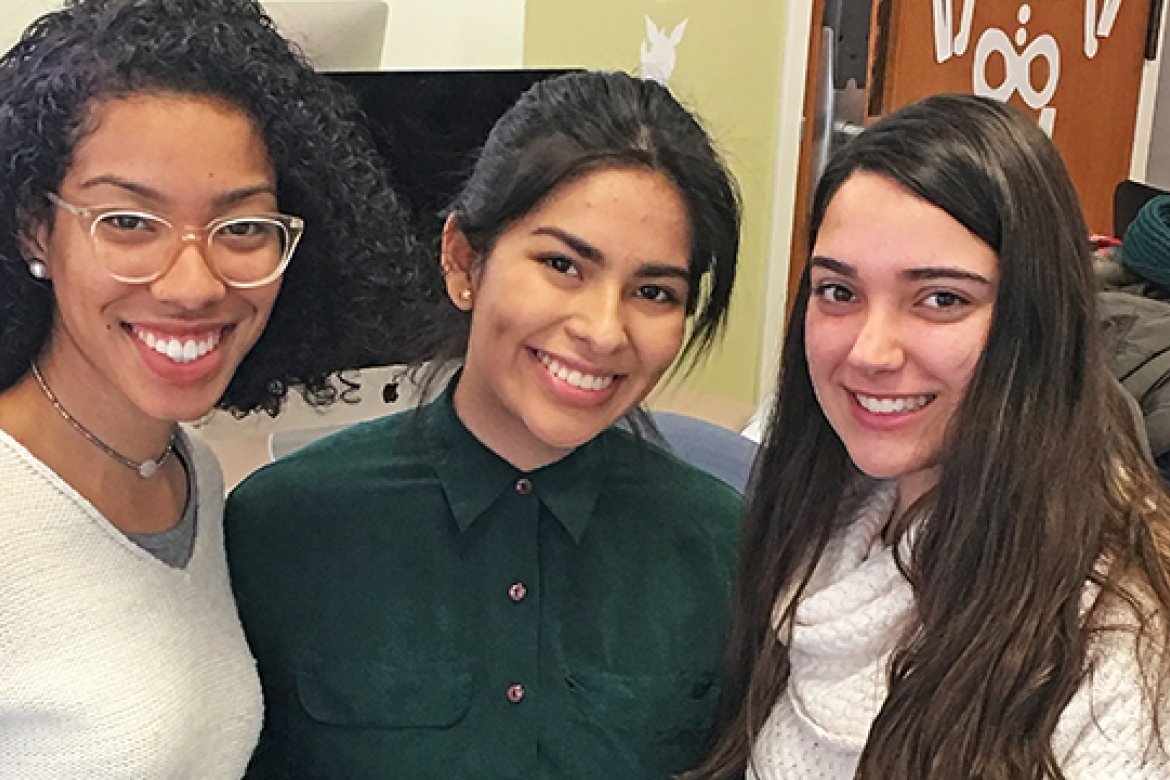 Original art can be used to explore many topics, local high schoolers learn through a program offered by the Mount Holyoke College Art Museum.
Adi Otero has rediscovered her penchant for visual art and it's all because of a collaboration between her high school and the Mount Holyoke College Art Museum. 
Otero, a senior at the Springfield Renaissance School in nearby Springfield, Massachusetts, is a participant in a new program sponsored by the Art Museum. The program invites groups of about a dozen high school students to visit the Art Museum's collections to identify themes that are meaningful to them, which then inspire their own creations. 
"I used to be interested in art when I was younger, but as high school went on, since we didn't have an art class, I lost interest," Otero said. "This program has inspired me to do my own artwork again." 
By introducing teenagers in the community to the museum's collections and opening up opportunities to use art as a springboard for their own projects, said Tricia Paik, the Florence Finch Abbott Director of the Art Museum, the museum team is helping the school integrate original works of art into the curriculum. 
"This is an enriching program for the students as well as for us," Paik said. "We're excited to be partnering with one of the region's most innovative public schools and encouraging students to see the relevance of art in their everyday lives." 
The Art Museum's partnership with the Renaissance School, a STEM-focused magnet school with 700 students in grades 6 through 12, is part of its Diverse Voices Initiative: The Art of Inclusion. Now in its second year, the initiative is one of several projects funded by a three-year grant from The Pierre and Tana Matisse Foundation. 
Learning to see and make art 
"We hope the Springfield students learn that when they're looking at art, their own interpretations, ideas and interests are important," said Ellen Alvord, the Art Museum's Weatherbie Curator of Education and Academic Programs, who oversees the program and works closely with the art and creative writing teachers at the high school. "We want them to feel empowered." 
Arria Coburn, the principal of the Springfield Renaissance School, called its partnership with Mount Holyoke "a true union." 
"It has given our students an outlet to explore self-awareness and self-identity through art," Coburn said. "We've seen a very intentional integration of art in our building. Our students are thinking, 'How can I use art to express how I feel about this topic?' They are now exploring science, technology, engineering and math through an artistic lens." 
The teenagers have come to that awareness by working with art and community engagement interns Relyn Myrthil '19, a music major, and Emilee Aguerrebere '20, an architectural studies major. The student interns have designed activities and exercises to enhance the high schoolers' understanding and appreciation of art — and perhaps helping them to find a place for it in their own lives. 
Activities include being invited to sketch — "to get their pencils moving right in the vibrant art space of the museum," Myrthil said — as well as peruse the Art Museum's collections and to make observations about what they liked and didn't like. 
Because of the Renaissance School's focus on STEM, Myrthil and Aguerrebere include a trip to the College's Makerspace, where the students can see how art can intersect with technology, as well as other academic disciplines. During Otero's visit, she and her classmates used the Makerspace's laser cutter to create chipboard silhouettes, which they turned into small 3-D sculptures based on images they had chosen earlier during their tour of the Art Museum. 
The program brings mutual benefits, Myrthil noted. While the Renaissance School students get to engage directly with material culture and art, she gets to share her love of art while mentoring younger students. 
"This is a remarkable opportunity," she said. "I get to show other students how amazing art is, how accessible it can be to anyone. I've always worked in the community with children, but now I get to work with people closer to my own age, which I love. And they get my jokes!" 
Working with partners on campus and off 
One of the oldest institutions of its kind in the country, the Art Museum remains dedicated to its teaching mission while simultaneously reaching out to new audiences, Alvord said, noting the deep international and domestic diversity among Mount Holyoke students. 
"This is an evolving, dynamic institution," she said. "We want all our students, and the community, to see themselves reflected in the artwork on view." 
To that end, the Art Museum continually seeks collaborations with community partners off campus — and on, with departments and offices across the College. 
The suggestion to reach out to the Springfield Renaissance School came from the office of Community-Based Learning, which works across campus to link Mount Holyoke students with youths from area communities, in part to introduce them to college life and academics. The program's long-standing relationship with the school made it the obvious community partner, said Alan Bloomgarden, director of community engagement at the Weissman Center for Leadership.  
"We often work with the Art Museum to connect our students with a diverse range of community youths," he said. "Their experiences there enable them to learn about mentoring and leadership, while also helping our local communities." 
As the leader of one of those local communities, Coburn is thrilled with her school's partnership with the Mount Holyoke College Art Museum. 
"Our students are excited about art!" she said. "They say they didn't realize art could be used to express more than just love. They advocate using art in the class as a means to engage in a discussion about, say, politics. Now that's powerful."
Give a nod to your future. Apply.