A passion for education and social justice
A passion for education and social justice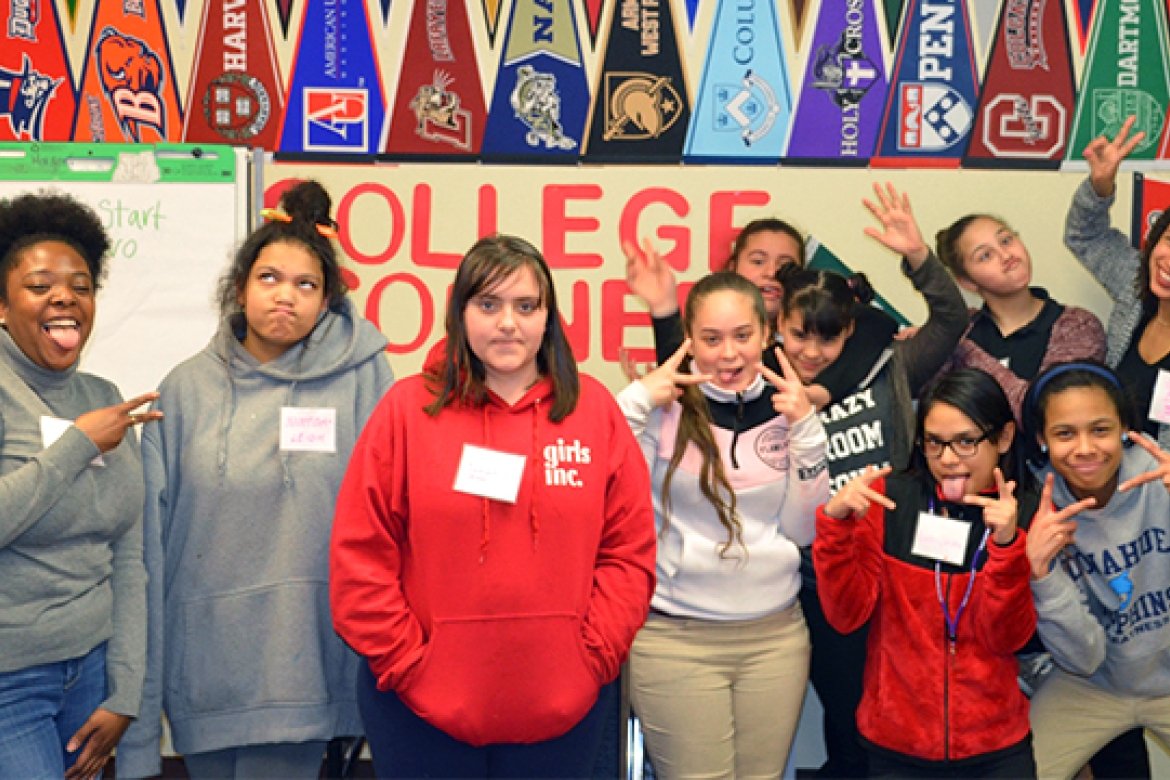 Rachelle Egipeiaco '18, a first-generation college student, found her place and her mission at Mount Holyoke: helping teens see college as an option.
Sipping a cup of white hot chocolate in a corner of the Thirsty Mind coffee shop near campus, Rachelle Egipeiaco '18 described her Mount Holyoke College experience as almost dream-like. As a first-generation college student, there was a point earlier in her life when she couldn't even imagine college as an option. 
"I figured my parents didn't go to college, and they were able to support our family," she said. "So, I just told myself, why should I go?" 
That question ultimately led this soft-spoken young woman from Harlem to Mount Holyoke College — where her life experience, her academics and her work with the Community-Based Learning program, part of the College's Weissman Center for Leadership, fuel her passion for education and social justice. 
An English major with a minor in psychology, Egipeiaco's interest in becoming a teacher led her to Community-Based Learning. The program connects 350 to 400 Mount Holyoke students annually with community-based organizations, primarily in the nearby city of Holyoke, through courses, independent studies, internships, research and service projects. 
Through the Community-Based Learning program, Egipeiaco spent her first two years on campus tutoring students at Holyoke's Peck Elementary School in math, science and reading. 
As the College's director of community engagement, Alan Bloomgarden oversees Community-Based Learning and its Community Fellowships program, in which about 30 fellows are accepted into year-long paid internships that support campus and community partnerships. 
The College partners with community-based agencies, including youth development programs whose missions are to provide social and emotional growth, and to promote academic success. Mount Holyoke students apply what they learn in the classroom to help these programs meet those goals. 
"Students involved with Community-Based Learning combine learning, critical thinking and analysis with action and social change," Bloomgarden said. "They have an avenue to explore their passion for social justice and prepare for a career in public service, if they want one." 
Egipeiaco currently serves as one of three College Access Fellows, and Bloomgarden refers to her as "an incredibly organized leader of leaders." 
In her role, she coordinates with a wide variety of community-partner groups, student organizations and faculty members to create access opportunities — including campus tours and cultural events, classroom visits and workshops in the College Makerspace, where boundless creativity meets 21st-century technology. Her goal: bring low-income, high-potential middle-school students to campus and open their eyes to college as a possibility. 
Their story is her story 
It was such a visit to the College, arranged by her high school counselor, that changed Egipeiaco's perspective about attending college. A campus tour concluded with a surprise interview that caught her completely unprepared. "I was wearing sweatpants!" she said. 
Conducted by an African student, the interview was warm, conversational and inviting. Not at all intimidating, as Egipeiaco had imagined. It opened her eyes to a world — and to possibilities — that a young Puerto Rican girl from Harlem hadn't truly believed applied to her. 
She may not recall the student's name, but Egipeiaco says she will never forget the effect that interviewer had on her life. 
"Her presence and perspective showed me that I could be at Mount Holyoke College, a primarily white institution, and be welcomed," she said. "I have a place here. The students of color are very tight, very strong, and we support each other." 
Among Mount Holyoke students, 27 percent are citizens of a country other than the United States, and 26 percent of domestic students are students of color. 
That unexpected college-campus encounter ignited a passion that she expresses through her work with Community-Based Learning. As part of her internship project, Egipeiaco chose to design and facilitate her own College Access Workshop for a group of middle school students at Girls Inc. in Holyoke. Drawing on her own personal experience, she wants to make the college search process more accessible and less intimidating for young girls. 
Entitled "Is this College the Right Fit for Me?" the workshop gives girls the time, space and research tools they need to imagine going to college. The three-part curriculum covers learning how to choose the right college; preparing for the college interview (including clothing, style and researching interview questions), and conducting mock interviews. 
Egipeiaco, like many other students in Community-Based Learning, shares a common identity with these teens, Bloomgarden said. 
"She can have meaningful conversations about staying in school and pursuing your dreams in a way that a teacher saying, 'go to college' can't," he said. "Her credibility makes her inspirational." 
Beyond the College gates 
After she graduates this spring, Egipeiaco will attend a summer-long Teach for America training in Boston. She will continue to walk her talk in the fall by teaching at Impact Preparatory Academy, a public charter school in Springfield, a city on the other side of Holyoke. The principal there — who hails from Harlem — worked at the same public charter school she attended. 
"It feels like I've come full circle," Egipeiaco said. 
Her long-term goal is to build her own school for low-income students of color who would become the first in their family to attend college. She credits Mount Holyoke for providing the essential foundation to follow her dream. 
"My coursework in human development, communication and proper teaching techniques has prepared me to be a better educator than I ever imagined," she said. 
Meanwhile, on that chilly March day, Egipeiaco finished her hot chocolate and prepared for an afternoon of meetings. She was organizing a trip to bring 20 students to campus for Noche Latina, a dinner and evening of entertainment to celebrate Hispanic culture and to raise funds for Puerto Rico. 
And as she talked about bringing them to campus, ready to learn about college, the quiet reserve dissolved. Her face lit up, her eyes sparkled and her voice intensified. 
"I know I've found my purpose in life," she said. 
Find your purpose. Learn more.