Public Service deputy reaches karate milestone.
Public Service deputy reaches karate milestone.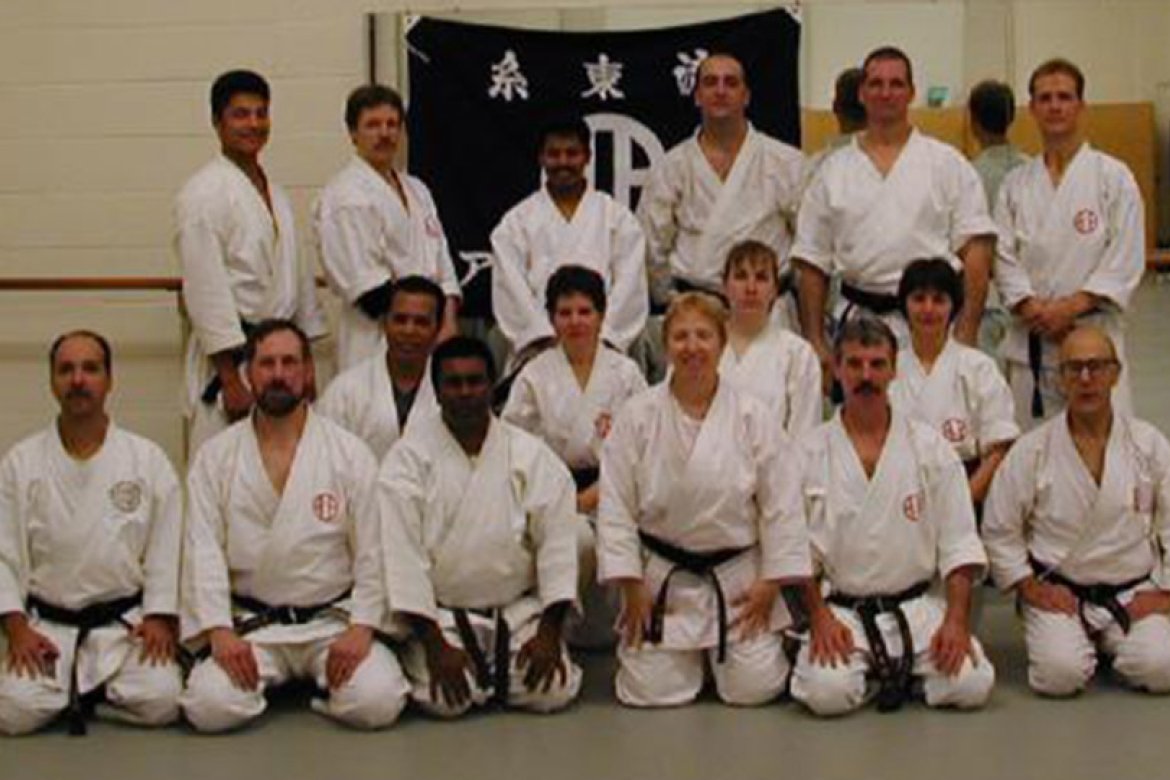 Barbara Arrighi of MHC Public Service is an eighth-degree karate black belt and possibly the only woman in the world to become a hanshi—teacher of masters.
Mount Holyoke Deputy Police Chief Barbara Arrighi earns rare title in form of karate
By Gena Mangiaratti
Published in the Daily Hampshire Gazette on September 3, 2015
SOUTH HADLEY — When Barbara Arrighi walked into her first karate class 43 years ago, she was one of a small number of women pursuing this martial art.
Last month, Arrighi, the deputy chief of campus police at Mount Holyoke College, became an eighth-degree black belt and possibly the only woman in the world to be named a hanshi, which means she is a teacher of masters, in Shito-ryu International Karate-do Kai, a Japanese form of martial arts.
According to members of the organization, she is the only woman of this style in the United States to achieve this title, and believed to be the only woman in the world.
"I sit here going, 'Are you kidding me?' " said Arrighi, 68, of Northampton. "I'm just very grateful that I've been recognized by my organization as being a daughter of the martial arts."
Shito-ryu is one of the major styles of Japanese karate. It was founded by Kenwa Mabuni in 1931. When he died, the branch of Shito-ryu that Arrighi studies was taken over by Mabuni's son, Kenzo. When he died in 2005, it was passed on to his daughter and Kenwa's granddaughter, Tsukasa Mabuni, who recently presented Arrighi with her eighth-degree and hanshi certificates. Other styles of martial arts have originated in other countries, including tae kwon do from Korea and kung fu from China.
Arrighi was awarded her most recent rank and title Aug. 2 at the 2015 Taikai, or tournament, for Shito-ryu karate, in San Francisco.
She is also a fifth-degree black belt in Gosoku-ryu, another Japanese style of karate, and is a staff instructor for Rape Aggression Defense (R.A.D.), a self-defense tactic for women developed in the United States in 1989. Arrighi teaches Shito-ryu and R.A.D. at Mount Holyoke, where she has worked since 1974.
'Fighting without fighting'
Arrighi says that learning to fight has made her a peaceful person. She knows she can defend herself, but furthermore, it has formed her perception of what it means to fight.
"Karate is the art of fighting without fighting," she said. "In other words, you train so hard and so well, you know you don't have to fight. You walk away."
Arrighi said if she encounters a confrontation, she tries to "talk it down."
"It's given me a calmness," she said. "I can look at things, and realize some things are just not worth fighting for."
She said she has never had to use her karate training for her personal self-defense.
Arrighi grew up in Easthampton. Her father brought her to her first karate class at the now-closed Henry Jay's Health Club and School of Karate in Holyoke, where she became one of a small number of women to train. Her younger brother, then a teenager, was already studying it. She recalls her father saying something to her like, "I think you'd really like this karate thing." At the time, she was studying judo, another form of martial arts.
She said she remembers walking into the room where the karate students were training, and seeing them all doing the same swift motions.
"I remember standing at that doorway and saying, 'I don't know what that is, but I've got to learn it,' " Arrighi said.
She would learn that these patterned sequence of motions were part of kata, or the practice of form. "I was just mesmerized by it. I signed up that day and never looked back."
Now, she uses kata as a relaxation technique. If she has a headache or is just having a bad day, Arrighi said she will do kata. But when she is unable to actually go through the motions, she will just picture herself doing them.
She recalls the first time she went through magnetic resonance imaging, or an MRI, around 15 years ago. Not expecting to be put into such a small space, she had an " 'Oh, my God' moment," she said.
"I screamed, 'Get me out of here!' " she remembers.
The hospital staff stopped the MRI and told her that normally, they would sedate people for the test. She declined, though, saying she did not want to be medicated. Instead, when the test resumed, she closed her eyes and imagined herself doing kata.
"It was a way to calm me down and visualize something I truly love," she said. "It's very dear to my heart."
Honor the teacher
Arrighi is quick to credit those who helped her reach her current level in the martial art. She said she considers herself fortunate to have had instructors who saw the importance of teaching women, who were once a rarity in her karate classes.
Her first instructor at Henry Jay's was Don LaCaresse, whom she remembers as her "finest instructor."
"There has been no one in my opinion who taught me better than he did," she said. "I outrank him many times over, but I still feel that he is far superior to me. 
Arrighi said she models her teaching after his. "He really gave me the foundation of what I needed," she added.
LaCaresse, 72, of Chicopee, remembers Arrighi as one of his top students. When the school was at its height, she was one of three women out of around 100 students, he recalled. They trained along with the men, desiring no special treatment, he said.
The most prestigious thing for him as a teacher, is when a student surpasses his rank, because he knows he has done his job well, he said.
"I'm really, really proud of her for going that far and still training," he said.
He added that when he has sat in on her classes at Mount Holyoke, he has noticed her do or say some of the same things he did when he was her instructor. "It gives you a good feeling — that you trained them well," he said.
Even though Arrighi has obtained a higher title, LaCaresse said that she will always call him "sensei," or teacher, by virtue of him being her first instructor. Likewise, he will always call her "Barb," he said.
David Wiley, 63, of West Springfield, was among the men with whom Arrighi started training in the early 1970s. He, too, recalls how the few women in his class wanted to be treated no differently from the men. 
"They got hit hard and they hit back hard," he said.
He noted that her recent promotion to hanshi is not something easily achieved.
"I respect her for what she has done," he said. "She has my admiration and respect."
Arrighi's former student Jennifer Thornell, a 1988 graduate of Mount Holyoke, remembers Arrighi as a teacher who is tough but patient — and also funny. "She had little stories here and there," she recalled. "She's just very friendly. People like her."
She was a student of Arrighi's in karate and R.A.D. Her highest martial arts rank is a second-degree black belt in shotokan, another form of karate.
"Every style has something to offer," said Thornell, 48, of Stonington, Connecticut. "It's really an individual thing. You just keep improving yourself."
Adjusting for age
Arrighi lives with her partner, Marla Allisan, and three cats. The couple has a daughter, Annie Arrighi-Allisan, who recently graduated from Harvard University and works at a consulting firm in New York City.
Arrighi acknowledges that her practice has changed with age.
"Like everything, I don't care if it's karate, gymnastics or swimming, as you get older, you adjust," she said. "I'm not doing flying kicks anymore."
But, she said karate is meant to be direct and focused, and that has remained the same. And while she might not be doing some kicks, she can still teach them.
"You have to adjust your training. People come to class with different abilities," she said. "That's who you are. You have to work around those limitations."
She said her next goal is to write a book about what she has learned from training. "Karate is a life of training, a life of commitment," she said. "Even in my bed, I'll start punching."
Gena Mangiaratti can be reached at gmangiaratti@gazettenet.com.