Remarks by Alicia Winokur '16
Remarks by Alicia Winokur '16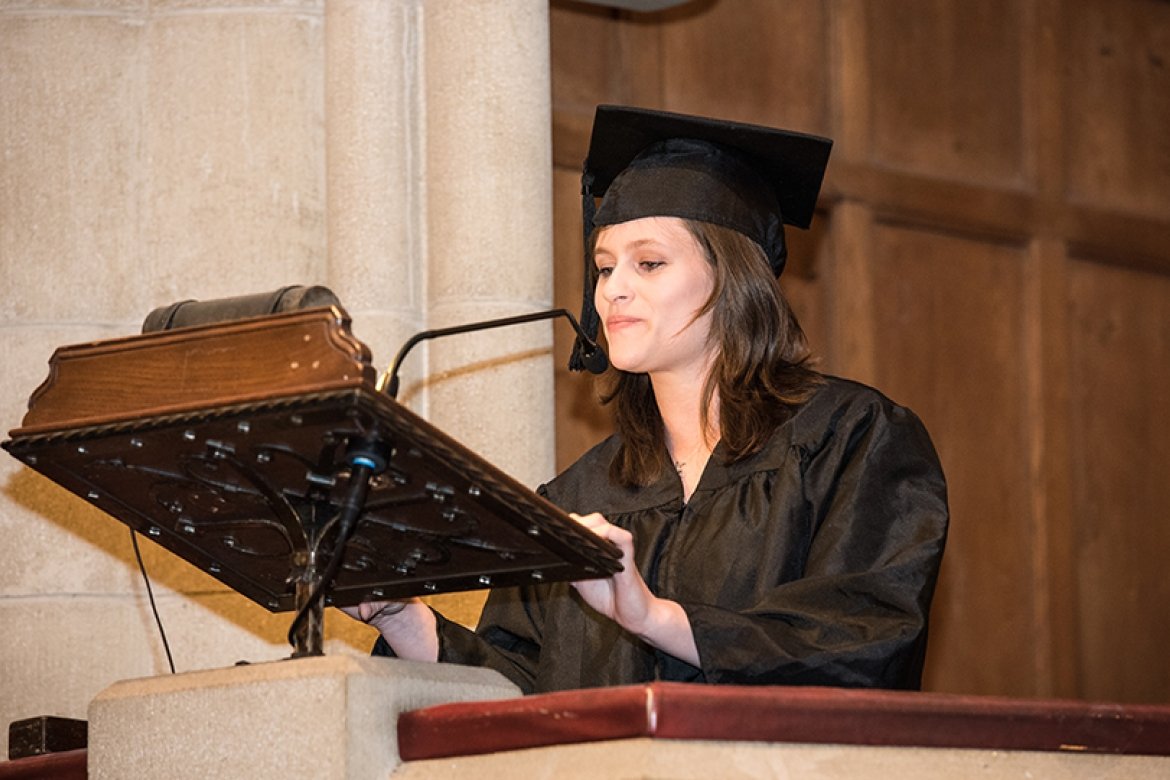 Remarks as prepared.
Here we are. The night before graduation—but it's so hard to believe it's the end. Doesn't it feel like we just stepped on campus? Like we haven't yet learned the difference between Kendall and Kendade? Like we haven't yet had our much-needed sleep disrupted by that godforsaken beautiful bird in Lower Lake? It doesn't feel like we've clocked in hundreds of hours at the library, or eaten borderline unhealthy amounts of spicy fries at Blanch. Whether you arrived as a firstie on a hot August day in 2012, as a springie in the dead of winter, as a Frances Perkins scholar eager to learn, or a transfer happy for a fresh start, doesn't it feel surreal?
By no means was it easy, though we certainly tried to make it look that way. I stand in front of a room full of incredible hard workers who mastered 300-levels, led organizations, captained sports teams, and more—and who wouldn't dare let anyone forget it. After all, if you don't have three papers to write, two tests to study for, a cappella rehearsal, and hockey practice, is it even an average Tuesday at Mount Holyoke? Somehow, despite every weekly catastrophe, we made it through.
So here we are. Can you believe it? For months, I laid awake in bed at night, thinking of how little time I had left. Two hundred days quickly became 100, then all of a sudden it was May, and time to leave. However, even as I stand on this stage, about to say goodbye to this beautiful school and all of my friends, I'm not sure it feels like an ending.
Let this not be the end of our time here, let it be the beginning of the second chapter: life as a Mount Holyoke graduate. An alumna from the class of 1966 told me that the Mount Holyoke journey doesn't end at graduation. It's ongoing—we'll continue to bond with each other and we'll become a part of a vast network of thousands of alums with this strange little college in common. There was something in all of us that looked at Mount Holyoke and said, "This is where I belong."
So belong we did and belong we will. As we go out into the world, spread across the map, we need never feel alone. When we leave here, let's carry everything we've learned with us, and most of all, carry the ones we love. Hard work, diligence, and a lot of Chef Jeffs got us to graduation day, but it was them who got us through college.
My fellow MoHos, I want you to do me a favor. I want you to make a promise to someone in this class that they'll never be alone out there. Friend them on Facebook, give them your email, your number, your special whistle you use to signal your carrier pigeon. Promise that person you'll be there. We accomplished so much here by virtue of camaraderie—let's not have that end once we have our diplomas. It's a big, scary world out there. You'll want a few blue lions on your side.