Sal Cosmedy '20
Sal Cosmedy '20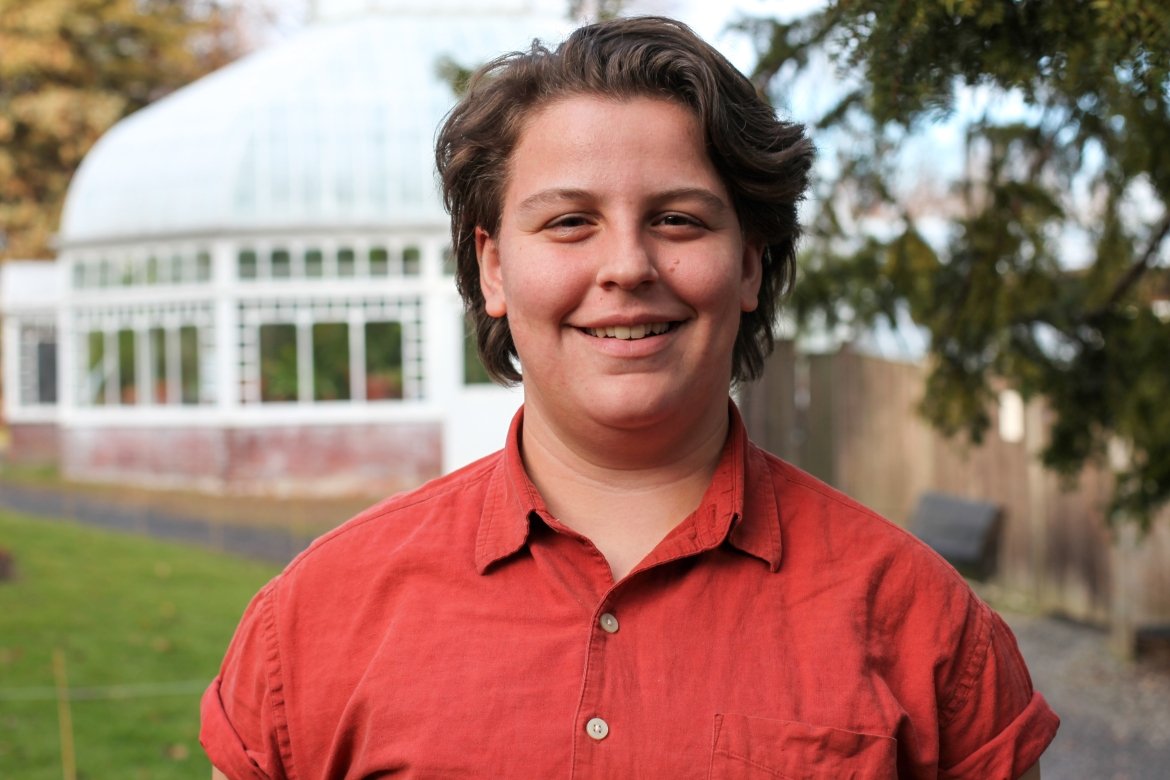 "I want prospective students to say, 'When I come to Mount Holyoke, I can make a difference on campus. There are avenues and funding to get involved.'"
Name: Sal Cosmedy '20
Hometown: Rye Brook, New York
Academics: environmental studies
Pronouns: they, them, theirs 
By Sasha Nyary 
Sal Cosmedy's Mount Holyoke career almost wasn't. 
"I was planning to go to a research university and study hard science," they said. "I wasn't interested in a women's college." Then a friend toured Mount Holyoke and reported back two words: Mountain Day. 
"I said, I want to study environmental science in a beautiful place," Cosmedy said. "We have two lakes and beautiful hiking trails and it's right here. I don't have to drive off-campus." 
That's just what they've done — but with a significant difference that comes from being at a small liberal arts college: A single course, Introduction to Cultural Anthropology, which Cosmodey took their first semester to fulfill a distributional requirement, opened up a new world.
"I hadn't considered that there might be other branches of environmental studies besides science," they said. "So I took Introduction to Environmental Studies, and that's where I met Kate Ballantine, my advisor. Kate is such a light of a human being. She's so kind and so optimistic, and this field can be so distressing." 
That class, coupled with the political ecology class Cosmedy was also taking that semester narrowed their focus to working with people around the environment. "I find joy in explaining to people what is going on in the world."
A fall with the Sea Semester Global Ocean program junior year led them to a Lynk-funded marketing and education internship with the Mystic Seaport Museum the following summer. 
Through the Five College Consortium, they took a class at Amherst College called Transgender Histories. Their independent project was on female sailors. More dots connected. 
Cosmedy had also been working as a campus tour guide, so it was unsurprising when the Miller Worley Center for the Environment asked them to create a sustainability tour for prospective students.  
"I want to get prospective students excited before they even come here," they said. "I want them to say, 'When I come to Mount Holyoke, I can make a difference on campus. There are existing avenues and funding for me to get involved.'" 
Clearly, environmental education is in Cosmedy's future. After Commencement they will be moving to Vail, Colorado, to be a summer naturalist at the Walking Mountains Science Center.
"I love connecting people — kids, teenagers, older adults — to their local environment so that they can feel inspired and excited," they said. "Because that's how they can make a difference."