Senior Symposium 2017 to be held April 21
Senior Symposium 2017 to be held April 21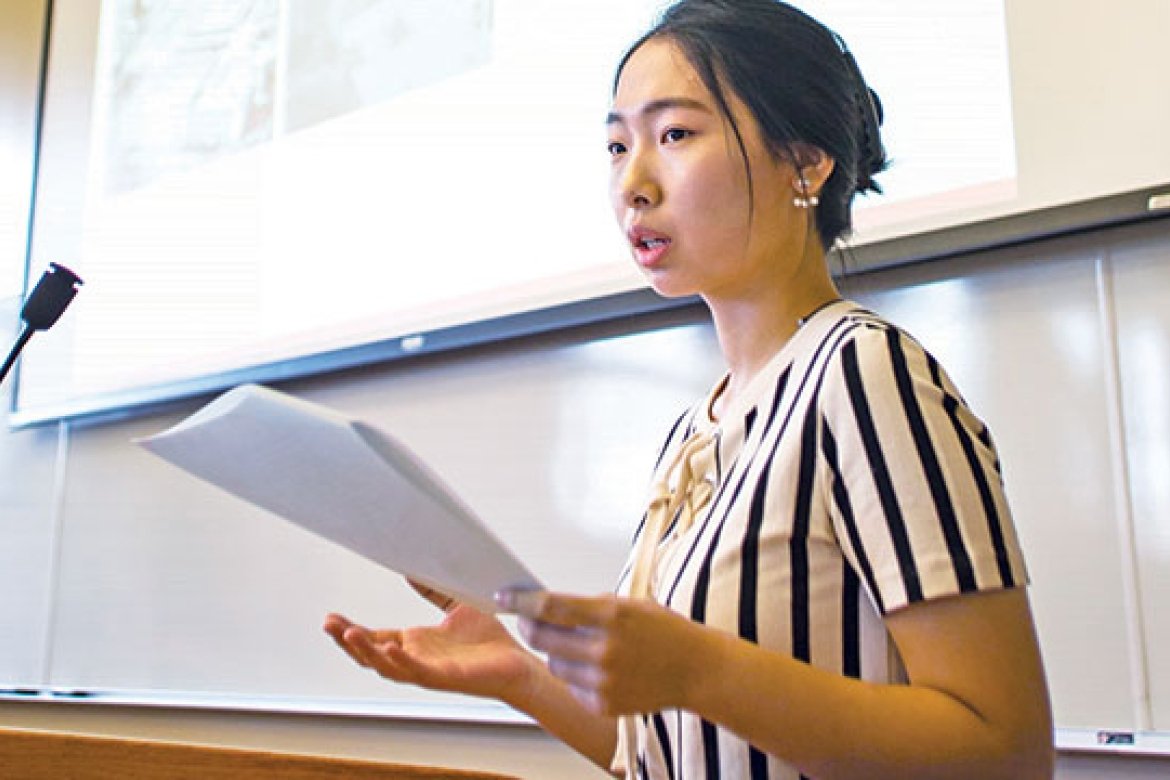 Mount Holyoke's annual presentation by seniors of their research, representing a wide range of topics and results, will take place April 21.
By Sasha Nyary
Senior Symposium is Mount Holyoke College's daylong intellectual showcase, where seniors present the findings of their research and independent projects.

Now in its 11th year, the 2017 Senior Symposium provides an opportunity for more than 100 seniors from across academic disciplines to discuss in depth the topics they've been exploring, in some cases for several years. This year's event is slated for Friday, April 21. The day's schedule can be found online.

"Senior Symposium is a magnificent day for the campus," said Becky Wai-Ling Packard, professor of psychology and education and director of the Weissman Center for Leadership, which sponsors the event. "Our students conduct cutting-edge, creative research, and on this day, they present the results of their sustained engagement. The day is buzzing with ideas. It is thrilling to revel in that intellectual energy of our students — collectively and as individuals — and to glimpse the faculty mentoring that supports such endeavors."
The event originated decades ago in the chemistry department, with seniors presenting their research. In 1975, students from all the natural sciences were invited to present, and in 2006, the newly named Senior Symposium expanded once more to include students conducting research in every discipline.

This year, 131 students will make 134 presentations — three students are presenting twice. Seventy-eight students will present work in the arts, humanities, languages and social sciences. Research in the natural sciences along with computer science and mathematics and statistics will be presented by 53 students. 
Research and internship opportunities at Mount Holyoke are strongly encouraged and supported, and the results are stunningly demonstrated at the Senior Symposium. The presentation topics provide a window into the deep liberal arts offerings at the College, the breadth of expertise found among the faculty and the extraordinary diversity of the student body.
Rand Abu Al-Sha'r did her senior thesis with Michael Davis in architectural studies on the Zaatari refugee camp in Jordan. Bennett De Paula looked at the dental archaeology of Roman, Christian and Muslim inhabitants in Pollentia, Mallorca, with thesis advisor Stan Rachootin, professor of biological sciences. Julia Worcester worked with Catherine Corson in environmental studies to study community forests in Bhutan. Kristyn Carter will present her research on the image of the black superwoman, under the guidance of Lucas Wilson in Africana studies.
The College's growing commitment to data science and computer science facilitates research such as that by Saadia Gabriel, who modeled swallow roosts using weather radar under the guidance of Daniel Sheldon in computer science. Jennifer Tasneem used the College's newly upgraded electron microscope to study iron oxide nanocubes with advisor Himali Jayathilake in chemistry.
The environment of the College and the surrounding community lends itself to student research, such as Cheng-Yin Eng's examination of maple trees on campus with Martha Hoopes in biological sciences. Karen Fernandez will present on teachers of English language learners in South Hadley public schools, with advisor Jennifer Wallace Jacoby, in psychology and education.
The day is divided into four sessions: 10:45 a.m., 12:45 p.m., 2 p.m. and 3:30 p.m., which will be held in classrooms and lecture halls in several locations: Clapp, Cleveland, Dwight, Gamble Auditorium in the Art Building, Kendade and Reese. The day begins and ends in the Marion Craig Potter '49 Atrium in Kendade, with coffee served before the talks begin and a celebration and toast at 4:30 p.m.

Senior Symposium is supported in part by the Richard and Donna Taylor Endowment Fund, established by Jean Taylor '66.
Where will your research take you? Learn more.