Sonya Stephens named the 19th president
Sonya Stephens named the 19th president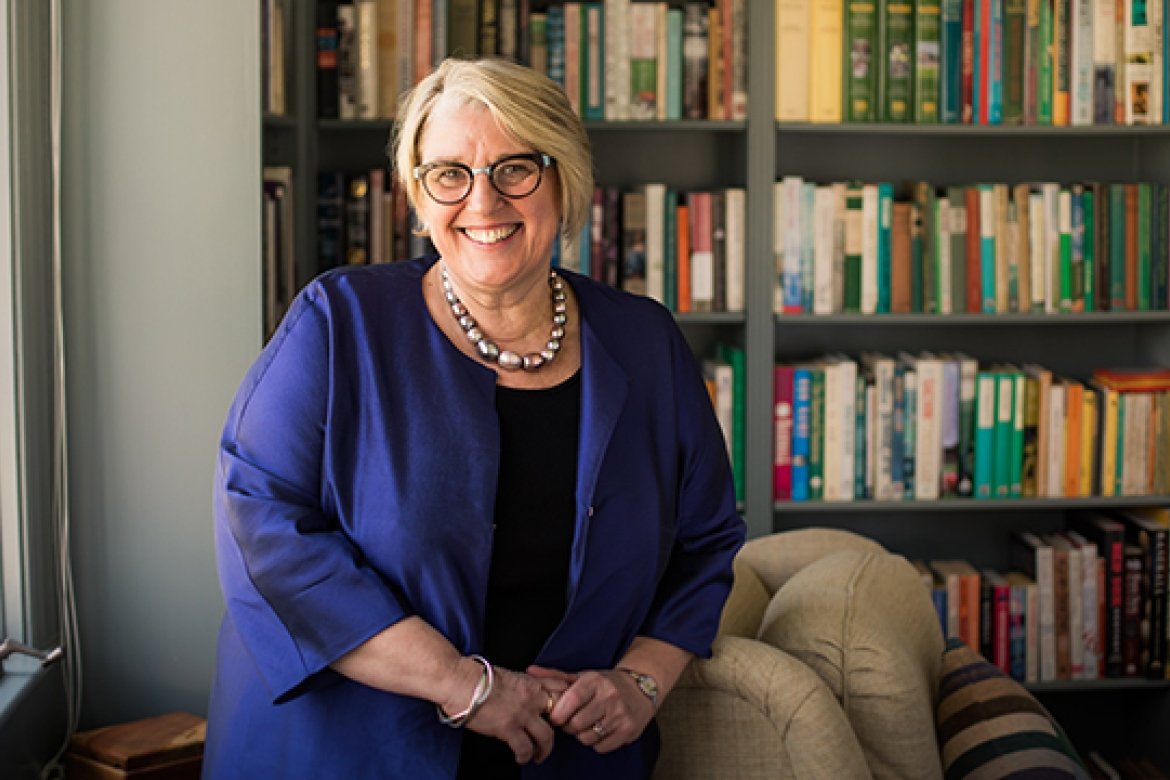 Sonya Stephens has been named the 19th president of Mount Holyoke College.
Sonya Stephens, the acting president of Mount Holyoke College, has been named the College's 19th president, effective July 1.
The Mount Holyoke College Board of Trustees announced its decision to appoint Stephens on April 23 after an extensive presidential selection process that began in January. A formal inauguration will be held in September.
The decision was enthusiastically unanimous, said Barbara M. Baumann '77, Board chair.
"In the 22 months since Sonya became acting president, she has accomplished all that my trustee colleagues and I had hoped for — and more," Baumann said. "Rarely has an acting president 'acted' more. Mount Holyoke has flourished under her leadership and we are excited about her continuing to lead the College."
See the President-elect page for more coverage, including a video with Stephens.
President-elect Sonya Stephens
A leader, a scholar and an educator, Stephens was made acting president in July 2016. During her tenure, she has overseen the implementation of The Plan for Mount Holyoke 2021 and been keenly focused on ensuring the College's long-term financial stability. Other key efforts include the creation of the Diversity, Equity and Inclusion Initiative, which led to the annual BOOM! (Building on Our Momentum) learning conference and to the hiring of the College's first chief diversity officer.
Stephens led the development of the College's comprehensive self-study for re-accreditation by the New England Association of Schools and Colleges (NEASC), and launched the Community Center construction and the opening of the Dining Commons. She is also overseeing the College's commitment to reach carbon neutrality by its bicentennial in 2037.
"I am truly honored by the Board's decision, by the confidence that they and the broader community have placed in me, and by this opportunity to lead Mount Holyoke College," Stephens said. "The shared commitment to the success of our students, the intellectual vibrancy of this community, the freedom to think, speak and engage in ways that are always candid, challenging and fulfilling, and the traditions and connections across generations all make this an exceptional place to live and to learn. Our mission and purpose are more relevant than ever. I could not be more excited about the next chapter in Mount Holyoke's long history of excellence."
Stephens arrived at Mount Holyoke in 2013 as vice president for academic affairs and dean of faculty, after a national search led by an all-faculty committee. Working closely with divisions across the College and with the Five College Consortium, she led efforts to renew the faculty and to support and extend Mount Holyoke's contemporary liberal education.
As dean of faculty, Stephens was instrumental in the creation of academic programs such as the Data Science Initiative, a Nexus concentration in data science, and the Women in Data Science partnership. She oversaw the establishment of the College's Makerspace, promoted entrepreneurship opportunities on campus and prioritized environmental commitments.
She developed a program in support of emeriti faculty and their continued scholarly engagement with Mount Holyoke. She promoted the deep integration of The Lynk, Mount Holyoke's curriculum-to-career initiative, and re-envisioned the Career Development Center.
"Sonya has proven to be a tremendous supporter of our academic mission, our faculty and our students," said Jon Western, vice president for academic affairs and dean of faculty. "I'm delighted that she will continue to position Mount Holyoke as a leader in 21st-century liberal arts education."
Marcella Runell Hall, vice president for student life and dean of students, echoed Western's enthusiasm.
"Sonya demonstrates a joy and passion for Mount Holyoke, the history, the traditions — and most especially the students," Runell Hall said. "She has consistently demonstrated her deep commitment and connection to the success and well-being of our students through creation and support of the Division of Student Life. Her efforts around diversity and community-building have been particularly meaningful, and we look forward to continuing this work."
Stephens is also a strong advocate for Mount Holyoke alumnae. They in turn enthusiastically support her, said Maria Mossaides '73, president-elect of the Alumnae Association, pointing to Stephens' election to the class of 1955 as an honorary member.
"Sonya's devotion to the alumnae is noticeable and appreciated," Mossaides said. "Her pursuit of innovation in alumnae relations campuswide has been welcomed. I look forward to working with her more closely."
The presidential selection process
The process to select Stephens as president was unique. Her role leading the College as acting president would have ended in 2019. This deadline created an important opportunity for the Mount Holyoke community to not only think about the traits it desired in the next president, but also to provide feedback on Stephens's performance in the role.
The Board enlisted the assistance of Beverly Daniel Tatum, president emerita of Spelman College and former acting president of Mount Holyoke, to solicit input from the community on whether to make Stephens' presidency permanent or to launch a nationwide search.
"We are thrilled to say that we did not have to look further than our own campus to locate the individual who provides both the continuity and the vision to lead the College into the future," Baumann said. "Her intellect, courage, broad knowledge of Mount Holyoke, high energy level and personal warmth have impressed us all."
A lifetime of leadership and scholarship
Prior to Mount Holyoke, Stephens worked at Indiana University Bloomington, where she was chair of the Department of French and Italian and the University's first vice provost for undergraduate education. She oversaw the implementation of a new general education curriculum, assessment initiatives, the development of the university's integrated Center for Innovative Teaching and Learning, and a student success roadmap. Stephens began her career as a faculty member at Royal Holloway, University of London.
An expert in 19th-century French literature and its relation to visual culture, Stephens is the author of "Baudelaire's Prose Poems: The Practice and Politics of Irony." She has also edited several books, the most recent of which, "Translation and the Arts in Modern France," was published in July 2017.
Stephens knows from personal experience the value of a women's college education. She received her B.A. in modern and medieval languages from New Hall, a college for women at the University of Cambridge that is now known as Murray Edwards College. She also earned a doctorate in French from the University of Cambridge. Her master's degree in French studies is from the Université de Montréal, where she was a Commonwealth Scholar.
President-elect: a sweet celebration!
The bell rang out across campus on the morning of April 23, ushering in a new era of leadership at the College. Later this afternoon, the community will celebrate the president-elect with ice cream in its new Dining Commons.
The flavor? The College's new signature M&Cs ice cream, of course. Short for "milk and cookies," M&Cs is one of the College's most legendary traditions.