Student Commencement Address 2016
Student Commencement Address 2016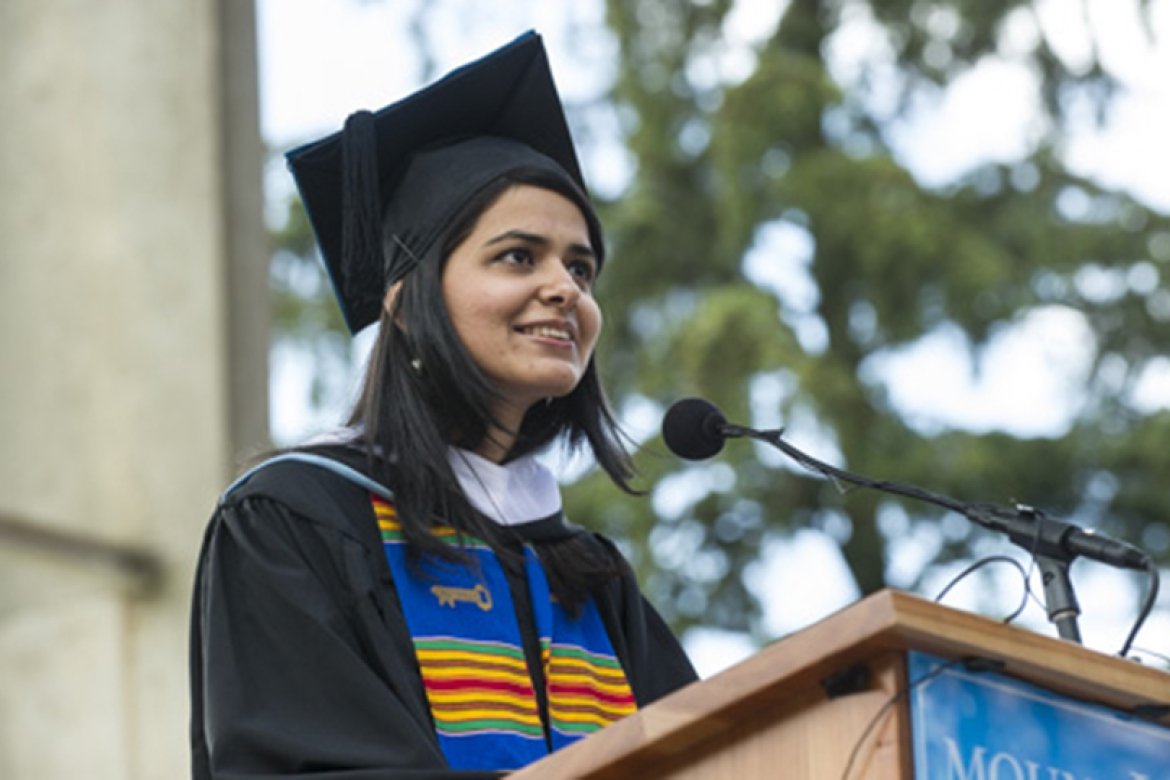 The Paradox of Belonging:  Mount Holyoke as a Microcosm of the Larger World
Remarks as prepared
By Areeba Kamal '16
Thank you, President Pasquerella. Good morning, everyone. My name is Areeba Kamal and I am honored to be your student speaker today.
This year, I asked myself, when did we begin to belong at Mount Holyoke? When did we first find purpose and clarity on this campus that is tens or hundreds or thousands of miles away from our families?
There are 550 students in our graduating class. A fourth of us grew up calling another country home. A third of us identify as African -American, Asian American, Native American, or "Latinx." Together, we span 37 countries and 38 US states. We are different from one another. We have unique lived experiences that set us apart.
Yet, there are some things that will bind us together for all time to come. Because over the past two, three, or four years here at Mount Holyoke:
We all woke up some mornings in our beds and felt grateful that we chose MoHome.
We all realized some afternoons in classes that the world is more complex than we had expected, but we have an idea of what we can do to make it better.
We all witnessed some evenings when the sheer beauty of Mount Holyoke made us catch our breath. Maybe Lower Lake was reflecting a sliver of pink sunset or perhaps snowfall was lining our window with soft, white flakes.
We all went to bed some nights overworked, but invigorated at the prospect of figuring out the evasive answer to a homework problem the next day.
We might never know at what moment this first came to be, but the truth is: We belonged here and we always will.
In spite of the difficulties we braved to be here, Mount Holyoke recognized us as its own.
In spite of the doubts we had when we first got here, we recognized Mount Holyoke as our own.
By means of this experience, every one of us is connected to everyone else in this amphitheater right now. We have been transformed together. And we have been transformed by each other.
However, the larger world that we will embrace today as new graduates has not experienced the same epiphany or the same transformation.
While we witnessed the strength of a community that celebrates diversity and respects differences, the world penalized many who did not conform to limiting societal standards.
While we learned about ways to dismantle class privilege, male privilege, white privilege, cis privilege, the world saw power become more concentrated in the hands of the privileged few.
Today, we become newly qualified citizens of a world that is very, very different from the comforts we have known on this campus.
So how do we face this paradox? How do we immerse ourselves in a global order rife with inequity and injustice, while maintaining the tolerance and resolve we learned at MoHome?
Mount Holyoke alumna Kavita Ramdas '85 offered us a remedy to this very question. She said: "We need women who are so strong that they can be gentle, so educated that they can be humble, so fierce that they can be compassionate." In other words, she asked us to live our lives by embodying contradictions instead of fearing them. She asked us to answer paradoxes with more paradoxes.
Even though our journey at Mount Holyoke has been very rewarding, it had its own contradictions and paradoxes. Our connection to this campus, and to each other, became stronger in our time here. But we discovered strength when we were at our most vulnerable. We engaged with our community. We negotiated for space.
Think of March 10, 2014. We called ourselves MoHonest. We wrote down our experiences with racial microaggressions at Mount Holyoke on colored strips of paper and disseminated them all over campus. Our campaign inspired fundamental improvements in student life including the formation of the President's Commission on Diversity and Inclusion and the Students of Color Committee.
Think of April 26, 2014. We called ourselves Open Gates. On Pangy Day, we asked students to share why trans issues are feminist issues. We pushed for Mount Holyoke's historic admission policy welcoming trans women, and recognition of trans rights across the country.
Think of March 13, 2015. International students rallied together, writing emails and petitions to tell administrators what it's like to have nowhere to go for meals during school breaks, when dining halls close and public transport is minimal. Our work prompted the staff to better accommodate foreign students' needs in future.
Think of November 18, 2015. We walked out of our classes as part of a national effort to express solidarity with students at the University of Missouri who were facing blatant racism. Our collective organizing highlighted the latent racism that still plagues this country, and sometimes this campus.
There are so many other examples of how belonging was not always a happy coincidence for us. Finding home was not always serendipitous for us. But we stood up when it was easiest to lie low. We worked hardest when we were the most tired.
The poet David Whyte said the antidote to exhaustion is not rest, it's wholeheartedness. So, when we were exhausted beyond belief, we stopped fearing change, and we created it.
I believe that just as we sparked change in our community here, we will enable it in our world beyond these gates. The challenges ahead of us might be even more complex. Thankfully, we happen to be intersectional and interdisciplinary liberal arts graduates. For four years we have combined the ambitious with the pragmatic, the lucrative with the ethical.
The world will throw contradictory information at us, but we will make sense of it. And we won't have to do it alone. We'll find allies outside this campus, just as we found friends here every time we felt alone.
After all, our most memorable moments here involved soul-baring conversations with strangers who became friends, and all-night study sprints with friends who became family. With every bit of room we made for each other in our hearts and minds, Mount Holyoke made room for our opinions, and aspirations. Maya Angelou once said that if we find it in our hearts to care for somebody else, we will have succeeded. Well, we have succeeded here, and we will do the same in the outside world.
There might be a time when we tell ourselves that Mount Holyoke was a comfortable bubble, compared to some current predicament we are in. But every time we think about the friendship and love we found at Mount Holyoke, let us also remember the tough lessons we learned, the demanding conversations we had, the difficult campaigns we organized, and the unquestionable change we wrought on the campus we leave today.
Let us step forward then, into this contradictory, paradoxical, chaotic world. Let us do our best to achieve in the larger world what we have achieved on this campus.
Let us embrace wholeheartedness every time exhaustion looms ahead.
Let us wake up one morning and feel at home in our local, national, global community just like we feel at home at Mount Holyoke today.
Thank you.