Students win prestigious language scholarships.
Students win prestigious language scholarships.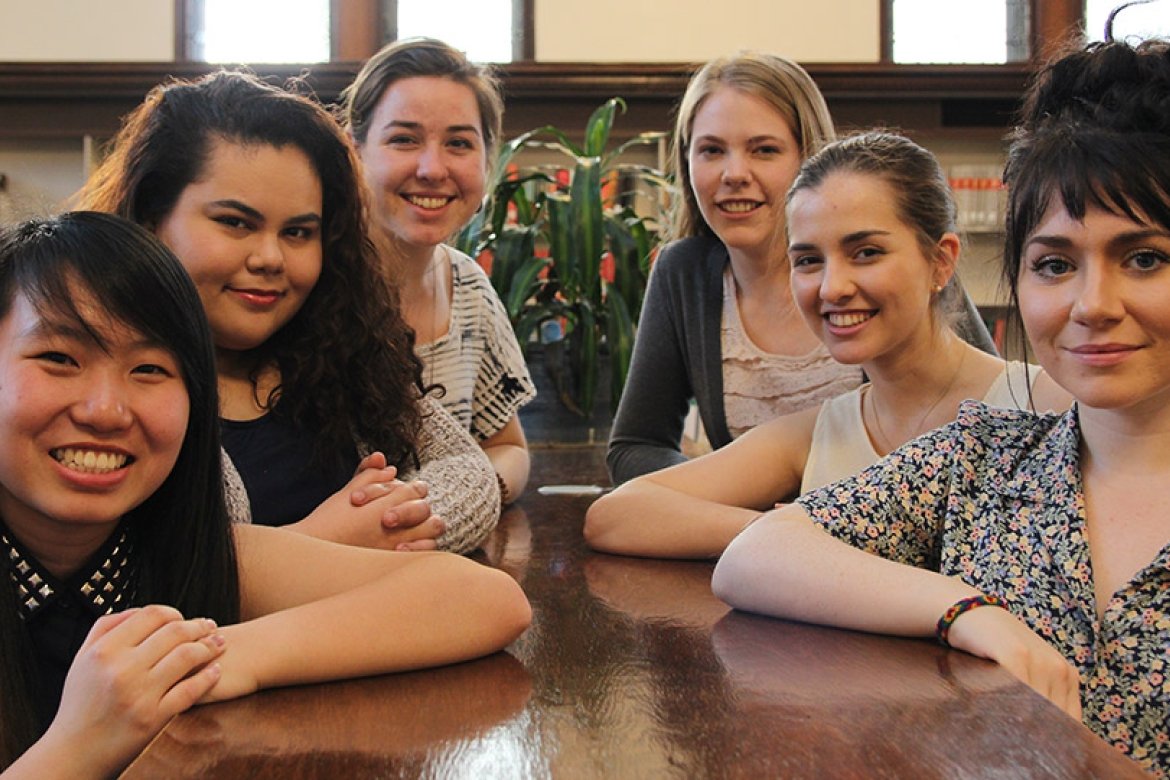 Critical Language Scholarships will fund summer study abroad in Urdu, Arabic, Mandarin Chinese, and Korean for students chosen in a competitive selection process.
Five Mount Holyoke College students will receive a prestigious Critical Language Scholarship to study abroad and enhance their foreign language skills this summer.
The Critical Language Scholarship (CLS) is part of a State Department program to increase dramatically the number of Americans studying and mastering 13 critical languages, and to build relationships between the people of the United States and other countries. Participants experience a fully funded overseas language and cultural immersion program for two months. Only about 10 percent of applicants are accepted for the competitive program.
Azulina Green '17 is one of them. The Austin, Texas, resident will study Arabic at the Jordan Language Academy. 
"Without the Critical Language Scholarship, I would not be able to go abroad or study Arabic this summer, and I believe those opportunities will be crucial in helping me reach my goal of fluency," she said.
The double major in international relations and Middle Eastern studies added, "I hope someday to live and work abroad, so proficiency in Arabic is key to my interests and aspirations." She has studied Arabic at Mount Holyoke for two years, taking both a standard Arabic course and a supervised independent study in dialect through the Five College Center for the Study of World Languages.
Anna Lee White '15 of Mont Vernon, New Hampshire, will study Urdu in Lucknow, India, at the American Institute of Indian Studies. Although she has been taking Hindi courses for five semesters, she began reading and writing Urdu only in January. Through the Five College Center for the Study of World Languages, she's been conversing in Urdu with Sanaa Mansoor '18, who is Pakistani. White says the languages are helpful for her South Asian studies and anthropology major. 
"I hope to study South Asian religions in graduate school and to conduct ethnographic research related to modern religious practices and interreligious dynamics in India," she said.
Claire Canniff '15 of Elmhurst, Illinois, will start her language studies in Urdu to support her interest in South Asian and Islamic history. The program in Lucknow, she said, "offers full immersion and access to some of the best language teachers in India. I am excited to visit some of the places I have learned about and I hope to use Urdu in future studies."
Pa Chia Thao '17 of St. Paul, Minnesota, has been studying Mandarin Chinese since she was in middle school, and plans to make it her minor at Mount Holyoke. 
"To be proficient in Mandarin, you must use it in a real-world setting. I can read about the culture of China through books, but to experience it, you must live in it," she said. "With the help of the Critical Language Scholarship, I will be able to do both of these" at the Beijing Language and Culture University.
Iskra Batista Poblete '15 of Roslindale, Massachusetts, will use her fellowship to improve her Korean language skills at Chonam Natinal University in South Korea. She has studied the language for more than two years, both at Mount Holyoke and during her junior year abroad in Seoul. She believes the language will be key in her future career plans, which may include international business or foreign service work.
A tradition of strong language instruction.
Courses are taught in a dozen languages at Mount Holyoke, and students can learn less commonly taught languages through the
Five College Center for the Study of World Languages
. The course offerings include Hindi, Swahili, Turkish, Bosnian-Croatian-Serbian, and Persian. Supervised independent language courses provide 35 more options for students.
Helped in their CLS applications by these resources, three Mount Holyoke College students were also accepted to the program last year. 
Anna Lee White, who will continue her Urdu studies this summer, studied Hindi last year through CLS and said her language skills improved dramatically over the two months she spent in Jaipur, India.
An internship with MHC alumna Vijaya Pastala '89 in India had led Gabriella Crimi '15 to pursue Urdu studies. The Furlong, Pennsylvania, resident studied Urdu in Lucknow, India, through the American Institute of Indian Studies. She has also taken advanced Arabic and French courses, is majoring in economics and Middle Eastern studies, and is writing a senior thesis on the Islamization of Pakistan's economy.
Nialena Ali-Mason '17, an Africana studies and international relations major from Oakland, California, studied Turkish at Ankara University last summer. She had spent a year in Turkey between high school and college, and continued learning the language during her CLS placement. 
Learn with people who speak your language. Find out more.