Sweet scoop!
Sweet scoop!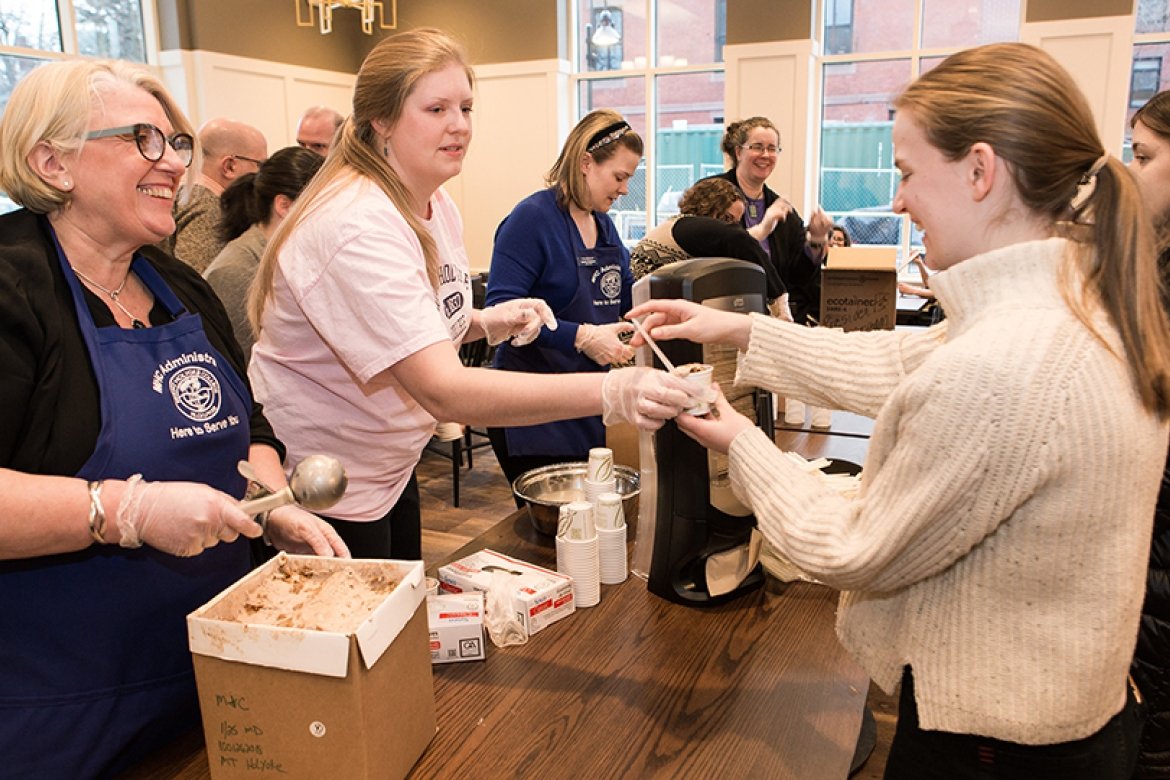 Crumbled gingersnaps mixed into an ice cream base designed to taste like Chef Jeff's iconic cookies, M&Cs is now the College's official ice cream flavor.
By Keely Savoie
In 1837, Mary Lyon opened the doors to Mount Holyoke Seminary. She believed in a world where women could receive the same education enjoyed by men. She had scraped together the means for building the campus, the dormitories and classrooms; she had the vision, ambition, the goal. What she wasn't sure she had: enough spoons for all the ice cream.
"Ice cream runs deep in Mount Holyoke tradition," Acting President Sonya Stephens told an eager crowd assembled to hear the reveal of Mount Holyoke's official ice cream flavor. "We enjoy it on the top of Mount Holyoke on Mountain Day and we gather for ice cream and hot drinks at Mary Lyon's grave on Founder's Day."
Now Mount Holyoke College has its own official flavor of ice cream, thanks to a partnership with Herrell's Ice Cream & Bakery of Northampton, and the ingenuity and spirit of the Mount Holyoke community.
A contest for an ice cream flavor was held in the fall, with more than 280 ideas submitted by the Mount Holyoke community. The staff at Herrell's chose three and created a version of each to be tasted and voted on.
Acting President Stephens, Dean of Students Marcella Hall and three students — chosen at random from those who had submitted flavor suggestions — met at the ice cream parlor in December to taste each flavor and cast secret ballots with their favorite flavors. "M&Cs," a flavor inspired by the submission of Nicole Palmer '19, won by an overwhelming margin — it was la crème de la cream, if you will. It features an ice cream base that tastes like Chef Jeff's cookies, with crunchy fresh-baked ginger snaps mixed in. A combination of sweet and spice, just like the Mount Holyoke community itself.
And now the College boasts plenty of spoons — more than 15,000 — which were at the ready for scooping as Stephens announced the new flavor at a ceremony on Jan. 30.
The occasion was celebrated with — what else? —free scoops doled out by staff volunteers at the new Dining Commons, which served more than 40,000 meals and washed more than 150,000 dishes in its first eight days of operation.
"Let's raise a spoonful of the official Mount Holyoke ice cream flavor," said Stephens. "To Mary Lyon's  vision, the Mount Holyoke community, and this new, beautiful space in which we can gather."
Raise your spoon. Learn more.