Vive la différence!
Vive la différence!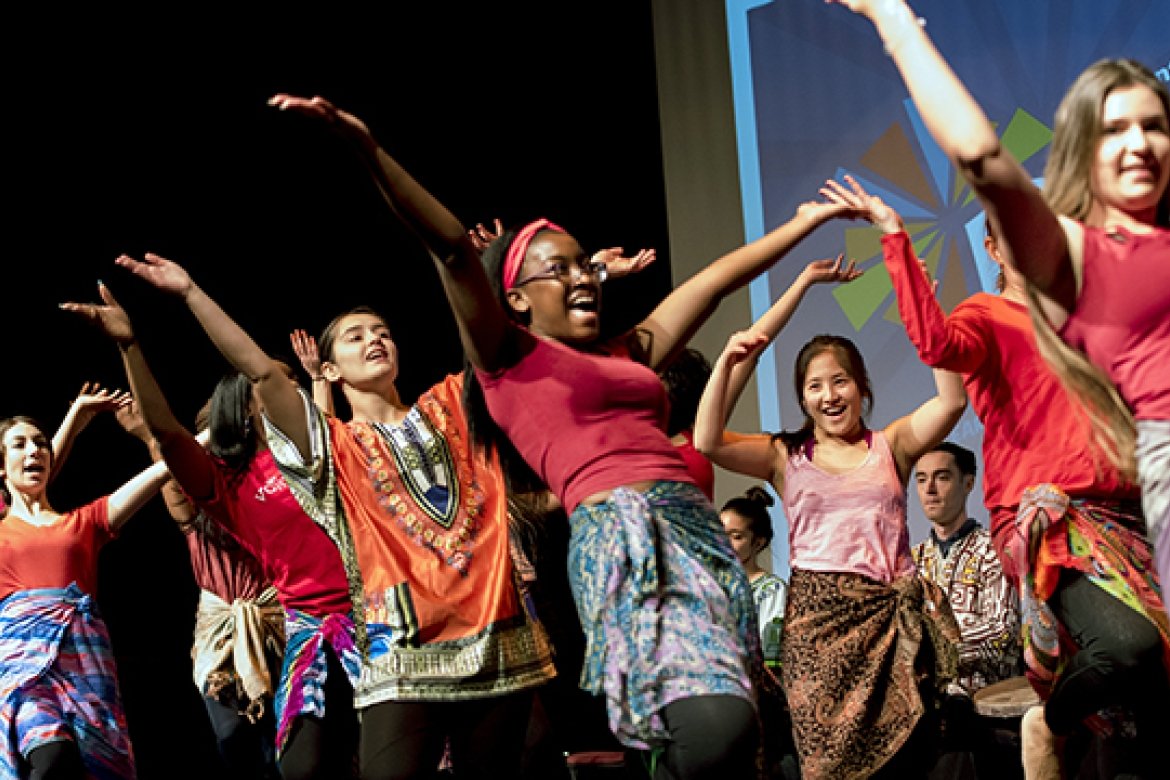 Mount Holyoke's BOOM conference on diversity looks to the past to better the future.
By Kathleen Mellen 
In a rousing talk Monday, African-American CNN political contributor, professor and author Marc Lamont Hill challenged the Mount Holyoke College community to rise in thought and in deed to promote diversity, equality and inclusion, on campus and beyond.
"We have had extraordinary momentum in the last few decades," Hill said in his talk in Chapin Auditorium, which was punctuated by claps, snaps, laughter and cheers from the overflow audience. He cited examples: marriage equality, increased access for women to higher education and changes in attitudes toward transgender people.
Politically, too, there have been advances: "Hey, Barack Obama became president. That was seen as progress … that the nation had the capacity for growth."
Even with those gains, he said, there's much work to do: "We have to ask ourselves: Who are we? Are we as progressive as we think we are? … Is our perception of diversity what we thought it was? The moment, right now, suggests maybe, just maybe, we ain't where we thought we were."
Hill's talk was the keynote address for BOOM (Building on our Momentum), a two-day learning conference that engaged the College community in discussions about diversity.
"First and foremost, this is to bring the entire community together to talk about diversity, equality and inclusion on campus," said Acting President Sonya Stephens. "We wanted to create a day when everyone can come together and really think about what it would take to move us from where we are now to where we want to be."
To foster a diverse community, it is important to look at past efforts, said Rene Davis, the College's Title IX coordinator and co-chair of the Diversity, Equality and Inclusion Task Force.
"We have a lot of efforts and energy and activity, but they are all disparate," Davis said. "We're going to bring all of that together and build on our work so we can get to the next level."
Classes were canceled and offices closed for the day so students, faculty and staff could participate in the nearly 70 talks, seminars, poster sessions, discussion groups and other events. Among the topics: "Exposing the Myth of Economic Diversity at America's Top Colleges," "Transconnections: The Rainbow Connection: Exploring Gender Diversity Across Identities" and "Facing Mental Illness and How to Support Mental Well-Being at MHC."
There was even an "Accessible Technology Petting Zoo," where participants could try out adaptive devices, including assistive hardware, Braille and tactile imaging, and reading and writing tools. Sessions sponsored by the student-run MoZone Peer Education covered "Gender and Sexuality" and "Navigating Race and Ethnicity at MHC."
On Sunday, in a session called "Peacing Together Mount Holyoke," participants traced their hands, then mixed paint to approximate their skin tone. That was followed by a discussion about how identity, art and race intersect.
"The struggle with race is that so many people still believe that it's a biological construct," said Beverly J.M. Bell, director of the Master of Arts in Teaching program, which is a part of Professional and Graduate Education (PaGE).
Mount Holyoke is not immune to problems generated by old constructs of race, Bell noted. 
"Ninety-nine percent of the students in our teaching program are white," she said. "Yet the students they will teach, someday, in public schools will most likely number about 70 percent students of color. We need to diversify our teacher workforce." 
On Monday, a student-run discussion, "Unpacking Whiteness," had to move from a smaller classroom into Hooker Auditorium, where more than 200 participants discussed concepts of white privilege and tools for supporting the work students of color are doing on campus.
To achieve such goals, Hill said, "We have to create spaces and possibilities for listening, not just to folk who look like us and believe like us, but … to folk who look at the world radically differently, who believe differently, who form their identities differently, folk you might be adamantly opposed to who may have something to offer the conversation." 
To make change, he added, action will also be required. "You must push the individual self aside to understand the collective good," he said. "We have the responsibility to make the sacrifice. What are you willing to risk?" 
The conference grew out of the Plan for Mount Holyoke 2021, which outlines the College's collective commitment to diversity, equity and inclusion. The next stage will be to share suggestions from participants with the Diversity, Equality and Inclusion Task Force, which will incorporate them into a plan for action. 
"We've known for some time that we needed to be thinking about the inclusion of all students," Stephens said. "This is not the beginning, nor is it the end. It's a catalyst for further action."
Join the discussion. Learn more.