Weaving the way toward collective peace.
Weaving the way toward collective peace.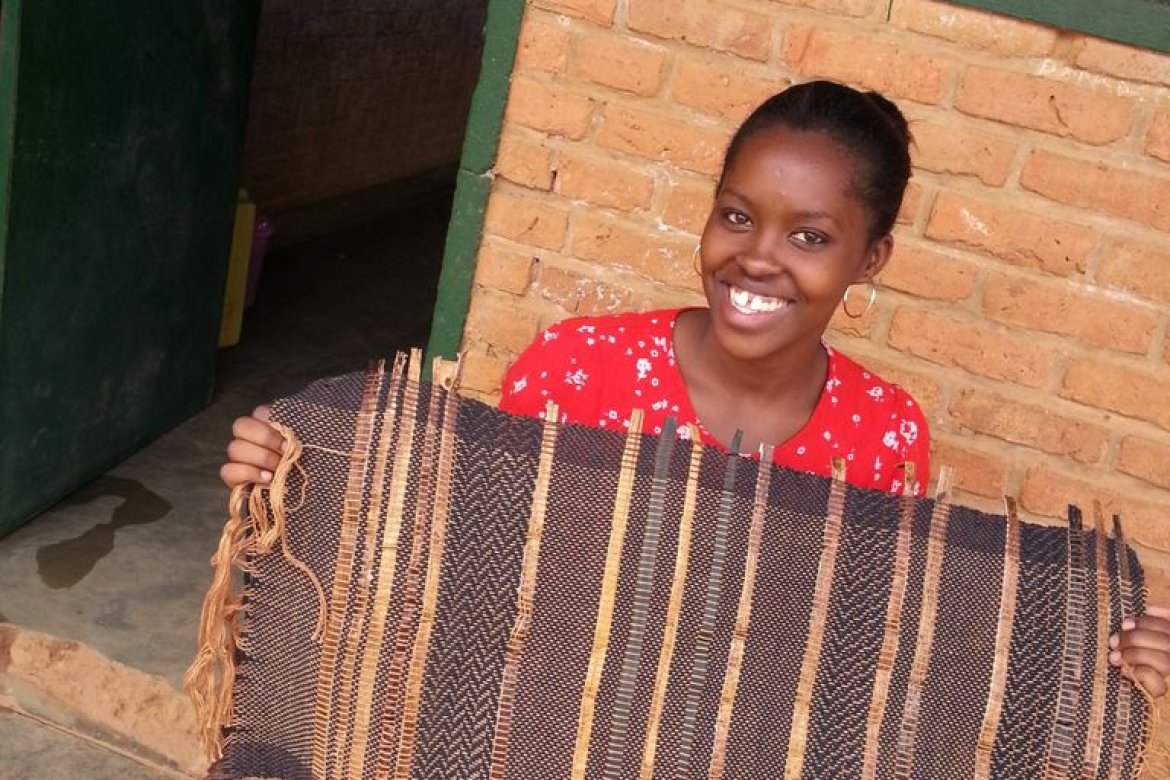 Mount Holyoke student Celine Mudahakana has been awarded a Davis Projects for Peace prize to help impoverished women in her native Rwanda.
By Matthew Crowley
For Celine Mudahakana '17, empathy and entrepreneurism are warp and woof. That is, they are woven into the very fabric of her being.
Mudahakana has spent years using weaving skills to benefit impoverished women in her native Rwanda. Now, she is using those passions for weaving and social justice to propel women toward better futures.
Mudahakana was inspired by her involvement with the nonprofit CHABHA (Children Affected by HIV/AIDS), for which she wove and sold scarves for donations. Later, she visited Rwanda to assemble looms and teach women there how to weave for themselves.
In March 2016, she was awarded a $10,000 grant by Davis Projects for Peace to pursue Weaving for Peace, an initiative to move weavers from a rented classroom into a space of their own.
A project close to heart and home
Mudahakana, a sociology major who is also doing a nexus in development studies at Mount Holyoke who attended the Clinton Global Initiative University in 2014, empathizes with the women's struggles. She lost her father and several family members in the 1994 genocide in Rwanda. Over 100 days beginning April 7, 1994, more than 800,000 Tutsis and moderate Hutus were killed.
Mudahakana, 21, came to the United States in 2007 with her brother and mother, who was pursuing a master's degree in peacebuilding and conflict resolution  at the School for International Training in Brattleboro, Vermont. Mudahakana was 13 and spoke only Kinyarwanda and French.
"I was adapting to language and culture. I couldn't really communicate at first," she said. "So really part of my middle school days I spent without really speaking, just kind of listening in. That was the challenging part, but it was also exciting, because it was a new place we hadn't seen before."
The family decided to stay in US just long enough for her mother to finish her studies, but Mudahakana and her brother secured scholarships to small private schools. As she slowly mastered English at the Putney School, Mudahakana learned to express herself through art, especially drawing and later weaving.
"Some kind of creativity and art has always been there for me, helping me," she said, adding that she realized she could use that creativity to help others.
Mudahakana's mother set an example for social consciousness, having worked for OxFam, an international group fighting global poverty, and nongovernmental organizations advocating for people who couldn't advocate for themselves.
From the first scarf she sold, Mudahakana knew she was onto something. Many women benefiting from her donations were living in extreme poverty. Though they were leading households, many lacked money for food or to send their children to secondary school, which isn't free in Rwanda.  
The $98 they earned from the sale of each scarf made a big difference. "That's sometimes a whole month of salary," Mudahakana said.
A self-sustaining art
Teaching the women to weave the scarves themselves, she realized, would make an even bigger difference in their lives.
Supported by her Putney School weaving teacher, Melissa Johnson, and fellow students, Mudahakana returned to Rwanda in 2013 to build foot-powered looms. The school group acquired the equipment at a discount from Harrisville Designs, a New Hampshire–based weaving supplies dealer, and set up the looms in a small rented classroom in Kigali.
During that visit, Mudahakana helped teach a group of 12 Rwandan women, ages 20 to 25, to use the looms and weave cotton scarves. The group, recognized as a collective by the Rwandan government, is called Isano, which means "unity" in Kinyarwanda.
Mudahakana's professors and mentors from Mount Holyoke call Mudahakana a unifier who listens to others and always looks to enhance her understanding.
"Celine is very astute about perceiving points of connection, and particularly opportunities for mutually beneficial collaboration," said Kirk Lange, director of international experiential learning at Mount Holyoke's McCulloch Center for Global Initiatives. "People also see that she is authentic and genuinely committed to a compelling project and important outcomes for her community collaborators. This, plus her combination of humility and confidence, make people want to work with her."
Karen Remmler, a professor of German studies, gender studies, and critical social thought, said Mudahakana is a warm, caring person determined to help others.
"Celine refuses to let insurmountable emotional obstacles get in the way of transforming people's lives," Remmler said. "She is deeply committed toward building a livelihood for victims of the Rwandan genocide within the context of their continued struggles to survive not just the direct violence of the genocide, but also the ongoing poverty and lack of medical care."
Plans for expansion
Mudahakana said Weaving for Peace is hunting for a new headquarters to renovate, with a target budget of $25,000. The group plans to supplement its Davis grant with fundraisers and support from entrepreneurship programs.
The organization plans to open the center in September 2016 with help from CHABHA volunteers, Isano cooperative members, and Putney School students.
The GA Collaborative, a nonprofit Boston-based architecture company that has designed and constructed buildings in Masoro, Rwanda, has agreed to work on the project. And Mount Holyoke student Danielle Harris '16 is helping to develop a social media strategy, Mudahakana said.
The new building, which Mudahakana hopes will be in Nyamata, about 23 miles from Kigali, will have water and electricity, unlike its current rented space. It also will include a classroom with looms, knitting machines, and sewing machines; a showroom for displaying and selling woven products; a conference room for workshops; and a dormitory where Isano cooperative members can stay during the week to avoid long work commutes. The site as planned also will have an outside garden where cooperative members can plant vegetables to feed their families.
Along with teaching weaving, the new center will promote collectivity and peace building, Mudahakana said.
Johnson, her Putney School teacher, said Mudahakana is unfazed by the challenge of running a weaving studio from afar. "She'll tackle the most incredible endeavor and claim she'll make it work out of faith, that somehow it's supposed to work out."
How will you make a difference? Learn more.