Winning at the ethics of business
Winning at the ethics of business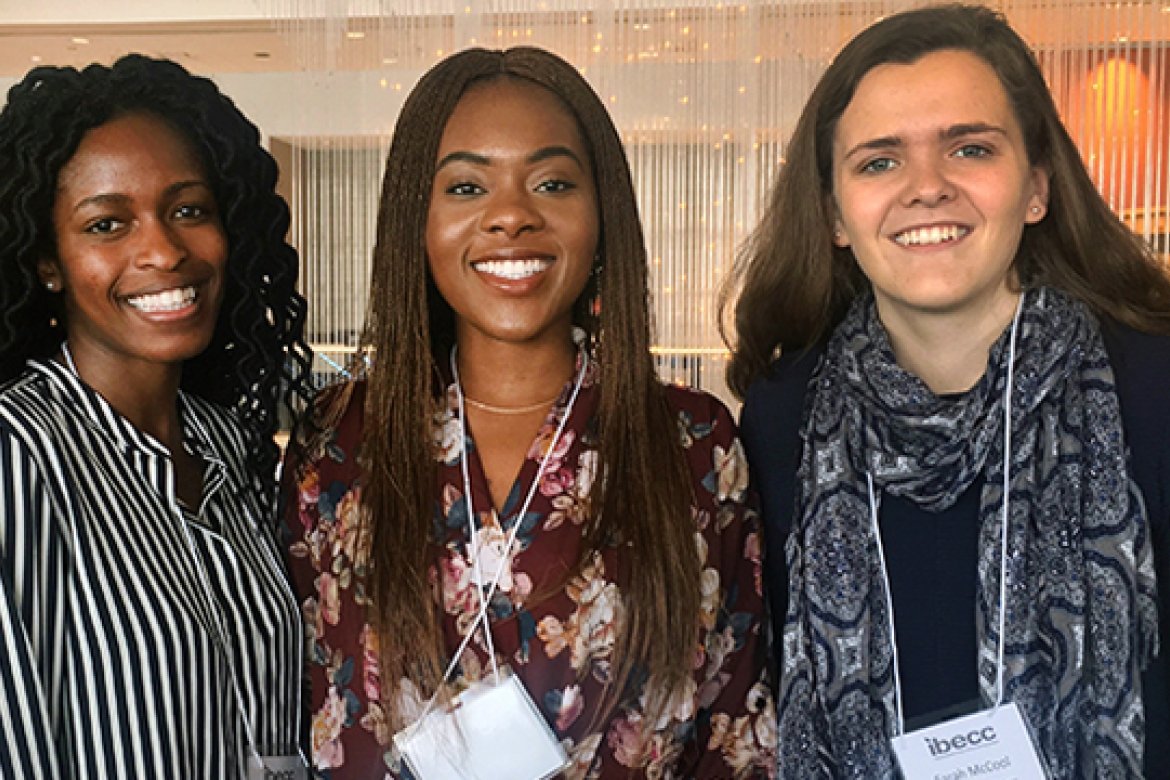 Mount Holyoke students win big at an international competition for business ethics, the College's second year at the event and its second big win.
As one of the world's largest consumers of cobalt, a chemical element used in the manufacture of lithium ion batteries that power its ubiquitous smartphones, Apple Inc. is making a killing in the market — quite literally, say three Mount Holyoke College students. And now, it's time for the tech giant to right some wrongs. 
Sarah McCool '18, an international relations major, Mosimiloluwa Esan '18, who is called Simi and is majoring in philosophy, and Tracy Keya '18, a computer science major, presented their arguments this spring in Boston at the 22nd annual International Business Ethics Case Competition, also known by its acronym, IBECC. The event brings together students from across the globe to present issues of business ethics before a panel of judges made up of industry professionals. 
In 90-second and 10-minute presentations, for which they won first and second place, respectively, the students argued that Apple must move to improve conditions in cobalt mines in the Democratic Republic of the Congo, a war-ravaged country where the majority of cobalt is mined, often by children, under inhumane conditions. 
"Apple must invest more directly in the infrastructure of the mines in Congo, and use their power as a large transnational company to mitigate human rights abuses that result from the industry," McCool said recently.
It was the College's second year at the competition. Last year's team, Shanae McDonald '17, Pearl Umoye '19 and Hadassa Mikalixen '18 swept the competition with its suggestion that Victoria's Secret abandon its sexualized and northern-Eurocentric advertising. 
The team's participation was sponsored by the McCulloch Center for Global Initiatives, which leads the College's commitment to expand students' global competence through its study-abroad and international students' programs, international scholarships and research, global curriculum, and conferences. 
"We are delighted to fund the Mount Holyoke teams at this competition," said Eva Paus, the Carol Hoffmann Collins Director of the McCulloch Center and a professor of economics. "This year's ethics case highlighted an important international issue."
In the event, teams of three to five students in graduate and undergraduate divisions choose a contemporary case that has legal, financial and ethical dimensions. 
"Students learn how to talk about ethics in a practical way that's intellectually sophisticated," said Thomas White, who as the Conrad N. Hilton Chair in Business Ethics and director of the Center for Ethics and Business at Loyola Marymount University in Los Angeles, founded and directs the competition.
A visiting professor of economics and philosophy at Mount Holyoke, White teaches Ethics of Entrepreneurship and Business, which is part of the College's interdisciplinary minor in entrepreneurship, organizations and society. The three competitors were enrolled in the class. 
This year's competition hosted 39 teams from around the world: the United States, Hong Kong, Australia, Spain, the United Kingdom, Turkey and Kuwait. It was the largest, and most competitive event yet, White said. Mount Holyoke's team was chosen after competing in an intramural event on campus.
"I think our passion for business ethics and the topic of cobalt mining in Congo was really apparent to the judges," Esan said. "I'm grateful that we were rewarded for our hard work."
Indeed, the team's work ethic and preparation were key to its success at the competition, White said. 
"Sarah, Simi and Tracy really knew their topic, they were very well-spoken and very intelligent," he said. "The College should be very proud of these students. They really do represent the best of Mount Holyoke." 
Want to right some wrongs? Learn more.