Eileen Ruby
Instructor of Music - Voice, Mezzo-soprano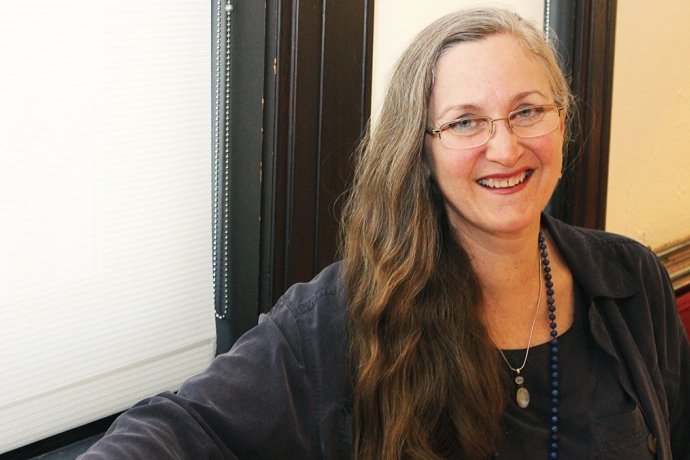 Eileen Ruby believes that having a strong personal connection to the text or music is a key to success and encourages students to discover new material that moves them.  Students appreciate the quality of her presence and listening skills in the voice studio and her ability to help troubleshoot their technical, mental, or emotional blocks.
Hallmarks of Ruby's teaching:
Provides a lighthearted atmosphere to encourage free-spirited exploration, including improvisation
Holistic, physiologically accurate, healthy vocal pedagogy useful for multiple vocal styles
Informed by the latest research in voice science
Care in ensuring students relate to text and repertoire
Sight-singing emphasized and amplified to build true music fluency
Her interest in pedagogy stems from both an insatiable curiosity about the voice itself and a desire to codify the best techniques for executing any styles of singing while maintaining vocal health.  The holistic voice methods she uses include things she has found to relieve stress in her own performance and helpful hints from the latest research in neuroscience, positive psychology, and peak performance.
As a performer, mezzo-soprano Ruby has enjoyed performing everything from eclectic Art Song to rock.  Specializing in American, French and German repertoire and contemporary song, Ruby has also appeared as an oratorio soloist and in chamber music settings, including with the Springfield Symphony, Pioneer Valley Symphony Orchestra, at the Mohawk Trail Concerts with pianist Estela Olevsky, and at the Monadnock Lyceum with Virginia Eskin, esteemed pianist and expert on Women Composers.  She has collaborated for two decades with pianist Jerry Noble in recitals that always include something that goes outside the boundaries of classical music.  She is also adjunct voice faculty at Holyoke Community College.
Ruby is an extroverted-introvert who prizes authenticity, has a quirky performer's sense of style, and loves hats.  She is also an ICF Certified Life Coach, Ordained Interfaith Minister, and Integrative Acupressure Practitioner.  She lives in Greenfield, MA, with husband Eric Bodnar, a rock drummer who paints houses by day and practices rudiments by night, and Clara, the cat named after Clara Schumann. 
Education
M.M., B.M., UMass-Amherst, magna cum laude