Effective Practices for Advancing the Teaching and Learning of K-5 Mathematics
This professional learning series is designed to connect educators from across the country and around the world to learn from some of the educational leaders in the math community. Each session will feature a different lead instructor who will guide us in exploring an effective teaching practice that will support our students' learning. During these sessions participants will work collaboratively on mathematical tasks, analyze student thinking, explore instructional methodologies, and prepare to apply their new learning within their own practice. You will leave each session with new ideas to try right away with your students and share with your colleagues.
Goals and Objectives
As a result of participating in the session or watching the recordings, you will have opportunities to:
Learn and refine a variety of instructional practices that support students in developing a deep conceptual understanding of mathematical ideas
Analyze the power and complexity of students' mathematical thinking
Develop questioning techniques to help students deepen their mathematical understanding
Experience and reflect on mathematical tasks and resources to uncover the mathematics that students will learn
Adapt curriculum to meet individual student needs
Make mathematical connections and enhance your ability to help students do so, and
Learn and grow as professionals within a collaborative mathematical community
Contact Us
Mount Holyoke College has been on the forefront of providing a rigorous education to passionate changemakers who have gone on to break new ground in education, the sciences, the arts, public service and social justice movements for over 180 years.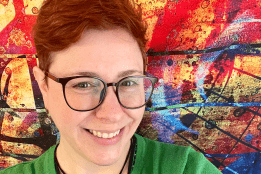 Admissions and Communications Coordinator