2017 Commencement Remarks by President Sonya Stephens
2017 Commencement Remarks by President Sonya Stephens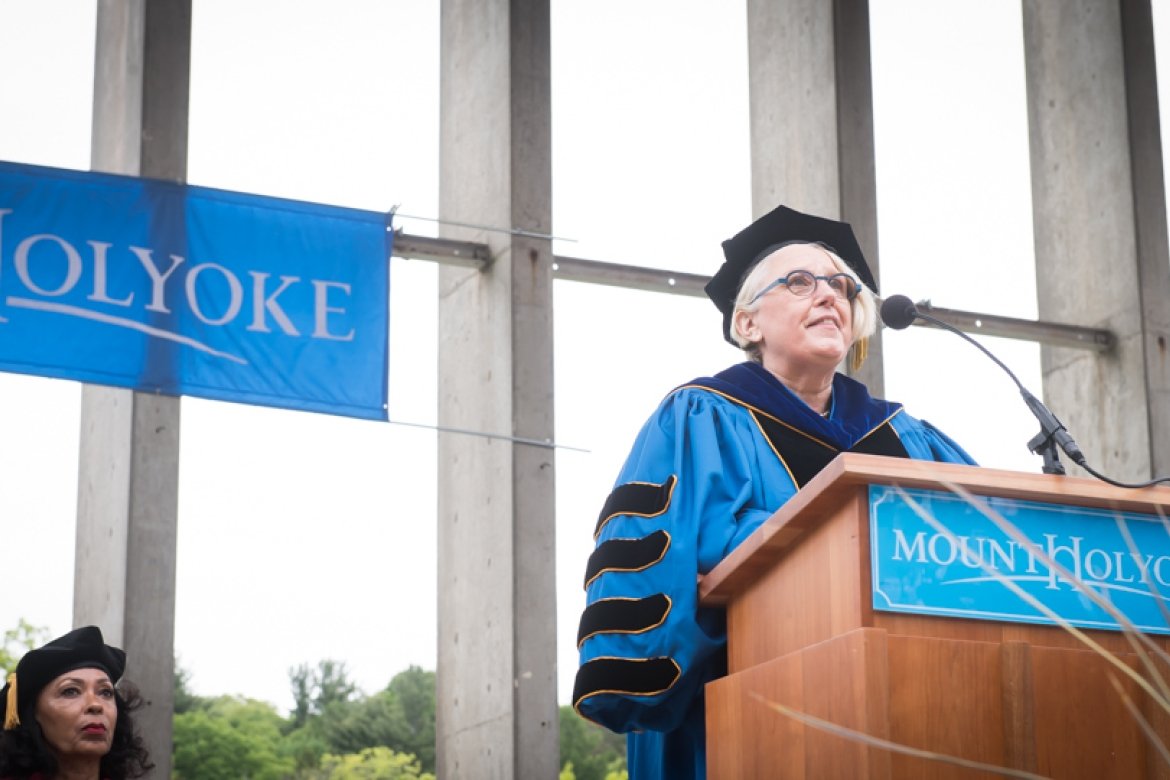 The following is a transcript of Acting President Sonya Stephens' charge to the class of 2017.
Good morning, everyone. I am Sonya Stephens, acting president of Mount Holyoke College —
[cheers]
and it is my very great pleasure to welcome you to the 180th Mount Holyoke Commencement.
Over the course of the last few days, I have had many opportunities to speak with the friends and families of our graduates. Some of them are coming to Mount Holyoke for the very first time. I want to take a moment to echo the congratulations — and the thanks — that Debra Martin Chase has just expressed, and to acknowledge the love and commitment that those families and friends have shown, the encouragement and support you have offered, and, in many cases, the sacrifices you have made, so that your student could earn the degree that they will take today. Graduates, please would you take a moment to acknowledge all those who have supported you.
[cheers, sustained applause]
Class of 2017, you did it!
[cheers]
Congratulations! You demonstrated again and again not only that you could meet the requirements of this distinguished faculty, but that you had the strength of mind, commitment, steadfastness and resilience to deliver on your own academic promise.
To our graduate students too, warmest congratulations.
[cheers]
Six of you are today are graduating from Mount Holyoke for the second time,
[cheers, applause]
while others will join our newest graduates, are joining that network of tens of thousands of Mount Holyoke alumnae, some of whom yesterday on campus, lined your path, as symbolically they define the lineage you now join.
Some of your class could, unfortunately, not be with us today, including two seniors representing Mount Holyoke in the national ultimate championships. In this moment of celebration, we think of them and other graduates who will take their degrees in absentia and we send them our greetings and our congratulations.
Class of 2017, the moment of graduation is, in so many ways, the antithesis of all that got you here today. The long hours of reading, writing, testing hypotheses, laboriously building arguments and shaping words, materials, and performances of every kind are intensely solitary and private — even when they happen in the Thirsty Mind — by the way, earbuds are not an invisibility cloak!
Each course you have passed has been a milestone in itself, credits and grades, knowledge and know-how, marked as individual, quiet achievements — and along the way, some challenges and disappointments often processed equally quietly, though sometimes not.
Your graduation, through this ceremony, turns all of this private endeavor and success into the most public of displays. Today, with no discomfort whatsoever, and in joy and celebration, we parade your accomplishments for this receptive audience, and present honorary degrees to hold up the achievements of others as both a pendant and a beacon to your own, present and future.
The reflexivity of this moment is not only empowering, it's meaningful in ways that may now be pure emotion, but that enable you to see yourselves not only as successful individuals, but as members of your class, this College, a society, in a context and a moment in time.
In the earliest days of the seminary, it was written that "no part" of a Mount Holyoke education "was for selfish ends," and the notion of "intellectual acquisition" was paired, and indivisibly so, with "heart," or action of behalf of others.
Today, your solitary agency activates both your individual and collective power. We celebrate your graduation, who you are, and who you have become. We commend both the individual engagement and the collective action we have already seen during your time on campus. Mount Holyoke was built on the principle that its students would, in its own motto, "live to do good," and that in the founder's words, they would "take hold where no one else will."
This is our heritage, and this is the charge that comes with your diploma. You've made a difference at Mount Holyoke and you will make a difference in the world.
Congratulations to all of the graduates of 2017. We know that you have intellect, and heart and that you will take hold./
Thank you.