A Baccalaureate event unlike any other
A Baccalaureate event unlike any other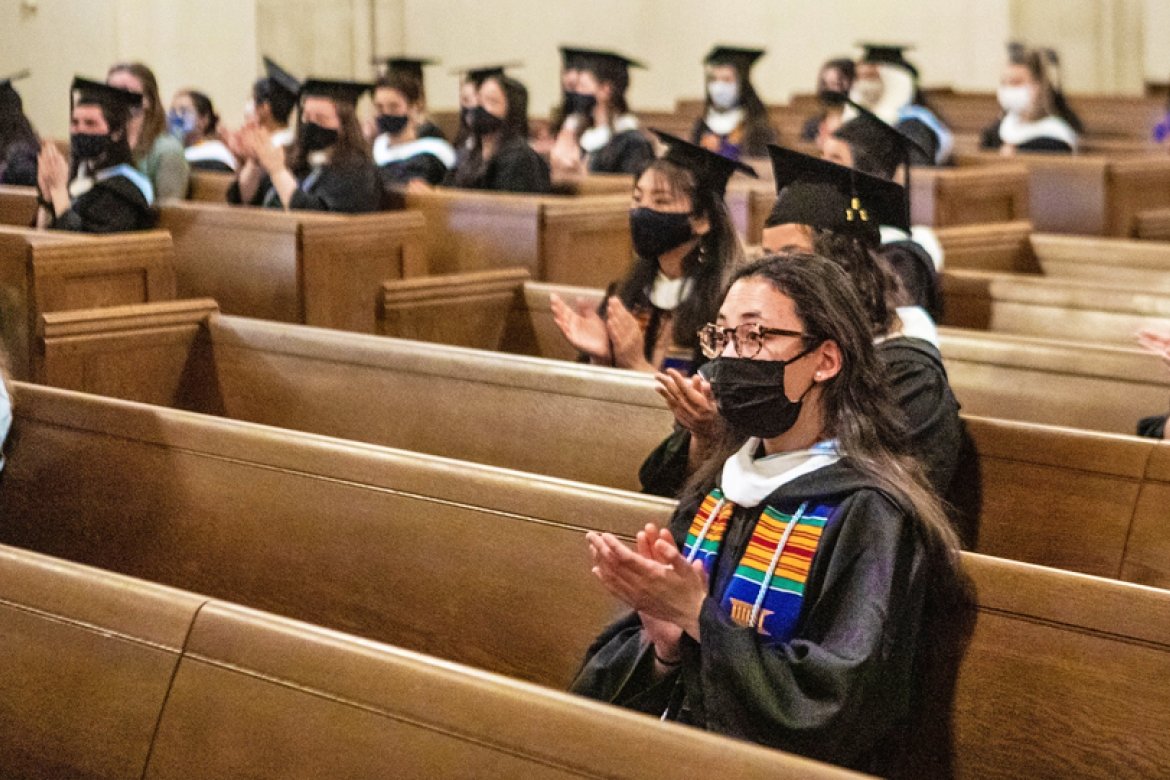 This year's Baccalaureate at Mount Holyoke College was livestreamed for the first time in its history, due to COVID-19.
By Sonia Paul
Lingering in the air after President Sonya Stephens introduced this year's Baccalaureate at Mount Holyoke College was her advice to the senior class. 
"The only way to embrace your future now," she said, "is to let the present become a sustaining memory." 
Indeed, embracing the events over the past year — from the pandemic, to the protests for racial justice and equity, to the ways that  campus life was upended and students were propelled to stand up without hesitation for the causes they believe in — was an ongoing theme of the ceremony. This year's Baccalaureate was livestreamed for the first time in its history, due to COVID-19, and students, faculty and administrators listened in person and online. 
"Looking forward minimizes this moment," said Ali Aslam, assistant professor of politics, during his address to the graduating class. "[It] subordinates it to the next. To do that strikes me as out of joint in a year when we've all been stuck in place."
Both faculty and student speakers reflected on the significance of the present as they listened to a violin performance by Caitlin Fisher '21, and zeroed in on the ways Mount Holyoke students "unstuck each other," as Aslam might have put it, throughout the year. 
Luciany Capra '21, who delivered the Baccalaureate student address, remembered how she had hugged her friends — "now a foreign concept,"' she said — last March as news of COVID-19 descended onto campus and the College announced it would move classes online. 
The first in her immigrant family to graduate college, Capra said that even though this was not how she imagined graduating, she and her peers had in fact made it through.
"We got through senior year, overcame every hurdle and are graduating from Mount Holyoke College," she said in her talk. "The burdens were certainly not spread out evenly. And it's so important that we recognize the differences in our stories and make space in our hearts to account for the adversity faced by many in our community and in our class."
The Baccalaureate ceremony also offered space to recount the ways stories and how the frame of circumstances imprints memories — and how those memories not only transcend the present but delve into an understanding of the future. 
Jennifer M. Matos, assistant professor of psychology and education, told a tale of a student asking a teacher the differences between heaven and hell. In this story, heaven and hell — often understood as opposites of each other — are actually one and the same, save for the actions of those who inhabit these spaces.
"The teacher says in hell, there's a large banquet table with the most delicious food imaginable. Everyone has a spoon, but they can't bend their elbows to get the food into their mouths," Matos said. "And in heaven, there's a large banquet table with the most delicious food imaginable. Everyone has a spoon, but they can't bend their elbows to get the food into their mouth.
"But in heaven, people use the spoons to feed each other."
Emphasizing that this story is one about choices, Matos noted that the graduating class of Mount Holyoke had chosen heaven by choosing to feed each other.  
"You fed each other by listening about challenges and celebrations, standing up for each other and accepting the gift of being called out by someone who cared enough to hold you accountable," Matos said. "You've even fed me." 
Underscoring the importance of not sidestepping the here and now in anticipation of the future, Aslam acknowledged that the ways students showed up for each other — setting up Zoom meetings between classes so they could eat or hang out, marching for racial justice, structuring remote learning while reflecting on Taylor Swift's productivity under lockdown — marked both their resilience and achievement. 
While the challenges they faced are certainly preparation for a future where they will inevitably continue to encounter situations that feel like "terrible inheritances," as Aslam put it, he emphasized that these undergraduate years have not been a rehearsal.
"They have been the show," he said. "From the minute you showed up, you have been playing music together. Each of you has been performing and you've been practicing and refining your craft together, learning and becoming better humans by being together. That sounds grandiose, but I'm serious and sincere."
In her poem "Hush, Mount Holyoke," Mayra Cabezas '21, a student from San Salvador, El Savador, who double-majored in ancient studies and English, reinforced that whatever students might feel at this moment, the opportunity to try and meet again still exists as well. 
"White the washed out wood. White the / color of decay. / Fierce the furnace. Waking me up from / dreams with camisoles," she recited. "Now hectic the stillness. The dandelions drifted / with all of her secrets. / Hush hush now. We'll meet once more."