Calling all makers — and doers
Calling all makers — and doers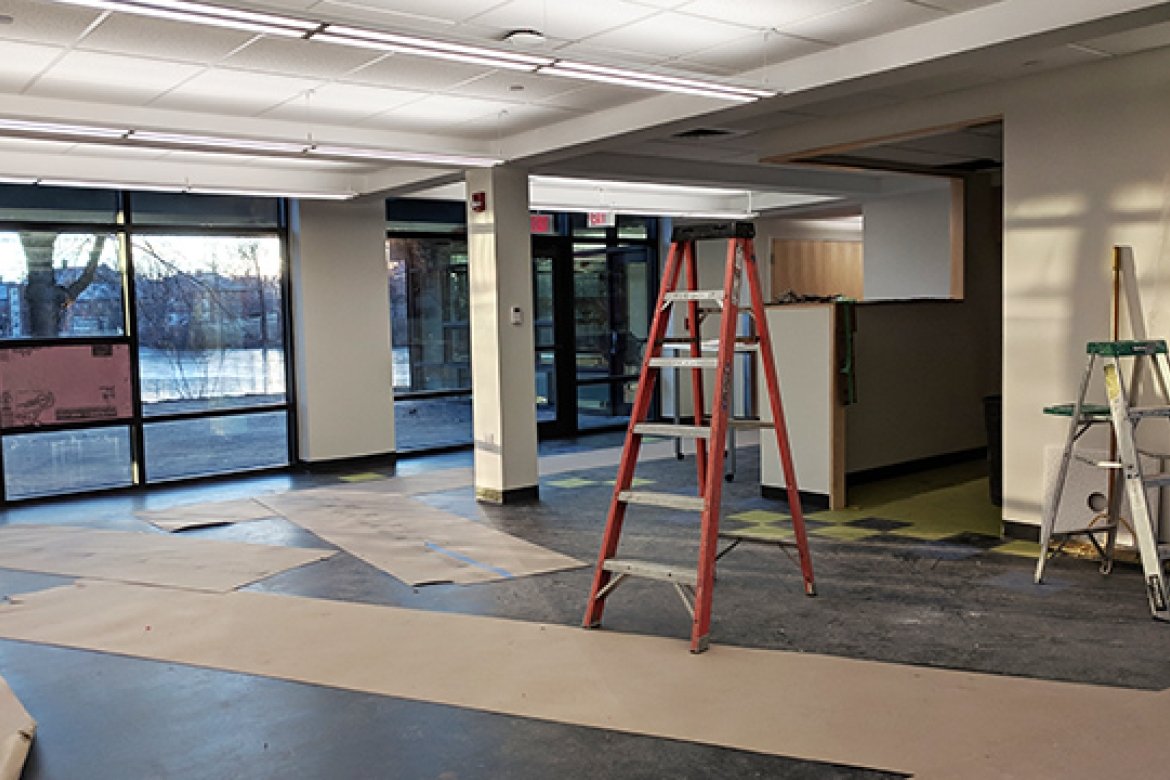 Mount Holyoke's new Fimbel Maker & Innovation Lab is now open for your projects, inspirations, creativity and persistence.
Technology infuses every aspect of daily life in 2019 — and every career path.
Today, in the era of the Fourth Industrial Revolution, it's impossible to navigate the world without technological literacy, familiarity and confidence. Students today need to be fearless around electronics, machines, computer programming and a wide variety of other tools. They must be adaptive, discursive in the areas of technology and engineering, and ready to solve problems.
Students also need to learn to trust their own abilities to work in the material world, create tangible objects, take risks and collaborate successfully. More than ever, they need to be lifelong learners, which is the ultimate goal of a liberal arts education.
Mount Holyoke students now have a new, expanded gateway to the world of technological literacy. The College is proud to announce the opening of the Fimbel Maker & Innovation Lab, which is open for classes and projects this semester. A full grand opening celebration is planned for the fall.
"The Fimbel Maker and Innovation Lab, situated at the intersection of the arts, sciences, humanities and social sciences, is an important addition to liberal learning at Mount Holyoke," said President Sonya Stephens. "This terrific new space is designed to engage students in creative, high-order problem-solving through hands-on collaboration, design and construction, as well as in the testing of ideas among students and faculty across disciplines. It represents significant further investment in both the maker culture on campus and the intellectual community that are at the heart of a Mount Holyoke education."
What does the Fimbel Lab look like?
With its 8,000 square feet, the open and airy Fimbel Lab significantly expands both the space and the vision of the original makerspace, which started in 2015 as a single classroom in the Art Building.
The facility is located in the former dining and lounge areas of Prospect Hall, which were available to be repurposed after the Dining Commons opened a year ago. Its huge windows open onto lower lake. Incorporating wood, brick and stone design, the space includes new woodworking and metalworking capabilities and other tools, as well as classroom and meeting spaces. All these additions and upgrades will provide more access and more opportunities for students and the community.
The new space is named after Nancie L. Fimbel '68, who made a $1 million anchor donation for the $3.5 million lab. That such a naturally inquisitive alumna is the Lab's namesake and key benefactor is especially fitting, said Katherine Aidala, who oversees the Fimbel Lab.
"Nancie's creativity and forward-thinking made this an obvious project for her," said Aidala, who also chairs the physics department and the engineering program. "Her experience working in education and entrepreneurship means she instinctively understands the importance of maker culture. We are all deeply grateful for her generous gift."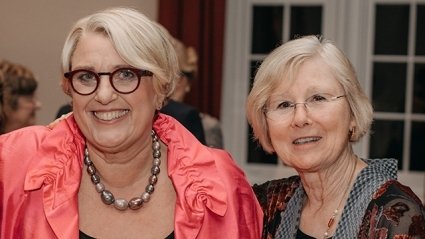 Who is Nancie Fimbel? 
If the root of maker culture is curiosity, then curiosity is the basic thread running through her life, said Fimbel (right, with Sonya Stephens), a retired college professor and administrator. 
"I hope the Fimbel Lab will inspire others to be continuously curious," she said. "To give students even more tools than they've had before. To enable them to feel the joy of making something. Making an idea become tangible. Solving a problem however small. Mastering the world they live in."
Fimbel's innate curiosity was apparent early in her small New Hampshire hometown, when she and some classmates worked their way through self-study courses in calculus when the subject was beyond their high school math teacher. That passion for learning led her to South Hadley.
"Mount Holyoke attracted me because it was one of the best colleges in the country, and I wanted to learn as much as I could," Fimbel said. "I loved the fact that all the leadership roles were held by women. The wide range of course offerings seemed magical. When I saw the campus, I felt at home."
Fimbel experimented broadly at Mount Holyoke, taking a range of courses across the liberal arts spectrum and soaking up the Mount Holyoke legacy of making, doing and leading. She ultimately majored in English literature, thinking it would be practical for someone who planned to teach high school for a few years before raising a family.
But instead, she said, her Mount Holyoke experience led her to getting a doctorate in religion and literature from the University of Chicago. She spent most of her professional career as a professor and administrator, including dean, at San José State University in California. Curiosity continued to guide her.
"I've taken advantage of opportunities that have come my way — or that I've created for myself — to continually arouse my curiosity," she said. "I like the creative process. Teaching, much like quilting, enabled me to design the course and each of its classes and components, and then implement the pieces that made up the whole."
The theme continued as Fimbel became an administrator, particularly as dean or associate dean of the College of Business. There she had a hand in starting, among other things, a banking center, online classes and a "neat ideas" fair that culminated in a business plan competition. A gift from her and her entrepreneurial husband also led to the creation of a student-managed investment fund.
"I can't tell you how satisfying it was to watch students, often the first in their families to attend college, benefit from learning what these experiences could teach them, and to know I'd had a hand at designing or implementing or finding funding for the project," she said.
What's next for the exploding maker culture on campus?
That satisfaction will surely continue. The Fimbel Lab's added space and resources will accommodate the steadily increasing demand: Since the original maker space opened just a couple of years ago, it quickly became a hub for students representing almost 40 different majors.
Growing numbers of classes from across the curriculum use the facilities, as professors incorporate making into their courses. Workshops and community walk-ins provide easy ways for students to gain exposure — and confidence — as they pursue deeper academic experiences in areas they might not have imagined.
"I hope the students and classes will be interwoven into the curricula and into the career prep that liberal arts colleges have to pay attention to these days," Fimbel said. "Students need tools not only for studying and learning, but also for living, and planning their various futures. Internships help them, as do classroom projects. And so do facilities like science labs and art galleries and theaters — and makerspaces."
What will you make? Schedule a tour.