Carmen Yulín Cruz joins Mount Holyoke College
Carmen Yulín Cruz joins Mount Holyoke College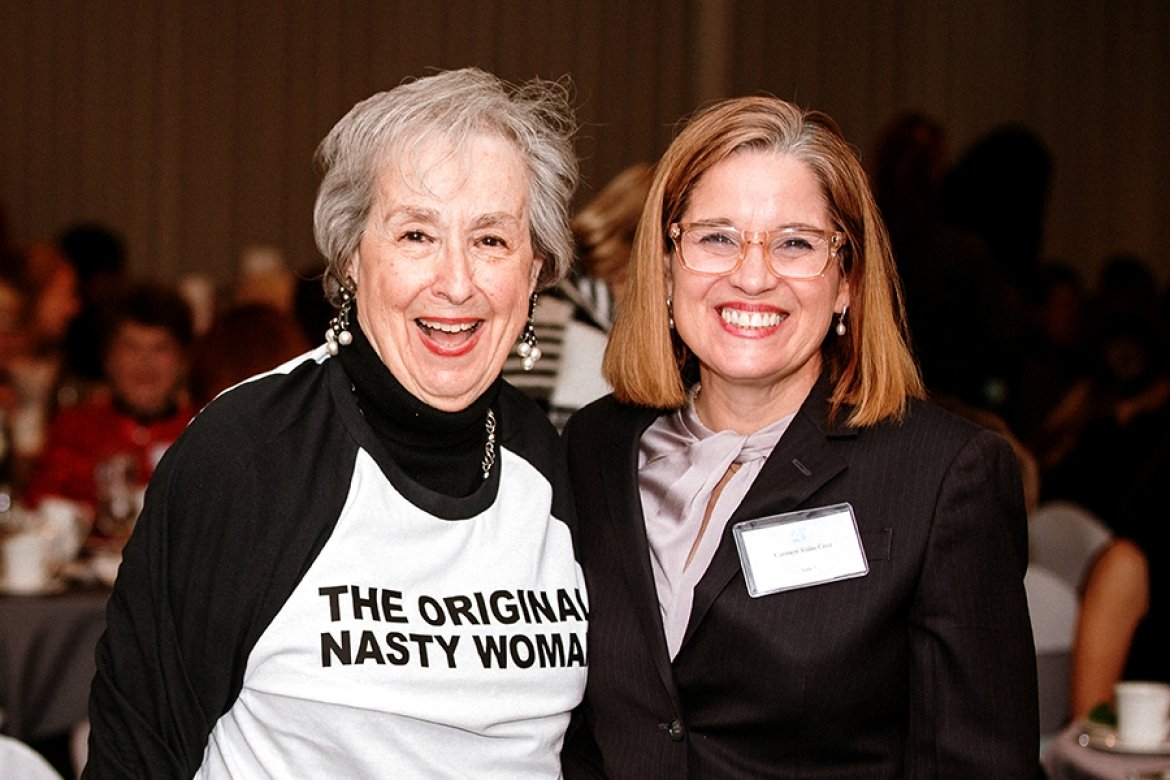 Carmen Yulín Cruz has been named the Harriet L. Weissman and Paul M. Weissman Distinguished Fellow in Leadership at Mount Holyoke College.
Carmen Yulín Cruz, most recently the mayor of San Juan, Puerto Rico, has been appointed the Harriet L. Weissman and Paul M. Weissman Distinguished Fellow in Leadership at the Weissman Center for Leadership at Mount Holyoke College. 
Cruz holds the appointment through December 2021. The Fellowship is made possible by a generous grant from Harriet L. Weissman '59. 
"I am honored to have received this opportunity from the Weissman Center at Mount Holyoke College to share my experiences with other young women and students who are looking to find their platforms and their voices," said Cruz. "Speaking truth to power comes with its challenges, but when it is done out of sheer conviction and profound respect for the lives of others, we understand that raising our voices in times of need is not a heroic act. On the contrary, it is a necessary choice that must be exercised with the utmost respect for those who have felt the lethal impact of inaction and discrimination. Mount Holyoke College is not only about an education, but more importantly, it is a place which instills in its students and faculty the very basic concept that by uplifting others to reach their fullest potential, we are all better off." 
"I am so delighted that Carmen Yulín Cruz, former member of the Puerto Rican House of Representatives and Mayor of San Juan, will be the Harriet L. Weissman and Paul M. Weissman Distinguished Fellow in Leadership in 2021," said Mount Holyoke College President Sonya Stephens. "Yulín's strong connection to Mount Holyoke is already established, and this new year-long engagement will enable many more members of our community to experience first-hand her political insight, powerful leadership and generosity of spirit. Yulín's record of public service and advocacy, for the people and with the people, her courage, her human warmth, as well her demonstrated commitment to justice and support of immigration, disability rights and gender diversity, all contribute to a leadership style and record of achievement from which we have much to learn. It is truly an honor to welcome her back to the College."
Cruz was a student at the University High School in San Juan, Puerto Rico, who went on to receive degrees from Boston University and Carnegie Mellon University. She has worked as a human resources director for Colgate-Palmolive, Banco Popular and Scotiabank. She also worked at the U.S. Department of the Treasury. She returned to Puerto Rico in 1992, working as an adviser to a previous San Juan mayor, and was elected to the House of Representatives of Puerto Rico in 2008. 
She ran for mayor of San Juan in 2012 against Jorge Santini, a 12-year incumbent who called her "esa señora," or "that woman." Cruz won the election and was re-elected in 2016.
Cruz came to international prominence after Hurricane Maria struck Puerto Rico in 2017, both for her impassioned pleas for help after the storm and for her stinging critiques of the Federal Emergency Management Agency, as well as the White House and the United States federal government more broadly.
Mount Holyoke and Cruz have worked together since 2018 when Cruz first visited the College. That visit resulted in a partnership between the College and San Juan, aimed at advancing girls and women in San Juan with a summer STEM camp for girls in San Juan, first piloted in 2018. In 2019, Cruz helped celebrate the 20th anniversary of the Weissman Center, and came bearing letters from the campers.  
Cruz's numerous recognitions and awards include the Antonio Villaraigosa Leadership Award from the Latino Leaders Network; the AIDS Healthcare Foundation's Humanitarian Award and the Puerto Rico Arts Alliance's Felisa Rincón de Gautier Distinguished Woman Award. In 2018, she was named to Time magazine's 100 most influential people in the world. In the past two years, she has been awarded the Dolores Huerta Woman of Courage Medallion from the United States Hispanic Leadership Institute, and an award from The Blue Card, an organization that aids needy Holocaust survivors. 
"I am deeply honored and also thrilled that Mayor Cruz will be our Harriet L. Weissman and Paul M. Weissman Distinguished Fellow in Leadership at the Weissman Center and that she will be joining the Mount Holyoke community," said Amy E. Martin, director of the Weissman Center for Leadership and Professor of English on the Emma B. Kennedy Foundation.  
"Yulín is an inspiring leader who shows us what it means to create transformative change when you are guided by bravery, bold vision, a fierce commitment to equity and social justice -- and most of all, love and compassion. Mount Holyoke will benefit in so many ways from her presence, her experience and brilliance and her commitment to helping our students and all of us find ways to engage in meaningful, bold work to change the world. In a time when we all need inspiration and hope, Yulín brings that with her. 
"She will be central to designing leadership programming at the Weissman Center — inviting truly exciting special guests to speak through virtual and on-campus visits, working with local community organizations and mentoring and supporting students in myriad ways. I am truly grateful for and moved by Harriet Weissman's generous gift that made this fellowship possible. This is another example of Harriet's tremendous vision and love for our College. This is especially meaningful not only because of the many kinds of impact that Yulín's presence will have over the next year but because this is such a beautiful tribute to her late husband, Paul Weissman, and all that they together made possible at Mount Holyoke."