Commencement Address 2016
Commencement Address 2016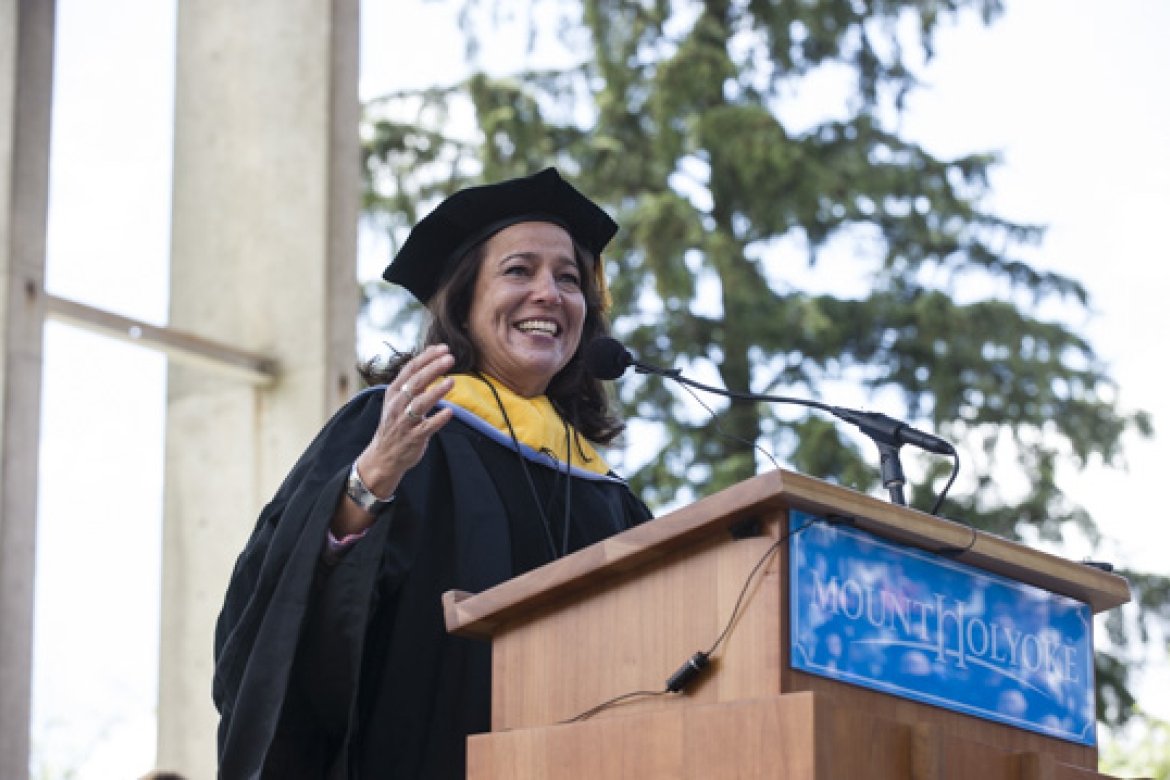 Following is a transcript of the keynote speech by Joia Mukherjee, the chief medical officer for Partners In Health.
Thank you, President Pasquerella, Chairperson Baumann. The faculty, the staff of Mount Holyoke College. And congratulations to my fellow honorary degree recipients. I am very delighted to be here with all of you.
Most of all, congratulations to all of you, the class of 2016.
[cheers]
I am so proud to be one of your classmates! A blue lion, just like you.
[cheers]
Warmest congratulations to families, and loved ones, and friends who have accompanied these graduates for the last four years—and often longer—who stood by you through in your freshman year jitters, four South Hadley winters—including the snowpacalypse of 2015, even in Boston we had a lot of snow—and the decisions about majors, your triumphs, your tragedies. This graduation is for all of your loved ones and "accompagnateurs," as we say at Partners in Health. Thank you all.
[applause]
It is a great honor to be here and receive this degree from Mount Holyoke, the oldest of the Seven Sisters.
[cheers]
When this college was founded in 1837, the very idea of women's education was radical. Think about that for a minute. That revolutionary idea, that Mary Lyon put forward, made it her mission to use education to disrupt hegemonic forces of the day. That's your mission.
Let's fast-forward to the now. President Pasquerella's final Commencement. We've come full circle, the president and I. I was six years ago invited to speak as part of her inaugural activities here at Mount Holyoke College. At that time, she said, "In order to promote women's leadership, women's political participation, women's economic capacity, and in order to stem violence against women, we must turn to education."
So, with those words in mind, the words of President Pasquerella, the words of Mary Lyon, with the idea that women's leadership, women's education, should in fact disrupt the hegemonic forces of the day to achieve a more just and peaceful world—I stand before you, fellow graduates, fellow blue lions, an educator, a leader, and a very proud disrupter of hegemony!
[cheers, applause. Mukherjee's mortar board blows off in the wind.]
The hat's not going to make it.
[laughter]
You commence today, leaving this place, this bubble, into a world that is positively waiting for your disruption. It is a world ripe for social change. Please, be brave. Walk together. Disrupt this place with me.
Ours is a world where powerful and indeed hegemonic forces are threatening the welfare of humanity and of our climate. I believe that that leadership, women's leadership, depends on disrupting hegemony. On truth-telling. On bravery. And on walking together in solidarity. In the last few days I've had the chance to talk to some of you, some members of this graduating class. And what I heard most from you is a thirst for activism, a desire to use your education, your talents, your passions, and even your privilege to change the world.
Through MoHonest, your work to highlight microaggressions at Mount Holyoke, you've challenged the forces of racism by disrupting the veneer of complacency, to speak the truth.
[cheers]
Thank you for that. For your fight for transgender people, thank you for disrupting that status quo.
[cheers]
Through your campaign, [Think Outside] the Bottle, you have brought personal responsibility and accountability for the environment, environmental justice to your own campus. Thank you for that disruption.
[cheers]
You have been recipients of Humanity in Action and Newman['s Own] fellowships, Fulbrights. You have started nonprofits. You are working to advance science education for women and disadvantaged communities. And most importantly, you have all told me that you felt supported here. That your activism received broad and unflinching support from the faculty and staff at Mount Holyoke. So thank you for that.
[cheers]
It is impossible to name all of the many ways you young women have already begun to disrupt hegemony, to change the status quo, to bring about a better world. You have been truth-tellers and advocates. You are my sisters, and you give me great hope.
And in the tradition of Mount Holyoke's...Lucy Stone, the great abolitionist, of Frances Perkins, secretary of labor under FDR, you will, I am confident, change the world.
Here at Mount Holyoke where Martin Luther King once spoke, I will reflect on a few of Dr. King's famous words in his "Letter from Birmingham Jail." Dr. King said all life is interrelated. All men and women—he didn't say that—"are caught in an inescapable network of mutuality, tied in a single garment" of history. I can never be what I ought to be until you are what you ought to be.
There is a very important [proverb] in the Zulu language that sums up this beautiful sentiment from Dr. King. and the word is ubuntu. Ubuntu means simply, I am because you are. We are powerful as a whole when we are we. Not I, not them. We.
My life, my mission has been one of ubuntu. What has brought me here today is not my personal accomplishments, though that is what is written on my CV. But it is in fact the shared struggle that I have engaged in with others in Haiti, in Rwanda, Lesotho, Malawi, Liberia, on the Navajo Nation, right here in the United States, in the shared struggle for justice and human dignity. That has been my privilege, to participate in the struggle. And it has brought great meaning to my life, meaning that I will share with you.
Twenty-five years ago, I made my first trip to Africa. I was a young medical student, not much older than you. I was affected by the poverty I saw in my father's home country of India. I was encouraged by the recent release of Nelson Mandela from Robben Island, I was moved by the words of Dr. King and Nelson Mandela, who said that ill health, lack of health care, was among the greatest forms of injustice.
I worked in a small missionary hospital in rural Kenya. And as a [part of a] public health campaign, we went to weigh babies and put them on the growth chart. We put these babies in a small canvas sling and would track their growth, some of them doing well, some of them falling off what was called the road to health. Some of them in fact careening into dire levels of malnutrition. And I dutifully unfolded a poster and educated their mothers about the right foods to feed them. These mothers who themselves were starving, who were shamed by bringing this malnourished child. I educated these mothers.
I felt dirty. I felt ashamed. I said to my mentors, I don't think these women have any food. I don't think it's a lack of education. I think it's a lack of resources, a lack of justice.
[cheers]
And my mentors at the time were quite good people, but upholders of the status quo. They said, no, no, they just don't understand what to feed their children. If you just tell them, they will do it. I went home and I felt just terrible.
A few years later I returned to Africa, really moved by the importance of trying to stem the HIV/AIDS epidemic. And I worked with a few children who were 11 to 14 years old who were not yet infected by HIV but had lived in communities where the HIV prevalence was 25 and 30 percent. And we educated again, these girls and boys, about sex, about condoms, about how to protect themselves from HIV.
But the difference this time was that I did the radical thing of listening. And I said, "Okay, give me your five top risk factors. What is going to give you the risk for HIV? How will you present it? And for every school I worked in, for two years in rural Uganda, and in every one of 92 schools, the children told me the same risk factor. They said it was poverty.
And I said, "What do you mean by that?" Because I started to listen. I started to actually listen to the infected. And they said, "Auntie, we are already poor. Many of us are already orphans. School is not free. If there is someone in my community who will help me pay for my school and wants to have a sexual relationship with me, well, then what choice do I have? Because I want to learn to read and write."
I left there with the profound knowledge that listening is probably the most important act of social justice.
[cheers]
The second, radical notion I had was that poverty constrains choice. Agency constrains choice. The year I returned from Africa, the AIDS cocktail, the combination of drugs that was helping people rise off their deathbeds was discovered. It was indeed miraculous. I was studying infectious diseases at Harvard and I saw my own patients go from skeletal and end-of-life to graduating from law school. And I thought, most certainly, definitely, that these drugs would be brought with needed speed to the continent that was home to 20 million people with HIV.
And I was told no. "It is simply not feasible. It is not possible." Not in 1995, '96, '97. Eight thousand people were dying a day of a disease that was treatable. And nobody was moving to bring drugs to the people. "Just educate them," I was told. "About the risks." Some of them were already infected and I know those limits of education among those communities of dire poverty.
I came back from Africa, and I was invited to a panel at the Kennedy School of Government to give my opinions on the epidemic at Harvard. And I was quite young and I was with some very senior scientists who were convinced that the problem was a particular virulent, very strong type of the virus, and that's why the epidemic was raging. And I said, "I think it's poverty."
[cheers]
I was never invited back to the Kennedy School. That's not what they wanted to hear. They wanted a scientific silver bullet. They didn't want the answers to be justice. Disruption. Listening. Walking with the affected. They wanted a silver bullet.
Luckily in 1998, I stumbled on a small and little-known organization called Partners In Health that was based in Haiti. The organization was rooted on the foundation of making a preferential option for the poor in health care. We were founded with a community of landless peasants. Many of them were on our staff. Many of them were falling ill from HIV and so we worked to bring the treatment to them, even though at the time the treatment was $10,000 per patient per year. We still believed in the justice approach, not what was sustainable, not what was feasible. We in fact started treating a handful of patients, and I became the head of what we cheekily called the HIV Equity Initiative. It really wasn't an initiative at all. We were just getting recycled drugs that were unexpired from affluent people, who actually cared about the poor, in Boston, and bringing them to those in rural Haiti.
We saw, not surprisingly, the very same effect. People lifted up off their deathbeds to go back to being productive members of their society. Farming, taking care of their people. And most importantly, it was Haitians themselves that became members of our staff, helping others to take their medicines, to be well, to be healthy.
This was so radically disruptive that we were roundly condemned by the scientific community, by the public health community. This is simply not feasible. This is simply not possible. We wrote a small paper in a very important medical journal called the Lancet and it was despised by academics.
But activists really loved the paper.
[laughter]
They said wow, if we can do it in Haiti, maybe we can do it Soweto. If they can do this in rural Haiti, maybe we can do this in Bangkok. Maybe we can do this in Uganda. And people started talking about the Haiti model. And the disruption came from activists while working in solidarity with doctors, with nurses, with patients, with community health workers. And we created a movement for HIV treatment justice that has now leveraged billions of dollars in HIV treatment around the world.
[applause]
And I am proud to say, that from that time, when there were fewer than 50,000 people living in [resource-poor] settings who could get HIV drugs, today there are 15.2 million people on HIV therapy. All of them receiving those drugs for free.
[cheers, applause]
But we do not stop there. We said, it's not for us about HIV. We are not an HIV organization, we are a justice-based organization and we believe that provision of health care is justice. So we use that money. We said in Haiti that HIV is our chwal batay, our battle horse.
The fight was never against HIV. It was against injustice. The fight was never about getting drugs for one disease to people when they might die of a broken leg because they need surgery. We need health care and we use that money to build a health-care platform. We use that money to strengthen the public system in Haiti that had become so weakened by years of hegemony.
We opened clinics throughout Haiti to provide basic health care to people. And from that example, we were invited to Rwanda, Lesotho, Malawi, Sierra Leone, Liberia, because governments, and the people they serve, want health care as a right. Not HIV care, not prevention, not a bunch of education when they were wracked with poverty and ill health.
So 17 years later I remain the chief medical officer of Partners in Health. We work in 11 countries and we have a staff of 16,000 around the world, 85 percent of them who are poor people. Who are people living in poverty who without the work of Partners in Health, without the community work that they do would be jobless, but are paid for their labor, as they should be. And as Ebola raged, as cholera hit Haiti, we always follow the same principles: Listen to the affected. And walk the walk together with people. Be brave and disrupt hegemony.
When we face any new challenge we have a simple formula for action. And that is ubuntu. We are because we are we. I am because you are. And when we see, hear, and understand what does not fit with the status quo, we live by the radical notion of ubuntu. Whether it is treating drug-resistant tuberculosis in the Russian prisons or the slums of Lima, tackling Ebola, and not only Ebola but the health systems that underpin it. We work hard, we work hand-in-hand with communities to build a just world.
There is no way to do this without you. We need psychologists, chemists, philosophers, musicians, poets, librarians, programmers. We need all of you. We need to disrupt and rebuild this world.
Join me.
While the task at hand seems large, all of us need only do our part. Find your passion, whatever it may be, and connect it with the kind of world that you want to see when you stand here, 30 years from now, receiving your honorary degree from Mount Holyoke.
[cheers]
One graduate asked me, how do we balance our personal life, our studies, our activism? My answer is quite simple: live with the radical notion that your life is of one piece. That family, friends, your children, your vocation, and your joy are of one piece.
My son is now almost 10 years old. He has travelled to 30 countries with me. He has aunts and uncles from all over the world. When he was two and a half, he suffered from cancer. He is cured, he's fine. On reading the hundreds of emails, of prayers of love from all corners of the globe—from Haiti to Roxbury, Nepal to Lesotho—I realized that my balance, my centering force, is indeed ubuntu. I am because you are. We are because we are we. You through me, me through you.
Sisters, congratulations on our Commencement today.
[cheers, applause]
As you commence, and take the next steps of your journey, find your passion. Be brave. Disrupt. And in closing, I will quote Ella Baker. Ella Baker was not the front man for the movement for civil rights. But Ella Baker touched every major part of the civil rights movement, from NAACP to the Southern Christian Leadership Conference, Ella Baker was everywhere. She was the glue. And she believed in the notion of radical democracy. Action. She believed in the we, in ubuntu.
Ella Baker has a very famous quote that I will end with today and I will teach you a song. The quote is simple: "Give light and people will find the way." And a folksinger that I know has written a tune to that. And it goes like this (sings):
Give light and people will find the way.
Give light and people will find the way.
Give light and people will find the way.
People will find the way, I do believe.
(speaking) try it.
Give light and people will find the way.
Give light and people will find the way.
Give light and people will find the way.
People will find the way, I do believe.
(speaking) be brave!
(Singing) Be brave and people will find the way.
Be brave and people will find the way.
Be brave and people will find the way.
People will find the way, I do believe.
Fellow graduates, class of 2016, blue lions, congratulations on our Commencement!
[cheers, applause]