Congratulations to the class of 2023
Congratulations to the class of 2023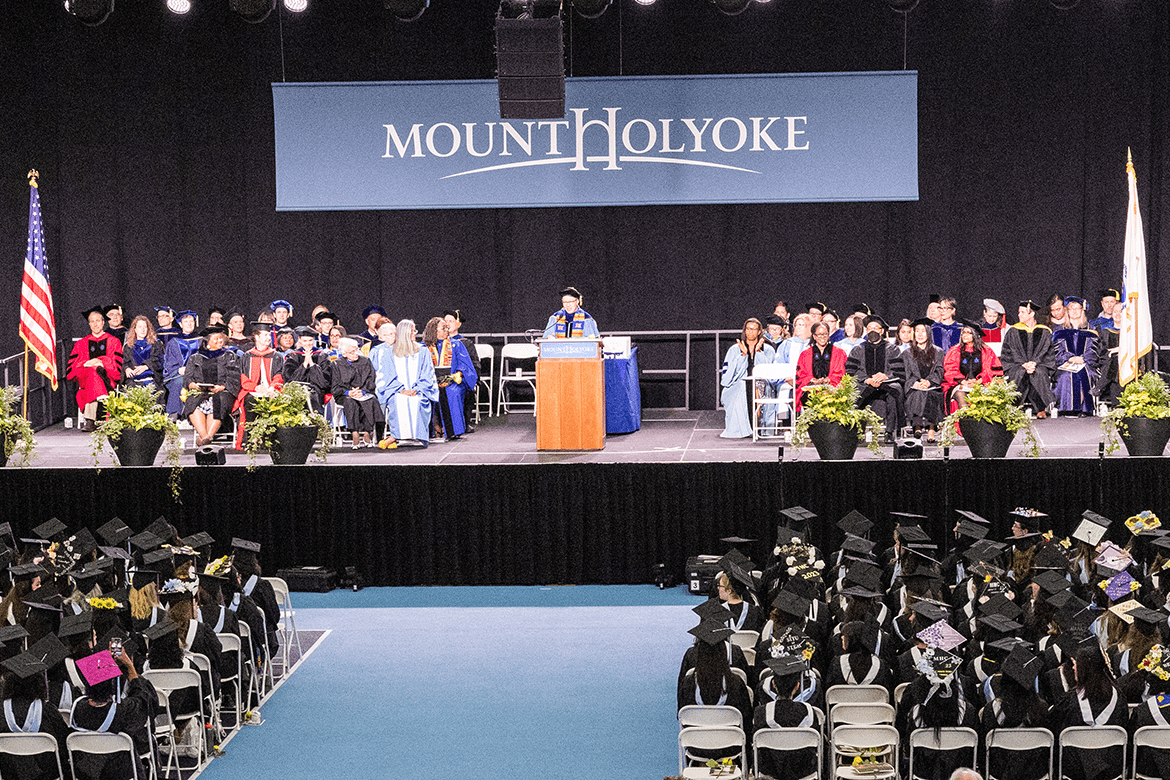 Interim President Beverly Daniel Tatum addressed the class of 2023 about beginning with the end in mind, using the privilege of a college education and reasons for hope.
Greetings everyone! Thank you Karena for your presence here today, for your kind words to me and for your inspiring words to all of our graduates!
In the classic book "The 7 Habits of Highly Effective People," author Stephen Covey tells us the first habit is "to begin with the end in mind."
When I began the year with all of you, I was already thinking about this moment — your Commencement — and who would we want gathered on the stage to help celebrate this auspicious occasion. I could not be happier to be in this space with all of you, your family and friends, our faculty, many of our staff, trustees, President-Elect Danielle Holley, and this fabulous group of honorees — who you will hear from this morning! Thank you all for being here!
This is a long-awaited day for you — our graduates — for your families and friends, and for the faculty, staff, and administration. We are all filled with pride as we honor you, the class of 2023, along with our master's students and certificate recipients, for your hard work and your accomplishments.
Today, in celebrating all of you, we also pay tribute to the members of the faculty who established and have maintained high academic standards, the staff whose work has supported the building of this institution, and the pioneering alums who, in each generation, have blazed new trails for these next graduates to follow. Once again, we affirm our commitment to the enduring mission of Mount Holyoke College.
Surely none of the graduates seated before me would be here today without the hard work and dedication of the people who make up the Mount Holyoke College faculty — whose commitment to the education of their students and the success of the College provides the foundation upon which our graduates accomplished all that they did at Mount Holyoke, and the foundation upon which they will accomplish great things in the future. Would all faculty who are able please stand so we may thank you?
In addition, the commitment and consistency of our staff contribute to the excellence associated with Mount Holyoke College and the exceptional opportunities each of our graduates has been provided. Many staff members are here in attendance, assisting with our logistics. Would the staff and administrators present please stand so we may thank you?
We appreciate all that our faculty, staff and administrators do every day to support our students. And, of course, our graduates would not be here today without the support of their family and friends, their parents, grandparents, brothers, sisters and other loved ones. Graduates, I ask you to stand and give a rousing standing ovation to all the family members and friends who have given so much of themselves to help you achieve this goal of graduating from Mount Holyoke College!
Our board chair, Karena Strella, has just challenged you to use the privilege of your college education to boldly exercise your leadership in the world. Some of you may be asking, "Was she talking to me?" I want to tell you, yes, she was.
Let's be clear; you all have that capacity for leadership. Now is the time to claim it. Mount Holyoke has prepared you for this moment. You don't have to be the CEO or the president of the organization to influence others. We all have a sphere of influence — family, friends, neighbors, coworkers and more. You never know who is watching you, paying attention to the example you provide, listening to the questions you ask, the analysis you bring. Identify your sphere of influence and use it UNCEASINGLY to advocate for the change you want to see. The evidence is all around us at Mount Holyoke — CHANGE IS POSSIBLE!
I have one thing to add to this call to take on the mantle of leadership and that is to encourage you to remain hopeful. Remain hopeful, despite the fact that we're living in a discouraging time. As Rev. Dr. Martin Luther King once said, "We have difficult days ahead in the struggle for justice and peace, but I will not yield to a politic of despair. I'm going to maintain hope…"
Be hopeful and remember that hope without action is naïve optimism. Translate your hope into purposeful activity. Write the letter to the editor, make the unpopular comment in the meeting, risk some discomfort to use your sphere of influence when addressing those issues that are important to you.
You will hear from three powerful women today, two of them MHC alums — one from the class of '63, one from the class of '83. The world has changed since they graduated — 60 and 40 years ago — and each, in her own way, has been an agent of that change.
How will the world be different decades from now because of your actions? One thing I have learned is that to be an effective change agent, you have to be in it for the long haul — it requires a sustained commitment. To quote the social justice icon Professor Angela Davis, "The key is persistence." But without hopefulness, there is no persistence. Maintaining hopefulness is essential. It is a discipline. Practice it every day.
Your collective leadership, harnessed with the energy that comes from hope, will be unstoppable!
And now Dean of the College and Vice President for Student Success, Amber Douglas, will share her own words of wisdom. The ultimate metric of student success at a college is indeed graduation. So it seems quite fitting that you should hear from Dean Douglas today, speaking on behalf of all those academic advisors and class deans whose guidance and support have been an essential part of today's success. Please join me in welcoming Dean Amber Douglas to the podium. (applause)