Convocation Address 2023 from President Danielle R. Holley
Convocation Address 2023 from President Danielle R. Holley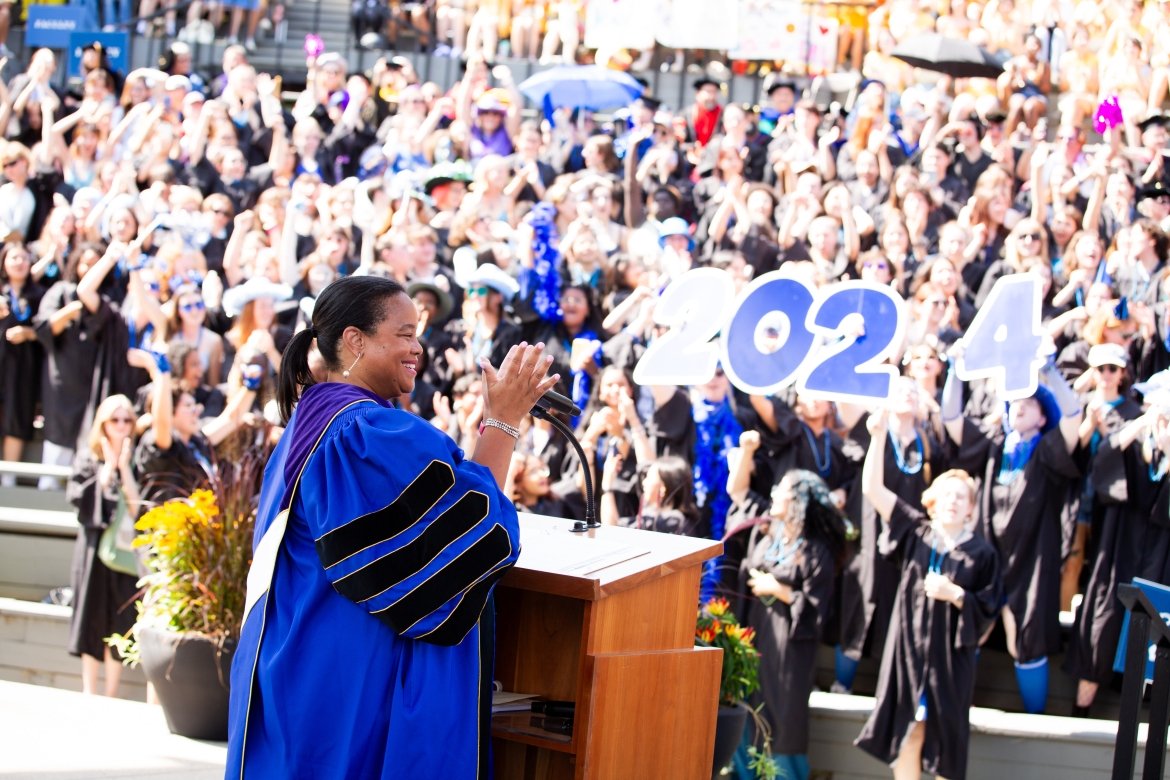 Convocation Address from President Danielle R. Holley
Address
Danielle R. Holley, President
Convocation 2023
Thank you, Madeline, for your thoughtful land acknowledgment. And thank you, Karena, for that kind introduction. I am overjoyed to be here with all of you today, celebrating my first Mount Holyoke Convocation and kicking off the 2023–2024 academic year!
Let me give a special welcome to our first-years: the class of 2027 yellow sphinxes! We are so happy to have you here. Since I am starting my time at Mount Holyoke this fall, I guess that makes me a yellow sphinx, too!
Welcome to:
Our amazing Frances Perkins scholars — celebrating in their purple!
PaGE graduate students! Many of you may be watching from home; wherever you are, I hope you're wearing teal!
Transfer students! Welcome to your new home!
Exchange students, here with us for an exciting semester or year!
Welcome back class of 2025! Green griffins!
Welcome back class of 2026! Red pegasi!
And, of course, a very special welcome to THE SENIORS — class of 2024! Blue lions, let's hear you roar!
It is wonderful to be together today.
Our faculty are here, too, decked out in their regalia — welcome to you, our august faculty! Our remarkable staff is here — welcome and thank you. Without our faculty and staff, none of this is possible! Right, students?!
And welcome alums and families, whether joining us in the amphitheater or watching from all over the world!
I may officially have been in office for just a couple of months, but I have been studying and learning about this community for the past year. And I've been meeting students, faculty, staff, alums and families on campus and across the country for months, including at Reunion. I am delighted after the incredibly warm welcome I've received to be able to pay it forward and welcome all of you today.
What I've learned over the course of many conversations is that this is a place where tradition is important, where legacy matters. But it is also a place that believes in risk and innovation. Mount Holyoke carries its traditions forward — adapting, examining and elevating them to inspire us to lead in new and innovative ways.
Using legacy and tradition to power us into the future has exciting results. Look at us here today. Convocation at many institutions is a staid and solemn event, a tradition that often passes unnoticed. At Mount Holyoke, it is a vibrant, joyous kick off to another intellectually adventurous academic year. We welcome the opportunities and adventures of a new academic year.
We are taking chances and reaching new heights in our classrooms, on our campus and in our cocurriculars. The liberal arts have long been among the most effective methods to analyze and address a constantly changing world. Especially in a time when there are significant challenges to our democracy and crises around the world, a liberal arts education is the tool we need to face down these existential threats. Our brand-new Critical Race and Political Economy program is a perfect example of how we can bridge disciplines and explore shifting power centers to make sense of ambiguity and uncertainty.
And we are actively leading change through the very infrastructure of our campus. Take our Geothermal Energy Project: We will replace our 100-year-old steam plant with renewable energy and, in so doing, reduce our greenhouse gas emissions by 80%. You better believe we are going to achieve our goal of carbon neutrality by our bicentennial in 2037! Let's celebrate the many administrators, faculty, staff and students involved in this project!
Mount Holyoke is challenging conventions outside the classroom as well. How many of you were moved reading Alice Wong's "Disability Visibility" this summer for our Common Read program? Yes, yes, me, too! This powerful anthology, and the web project from which it emerged shares and honors people, stories and a culture that have always been with us. Yet often these stories are not acknowledged, let alone amplified.
One author, Wanda Diaz-Merced, wrote about losing her sight while pursuing a degree in astronomy. Given the field's dependence on visual evidence, some assumed her career was over before it even started. But Diaz-Merced refused to believe she couldn't contribute to the field. She and her advisor developed prototype technology that turned data sets into sound. Today, Wanda Diaz-Merced is a professor of astronomy, dedicated to making science accessible to all. One of the things that struck me about the story is that Diaz-Merced's way of exploring space wasn't simply a different method — it didn't allow her to make the same discoveries she would have if she could see. Rather, her work expanded our understanding of the science. It deepened our knowledge.
This is a powerful lesson about the relationship between excellence and inclusivity — excellence and inclusivity, two values that I heard about quite a bit in my conversations about the College. And while we have work to do as a community in order to fully realize our inclusion goals, Mount Holyoke is a diverse intellectual community up to the challenge. People learn from one another and support each other fiercely. We work to understand our differences, and in so doing, we exercise our intellects and our imaginations and we deepen our compassion for one another.
I am honored to be part of this community of passionate scholars and compassionate friends. Let us have a truly magnificent year.
Class of 2027, our faculty and staff, our students and alums are all wishing you well and are eager to help you in your educational journey. And no one knows better than the class of 2024 that the friendships you forge, the curiosities you pursue and the passions you lean into at Mount Holyoke will shape who you become.
So students, faculty colleagues, staff, alums, families: Remember to care for yourselves, be curious and help others. Take risks and lean on one another. We at Mount Holyoke are a part of something special.
Thank you for being a part of it with me.