Dolores Huerta to speak at Mount Holyoke
Dolores Huerta to speak at Mount Holyoke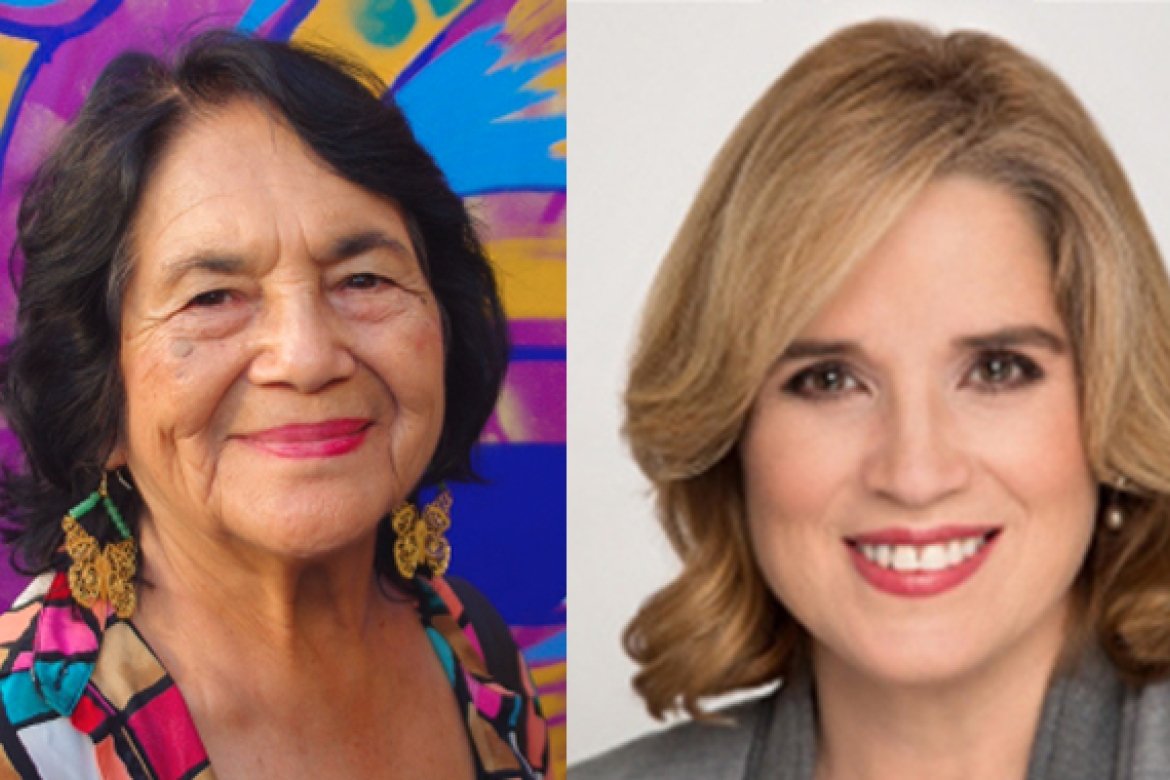 Dolores Huerta, co-founder of the United Farm Workers of America, will be in conversation with Carmen Yulín Cruz at Mount Holyoke College.
Dolores Huerta, president and founder of the Dolores Huerta Foundation and long-time activist for the rights of farm workers and others,  will be in conversation with Carmen Yulín Cruz at Mount Holyoke College. 
The event will be held online. The talk will be Tuesday, May 4, at 4:30 p.m. EDT. It is free and open to the public. 
The conversation between Huerta and Cruz is part of a series of town halls held by the Weissman Center for Leadership at Mount Holyoke College entitled "Our Voices, Our Platforms." The town halls explore how people can use their voices to make meaningful change and how people can discover and create the platforms necessary to achieve that transformative change. 
Dolores Huerta is a labor leader and community organizer. She has worked in civil rights and social justice for over 50 years. In 1962, she and labor leader César Chavez founded the National Farm Workers Association, which became the United Farm Workers of America. She served as vice president and played a critical role in many of the union's accomplishments for more than three decades. 
In 2002, she received the Puffin/Nation Prize for Creative Citizenship, and used the $100,000 award to  establish the Dolores Huerta Foundation. DHF connects groundbreaking community-based organizing to state and national movements to register and educate voters; advocates for education reform; brings about infrastructure improvements in low-income communities; advocates for greater equality for the LGBT community; and creates strong leadership development. 
She has received numerous awards. She was an inaugural recipient of the Eleanor Roosevelt Award for Human Rights, given by then-President Bill Clinton, in 1998.  
In 2012, then-President Barack Obama bestowed Huerta with the Presidential Medal of Freedom, the highest civilian award in the United States. In 2020 she was given Glamour magazine's Lifetime Achievement Woman of the Year award. In 2021 she was named to USA Today's list of 10 Women of the Century. . Huerta was also Mount Holyoke's Commencement speaker in 2017. 
Cruz, most recently the mayor of San Juan, Puerto Rico, is the Harriet L. Weissman and Paul M. Weissman Distinguished Fellow in Leadership at the Weissman Center for Leadership at Mount Holyoke College. 
Born in Puerto Rico, Cruz received degrees from Boston University and Carnegie Mellon University and worked on the mainland for years. She returned to Puerto Rico in 1992, working as an adviser to a previous San Juan mayor, and was elected to the House of Representatives of Puerto Rico in 2008. 
She ran for mayor of San Juan in 2012 against Jorge Santini, a 12-year incumbent who called her "esa señora," or "that woman." Cruz won the election and was re-elected in 2016. Cruz came to international prominence after Hurricane Maria struck Puerto Rico in 2017, both for her impassioned pleas for help after the storm and for her stinging critiques of the Federal Emergency Management Agency, as well as the White House and the United States federal government more broadly. She is an international figure of women's bravery, leadership and action. 
To register for the talk, visit Mount Holyoke College's events calendar.