Katie Berry receives major early-career award
Katie Berry receives major early-career award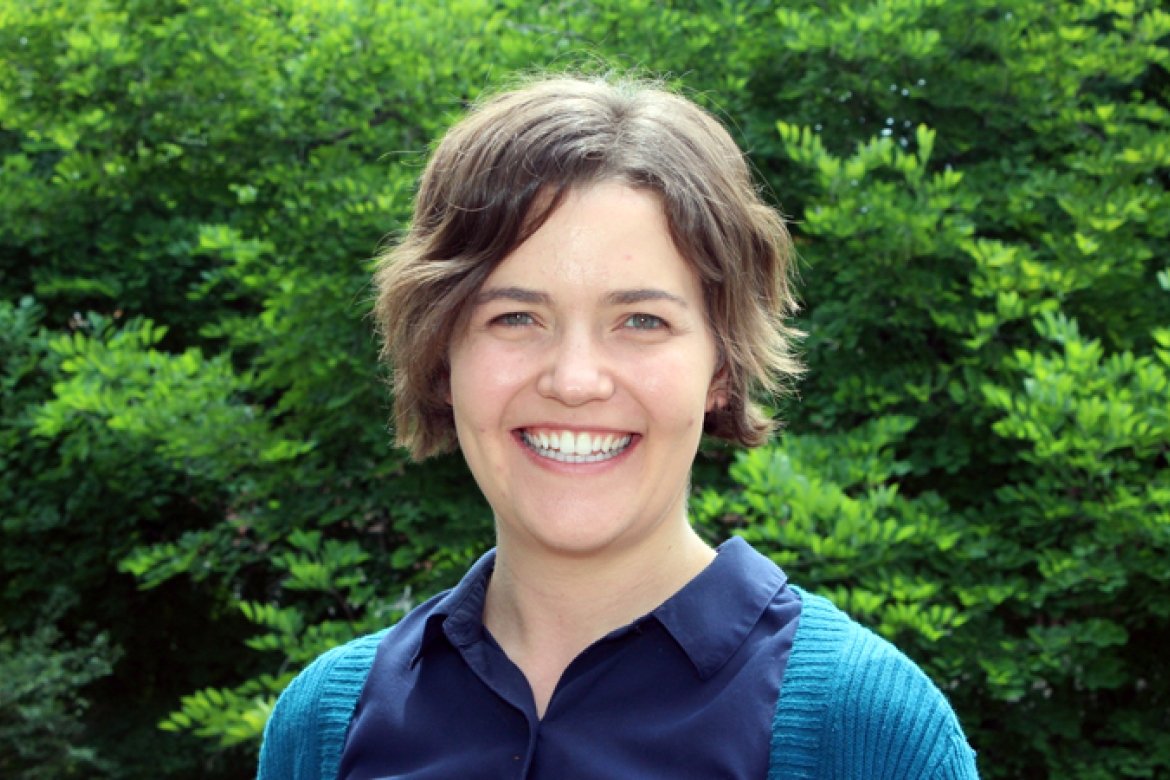 Katie Berry has won the Henry Dreyfus Teacher-Scholar award for her research program, which engages undergraduates in research on biochemical processes.
By Keely Sexton
Katie Berry, Clare Booth Luce Assistant Professor of Biochemistry, has been awarded the coveted Henry Dreyfus Teacher-Scholar Award for her work in developing new techniques to study the processes of biochemistry and engage students in the research. 
"The Camille and Henry Dreyfus Foundation is enthusiastic about providing support for faculty at this stage of their academic career," wrote the foundation. "The competition for the Teacher-Scholar award was strong."
Berry's lab investigates how ribonucleic acid binds with proteins within cells to affect how those cells function. The RNA sequences she studies don't code for proteins, but rather, they attach to protein in a specific manner to regulate gene expression and respond to stressful conditions.
"It's a really big honor," Berry said. "This is exactly the reason that I came to Mount Holyoke, to build a research program with a technique and approach that I felt would be a great match for undergraduate collaborators, in particular, to be able to pick up and contribute meaningful information to the field."
The traditional method of characterizing the mechanism of how a particular protein and RNA interact is a time-intensive and laborious process. Berry learned it from her doctoral advisor,  Jennifer A. Doudna of the University of California, Berkeley,  who used it to study RNA-binding proteins in bacterial immune systems, which ultimately led her to the development of the now-famous CRISPR gene-editing tool and the 2020 Nobel Prize in chemistry.
To complement these traditional biochemical techniques, Berry conducted postdoctoral research in bacterial genetics, training with Ann Hochschild at Harvard Medical School. Hochschild had pioneered a genetic method to study protein-protein interactions. 
When Berry came to Mount Holyoke, she knew she wanted to adapt the method to be able to detect protein-RNA interactions.
"This is a new tool that allows us to ask the questions that a biochemist might ask about the mechanism of how RNA and proteins interact, but to ask them using the toolbox of bacterial genetics," she said. 
The technique is relatively simple and easy to learn, which allows Berry's undergraduates to ask and answer their own questions and make meaningful and unique contributions to the field in the course of their undergraduate careers. 
"It's really gratifying that this methodology has worked out, because we can ask interesting mechanistic questions about the structure and function of RNA-protein interactions using tools that are easy to learn and easy to apply," said Berry.
Since Berry came to Mount Holyoke in 2016, she has had at least 15 undergraduates working in her lab, and more than 45 students from the Five Colleges, learning these genetic techniques and contributing to original research questions.
"I'm absolutely delighted to be honored in this way, and especially grateful that the undergraduates who have contributed to the project in my research lab have had their hard work and creative ideas honored," she said. 
"The funding will allow me to support an extra student working in my lab each summer for the next five years. I am really excited about where we can take these projects in that time."
As an early-career scientist, Berry credits her success in part to her colleagues as well as her students. 
"Starting my independent career and building my research lab at Mount Holyoke has been wonderful. It's been exactly the right environment for me," she said. "I have wonderful colleagues in chemistry and in biology — we've held joint lab meetings for students to share their research ideas and data. My students and I would not have made the same progress had we not been in this community of smart and supportive peers. It's that kindness and down-to-earth-ness that makes Mount Holyoke really special. It's a place where you can show up, be your best self and do your best work."