MHC, South African students take on social justice.
MHC, South African students take on social justice.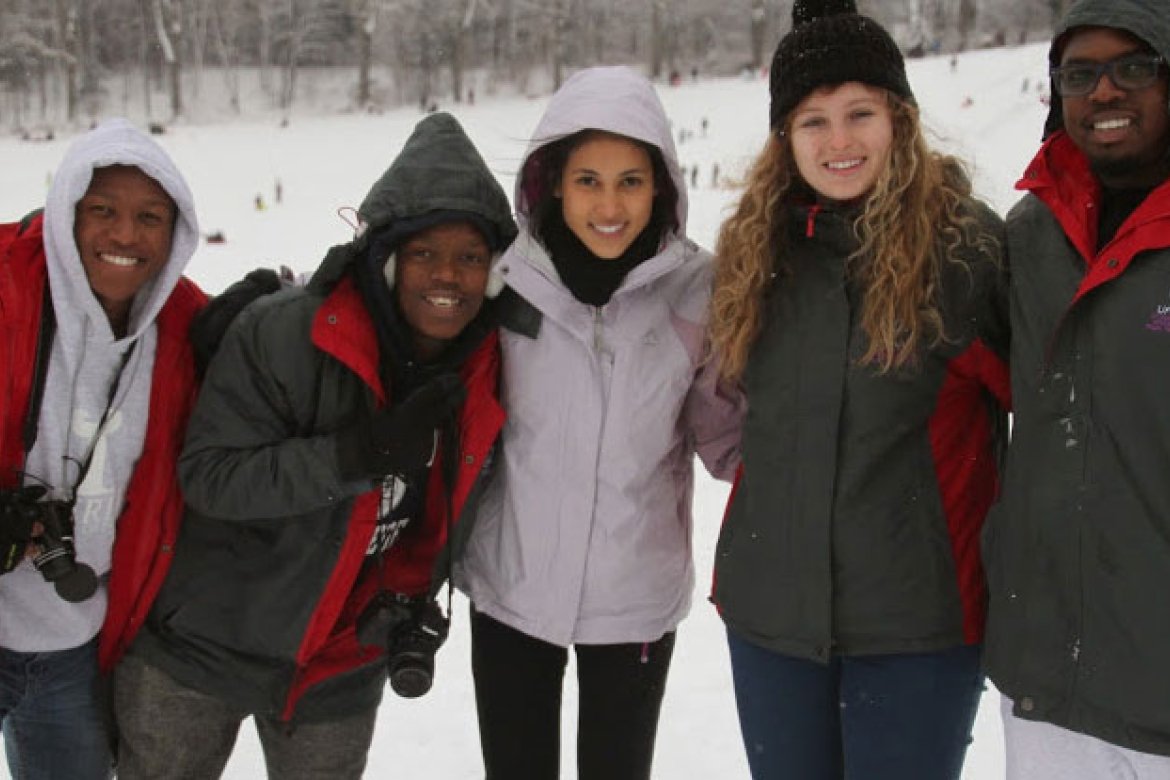 Student exchange focuses on making connections, and exploring solutions to issues of diversity and inclusion.
By Keely Savoie
This January, four student leaders from the University of the Free State (UFS) in Pretoria, South Africa, visited to find out how colleges like Mount Holyoke manage the challenges and triumphs of diversity and inclusion.
"My goal was simple—to learn absolutely anything there was to learn," said UFS student Phano Khalema. "I expected to be challenged and I really was."
Assistant Professor of Psychology and Education and Senior Advisor to the President Lenore Reilly, along with Director of the Master of Arts in Teaching program Beverley Bell, originally conceived the exchange between UFS and Mount Holyoke in 2003 as a teacher preparation exchange. Bell made the initial contact with Jonathan Jansen, then dean of students at the University of Pretoria, and began an exchange program that would give international experience and expose teaching students to greater diversity.
In 2008, when Jansen became president of UFS in the wake of an inflammatory racial incident, he looked to Bell and other international colleagues to help give UFS student leaders a view of how other institutions integrate social justice into their institutional culture. Now, each year student leaders from UFS are dispatched in small groups to partner institutions across the globe to exchange ideas and information about diversity and inclusion on campus.
"This program has grown from teacher education into a radical program to implement social justice on a global scale," said Bell.
This year the visiting students got a true inside view of the Mount Holyoke community through Orientation programming, from the campus tour to the Doing It Live! open mike event and the Snow Ball winter dance.
On one day, they visited classes at Greenfield High School to discuss issues of race. Those discussions about diversity sparked a much deeper conversation than Greenfield students had ever had on the issue.
"Our students want to talk about issues of racism and classicism, but they don't know how," said Theresa Dodge, who teaches eighth grade. "The UFS students showed them that without addressing these issues, there could be no change."
Gender studies major Carly Bidner '17 of Louisville, Kentucky, cohosted the UFS students with Courtney Brunson '16, from Hollywood, Florida, whose major is international relations.
"The UFS students were incredible," Bidner said. "They came asking these amazing questions about how we handle conversations about diversity and inclusion on our campus, but they also gave us really insightful feedback about the things we are doing well and the areas we need to improve."
The students also participated in curricular and leadership programming that included sitting in on classes and discussion sessions, and attending author Kevin Powell's talk on civil rights and social justice.
After two transformative weeks, the UFS students headed home to implement what they learned.
"I will always remember the people I met who treated me with the kind of warmth I'd only expect to receive from family," said Khalema. "I hope to start initiatives that will lay the foundation for our successful transformation at the University of the Free State."
Planning is already under way for the next phase of the exchange. Dean of Students Marcella Runell Hall, along with Bidner, Brunson, and two MAT students, will be traveling to South Africa this summer to take part in a Summer Global Leadership Summit. They will be hosted by UFS students.
"The UFS program enhances students' ability to think critically about difficult issues and enables them to engage in a meaningful way with communities beyond our borders," said Hall. "I would like to see if the students will come back and implement some of the strategies for social change that they are exposed to."