A moment with: Michael Ofori
A moment with: Michael Ofori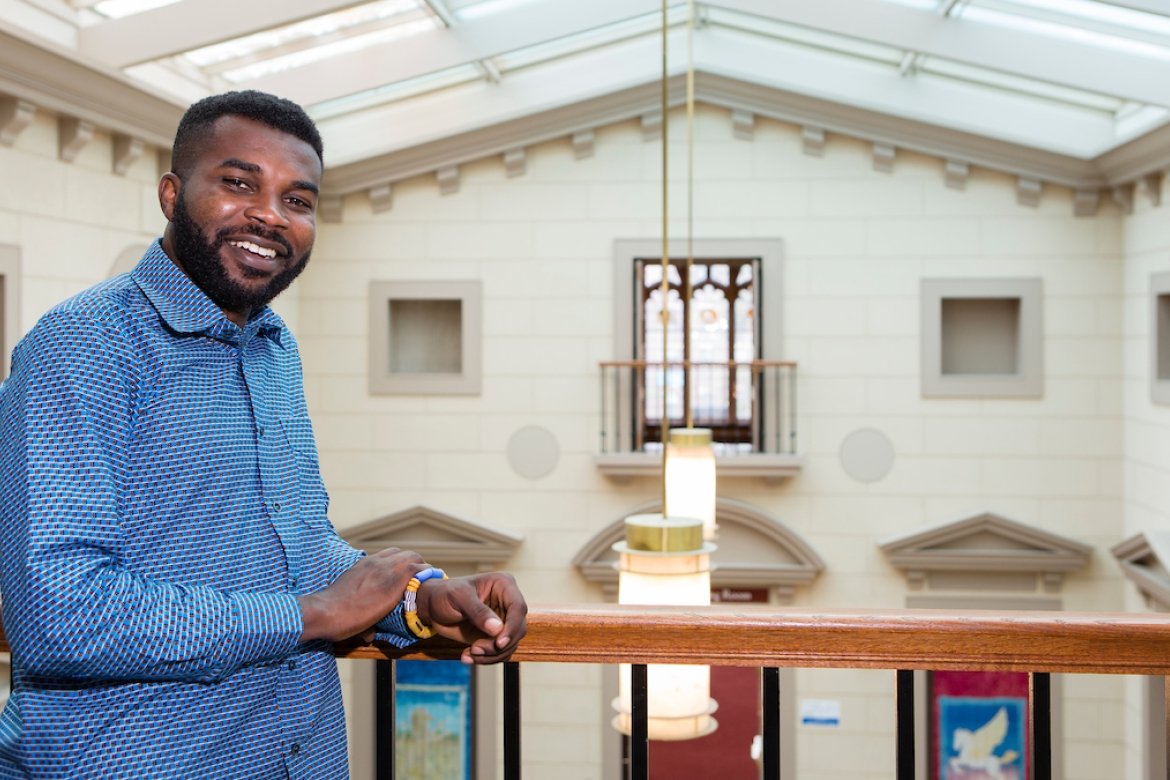 Mount Holyoke College's Michael Ofori, visiting lecturer in the film music theater department, recently directed "Language of Angels" at the College.
By Ijeoma Nwatu
Michael Ofori's journey as an artist and creator took him from West Africa to the American Midwest and then to New England in a matter of a few short years.
Ofori left Ghana in 2011 to pursue a master's degree in Africana studies at Ohio University. 
"The program really appealed to me," he said. "It is one of the strongest African studies programs in the United States, if not the world. The caring faculty and staff, the cohort, the resources were all things I came to appreciate after I enrolled." 
He moved to Boston after transferring out his Ph.D. program at Ohio University. In Boston, he discovered he had a village. "I had friends who I had been drumming with for years who had moved to Boston, so that was an easy transition as well," Ofori said. 
"Coming right out of graduate school [at Boston University], I taught. When I started applying for [the job at Mount Holyoke], I was looking for other avenues as an artist. I was looking for an opportunity to act, direct, work in the theater, but I also enjoy teaching a lot. Those were the things I was looking for coming out of grad school," he said. "I am also able to visit my friend Faith Conant's Five College West African Drum Ensemble for instance, and rehearse and perform with them at events."
Ofori is a visiting lecturer in the film media theater department and has been at Mount Holyoke College since spring 2019, directing theatrical productions  and teaching. Though he doesn't have much time for acting these days, his creative process is still influenced by it.
"My creative process is a simple one. For me, everything I do informs each other. I find it difficult to put myself in a box. I operate in very different circles — I teach, I do theater, I act, I direct, I play in a band. And then there is a league of Asante Kete drummers scattered across the United States that I get to perform with. The demands for each are very different. There are fundamental things I bring from each aspect," he said. Asante Kete drumming is an ancient west African tradition. 
Ofori often seeks out the connectivity between seemingly disparate ideas or identities. "Something that is inherent in polyrhythmic African-based drumming ensembles are intricate phrases that individuals are doing that collectively come together that form this brilliant complex piece. I learned that from playing Kete. When I'm acting, the approach is the same, when I'm directing I'm bringing that experience and thought process. In terms of storytelling, that's probably the unifying thing."
As a teacher, Ofori believes in stimulating an environment in which his students feel empowered rather than dictated to. To produce creative work, students have to find motivations. "I'm constantly intrigued by different things from different parts of the world," he said. "I try to see if I can glean principles that I can apply, even if I don't become an expert."
He acknowledged that teaching creative work during the COVID-19 pandemic can be challenging. 
"Teaching any performing arts class over Zoom is difficult," he said. "Some of the things that worked over Zoom will still influence future classes."
Aside from drumming, other early influences and a supportive environment helped propel Ofori's interest in the arts. 
"I started acting at a young age. I learned Kete from the Asante tribe [in Ghana]. From drumming, I started learning simple, supporting parts. Collectively, the resulting drumming is a full piece," he said. "I slowly graduated from supporting parts to lead drums, which required more dexterity, flexibility and improvisation. That required a lot of agency for me at that age of 13 or 14. Developing my own flair is what led me to that path [of African drumming]." 
Though Ofori has made the United States home for the past decade, Ghana will always have his heart. He remains connected to Ghana by intentionally committing to visiting once or twice a year. "It's impossible to not want to stay connected to your home country. It's been such a big, influential part of my life." 
As an undergraduate student at the University of Ghana, Ofori and a few friends started a theater company, Nyansapo Productions, that performs shows at the National Theatre, Ghana's preeminent cultural arts center.  
"The last time I was in Ghana, I directed a show with Nyansapo. It was an interesting experience," he said. Ofori found himself in a professional role, leading and directing friends and colleagues he had known for years. Navigating those relationships within a professional context was tricky but no less rewarding.  
"I wanted to make sure I'm not taking away the joy of working by being so professional with my very structured approach, but still injecting a certain level of professionalism. It was a good reminder for me of where I've come from," Ofori said.
His most recent project at Mount Holyoke was directing one of the main stage productions, "Language of Angels." 
"We had already chosen it before the pandemic hit. I did not think we could do it as a radio or Zoom play because that would not have done justice to the play," he said. "We had students on campus, so we envisaged a live production of some sort. With limitations, we decided to do the play in the Rooke Theatre. We had a student film the show. It was a lot of logistical complexities. Bottom line, everything came together. I was so lucky to have such an amazing cast and creative team supporting the whole project "