A Mountain Day like no other
A Mountain Day like no other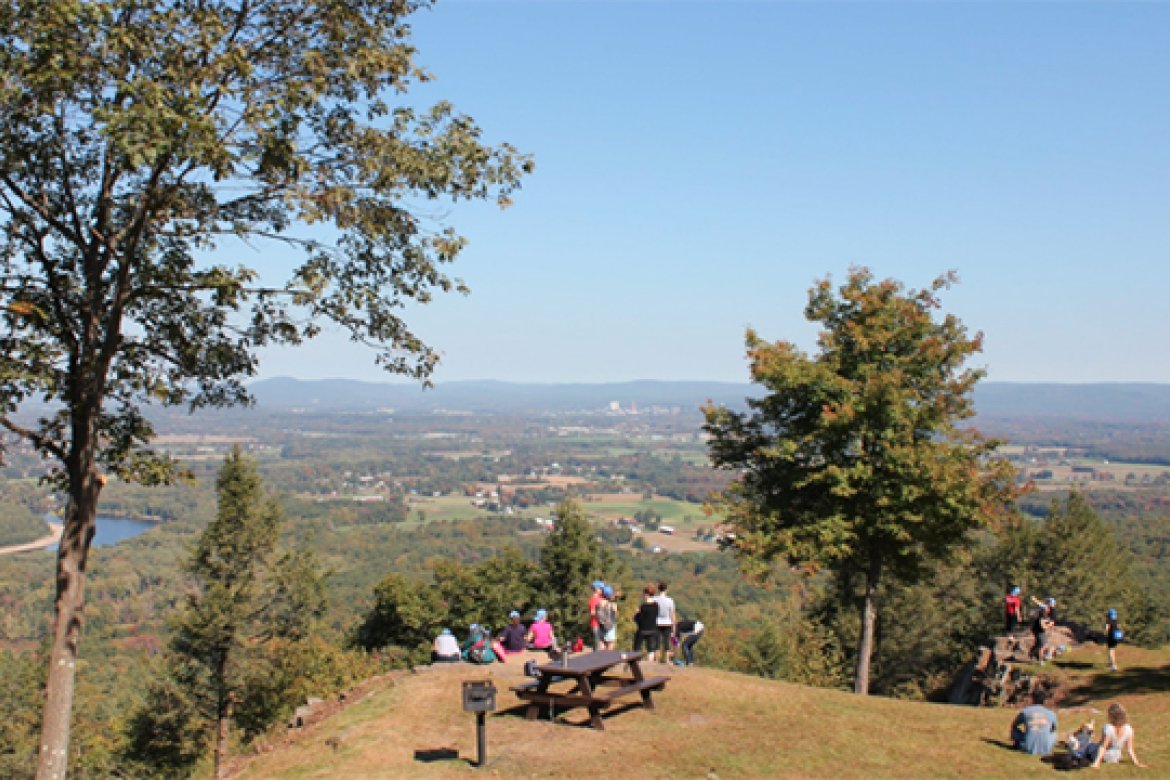 Mount Holyoke's tradition of Mountain Day goes back to 1838, but 2020 was different from any other, as the community celebrated online across the globe.
By Keely Sexton
It was a Mountain Day unlike any others. 
Unlike past years, when sleepy students on campus were awakened to the tolling of the bell, in 2020 the bell tolled while the rest of the far-flung Mount Holyoke College community learned that Mountain Day had arrived with an email message from President Sonya Stephens. 
A 24-hour virtual Mountain Day with a full slate of virtual experiences, awaited the entire community, as students, faculty, staff and alums all took part of the cherished traditions in ways that were safe, physically distanced and festive.
Jordan Lassonde '16, sustainability program coordinator for the Miller Worley Center for the Environment, was part of the committee that helped plan the day, bringing her perspective as a former student, recent alum and current staff member to bear.
"Our plan came out of our conversations around virtual Mountain Day and what we could offer the community," she said. "We wanted to still celebrate and keep the spirit of Mountain Day."
As part of her personal celebration, Lassonde met up with another alum and shared milk and cookies ice cream at 18:37 (6:37 p.m.) in honor of the College's founding year. The virtual Mountain Day experience starred midnight M&Cs — via Zoom of course. And back on campus, Dining Services served up ice cream and pie for all who wanted it.
Lassonde began her day at 7:30 a.m. that morning, when she and fellow planner Latrina Denson, associate dean of students for community and inclusion, did a physically distanced hike up Mt. Holyoke that they live streamed — and where Mount Holyoke mascot Paws was also spotted. 
While the throngs of students that usually ascend the mountain were missing this year, they participated in other ways, tweeting their sweet treats from around the globe, and contributing to a Mountain Day playlist that maintained the sense of togetherness and community that the day is meant to foster. 
"It was quiet and I missed hearing the groups of people singing," said Lassonde, who marked her sixth Mountain Day this year. "But there is still a really great connection to the spirit of Mountain Day."
Instead of group photos with friends, the Mount Holyoke community shared selfies of their Mountain Days, whether it was walks or sweet treats. 
"Amazing and unexpected #MTNdayMHC," tweeted one alum, sharing a photo of a Mexican beach. "Two generations MHC'85 & MHC'24, beautiful mountains & beach in Mexico's Pacific coast. Ice cream to come," she wrote.
As Lassonde passed certain rocks and rock formations on her hike up, she recalled past Mountain Days and the friends and community that made it special — and her geology class with Michelle Markley, professor of geology, where she learned about the natural processes that created the rocks.
"I remember one particular rock and climbing on it with my friends during Mountain Day," she said, laughing. "It was probably ill-advised, but it was a lot of fun. So the spirit of Mountain Day came through this year."
No Mountain Day would be complete without the "flat Mary" cutout of Mount Holyoke founder Mary Lyon, who was joined this year by a cutout of Jorge the goose (PDF), the much beloved and sometimes maligned unofficial mascot of the College.
Though the memories were sweet (as was the ice cream), Lassonde believes that even for those whose first Mountain Day was virtual, the spirit of the day was what shone the brightest.
"I hope that the first-year students got that sense of the spirit of the day and what the intent behind it is, of taking a break and getting outside, appreciating community and doing something different," she said. "I hope they get that sense and then they can carry it with them."