Talking with Patrisse Cullors
Talking with Patrisse Cullors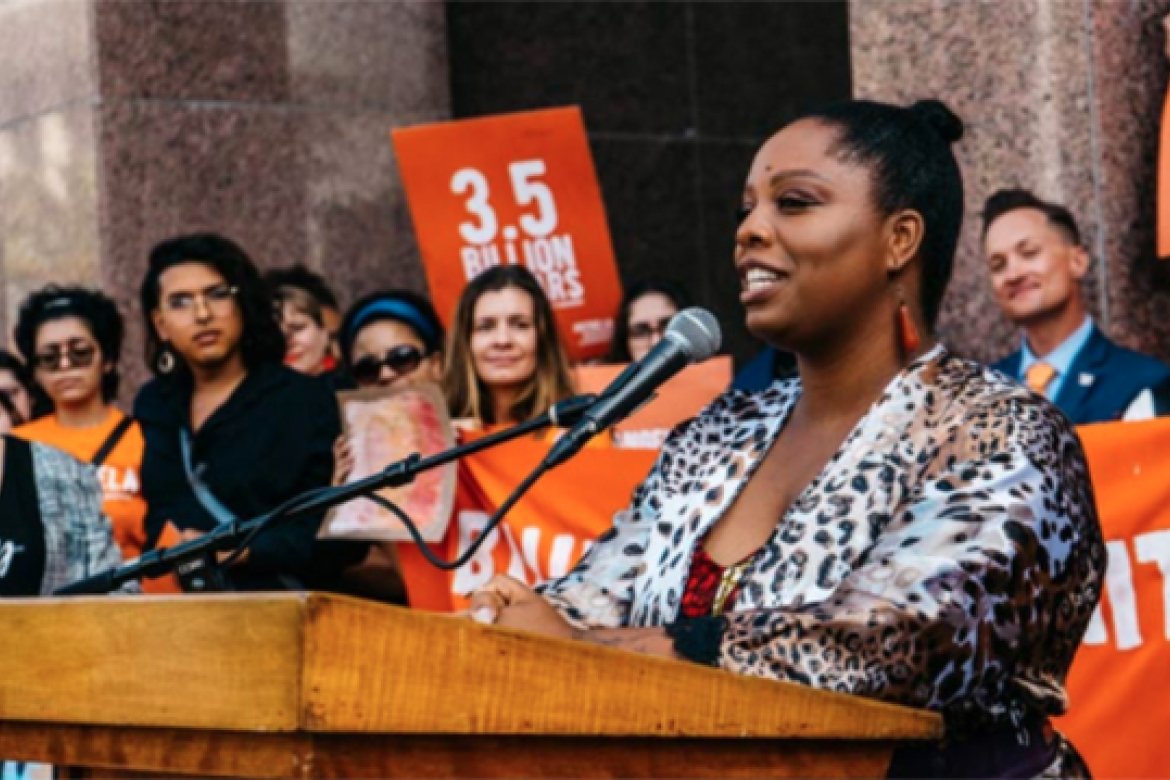 For Mount Holyoke's annual Hortense Parker day, Patrisse Cullors, co-founder of the Black Lives Matter movement, spoke about revolutionary healing.
For its annual Hortense Parker celebration, Mount Holyoke College hosted a talk by Patrisse Cullors, co-founder of the #BlackLivesMatter movement and New York Times bestselling author of "When They Call You a Terrorist: A Black Lives Matter Memoir." 
The talk, "Revolutionary Healing in a Digital World," was moderated by Riché J. Daniel Barnes, chair of gender studies at Mount Holyoke.  
During the talk, Cullors shared about the beginnings of the Black Lives Matter movement, the effects that COVID-19 has had on the movement, and her vision moving forward.
"We are hearing from Black people on the margins who are saying over and over again, Black lives matter," Cullors said. "We are here ... to build a new vision for our communities." 
That new vision includes actions such as the BREATHE Act, a bill that aims to divest taxpayer dollars from incarceration and discriminatory policing and instead, invest the money in other measures to support public safety, such as trauma-informed interventionists and mental health experts. 
Cullors said that the "defund the police" movement has been misinterpreted; really, she said, it's about small budget cuts. "The question always becomes, 'Who is safe?'" she said. "We know the police do not keep Black people safe. If we really believe all lives matter, you've got to care about your neighbors, your fellow human beings. Our vision is, shrink the police state and invest in social services that are life-giving." 
Barnes asked Cullors to discuss her thoughts around revolution, healing and love.
"Those may be the three things I think about the most!" Cullors said. "I think, most importantly, our movement comes from a place of love. I love Trayvon Martin, even though I didn't know him. There is a deep wound about the way we treat Black people. There's collective trauma. When we think about police officers, and their irrational fear of Black people, that's trauma. Confronting it is a form of healing."
Cullors turned her attention to why the summer of 2020 was so galvanizing for the Black Lives Matter movement, with protests happening worldwide. 
"A lot has to do with being in the house for five months," she said. "We haven't been as distracted. I remember people [protesting] in the streets in early June, saying 'I haven't worked in months … this is so sustaining to me right now.' There's so much more tenderness toward Black people right now. 
"I will say this: While our government feels incredibly disconnected from the real world, I am very proud and very hopeful about the people. We've called it the twin pandemics — racism and COVID-19. Now is the moment where we can imagine a new world."
The talk was sponsored by the student government's Students of Color Committee, the Weissman Center for Leadership and the Division of Student Life.