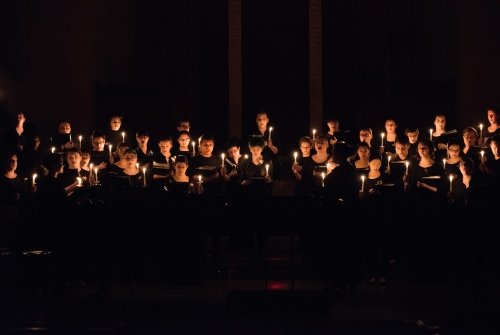 We know that music — choral singing especially — connects us with others and provides true recreation for the soul. Our singers often claim they leave even the most demanding rehearsals with new energy to face the long night ahead and to tackle that essay due in the morning or that lab report due yesterday! Performances and tours are among the true highlights of a college career, and friendships forged in MHC choral ensembles last a lifetime. Scroll down to learn more about the three different ensembles.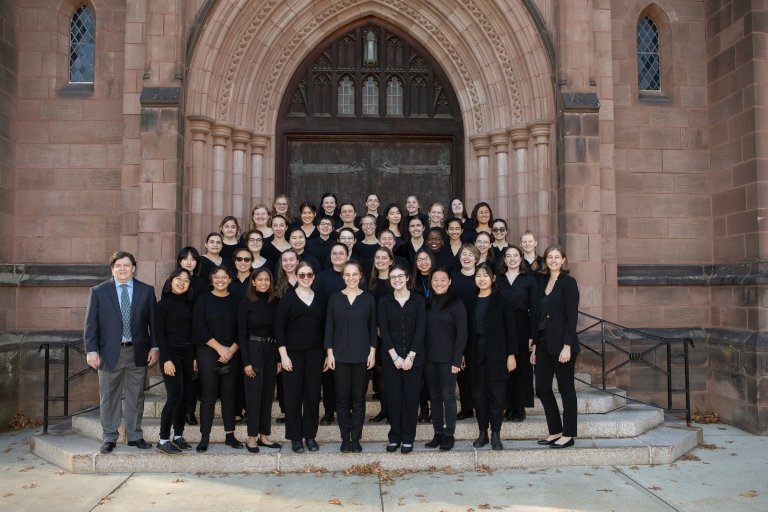 Chorale
The Chorale (Music 193) is an auditioned ensemble open to students, faculty, staff, and community members. The ensemble meets for rehearsals once a week. Students receive 1 academic credit per semester.
Each year, Chorale sings in a variety of languages and styles. Sight-reading and music theory are incorporated into rehearsals, balancing musical training with a performance-based curriculum. The bi-annual trips to Boston and New York for the annual Vespers concerts and a number of performances both on campus and in nearby communities are among the highlights of the year for Chorale.
Thousands of people have been involved in singing at Mount Holyoke College, and for many it began right here. If you are interested in belonging to a diverse and supportive musical community, you will certainly find that in Chorale. You will sing great music, make new friends, and have a wonderful time!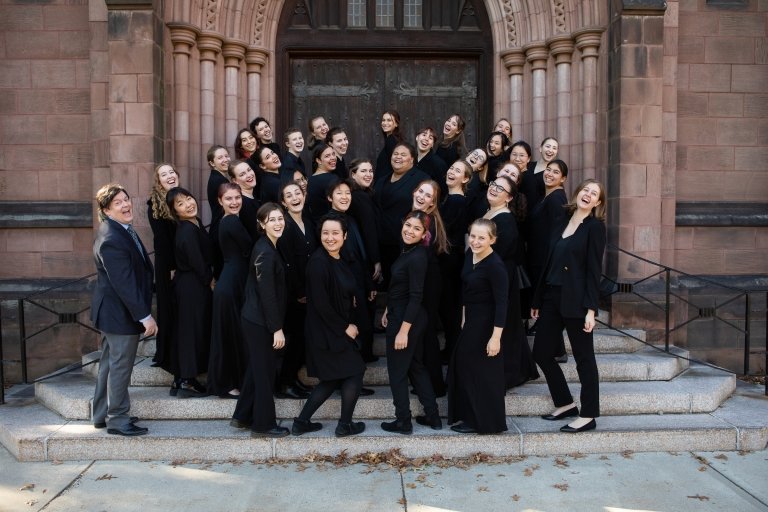 Glee Club
The Glee Club (Music 293) is an advanced auditioned ensemble open to students from all four classes, graduate students, faculty, and staff. The group meets for rehearsals twice a week. Students receive 1 academic credit per semester.
The Mount Holyoke Glee Club performs a wide range of music and explores advanced, innovative, and empowering repertoire for adult treble voices. The Glee Club prides itself in challenging expectations of what is possible for collegiate treble choirs, showcasing their diverse programming and rich array of sounds as they travel across the country and around the world. The group travels bi-annually to Boston and New York. Previous choral tours have taken the Glee Club to South America, Canada, England and Wales, Russia and Sweden, Germany, Austria and the Czech Republic, the former Yugoslavia, Spain, and Costa Rica, as well as to many parts of the United States.
Joining with some of America's finest collegiate tenor/bass choirs (most recently from Harvard, Cornell, Rutgers, and University of Virginia), the Glee Club regularly performs major choral/orchestral works, such as Haydn's Harmoniemesse, Brahms's Requiem, and Bach's St. John Passion.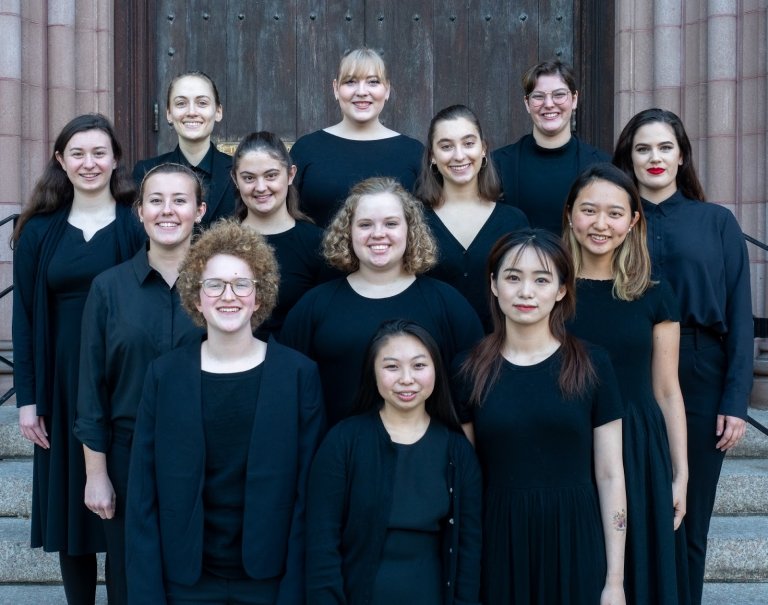 Chamber Singers
The Chamber Singers (Music 297) is a highly select chamber choir of 12–18 voices drawn from Glee Club and Chorale. Rehearsals are held once a week. Students receive 1 academic credit per semester.
Members of Chamber Singers usually possess excellent music reading skills and enjoy the greater independence of being one of just a few voices on a part. The group specializes in challenging repertory from the 20th and 21st centuries, but regularly performs works from varied musical periods and genres. While the students in the Chamber Singers are talented and accomplished musicians, they major in a broad range of academic subjects including music, gender studies, biology, politics, psychology and architecture.