Our professional and graduate institutes offer intensive credit and non-credit options. While both options provide you with valuable skills for career advancement and the opportunity to network with other professionals, they are geared towards learners with different goals and needs:
Credit vs non-credit options
Please note that after the class begins, it is not possible to switch between the noncredit and credit options. We are happy to discuss which option might be right for you, just contact us to set up an appointment.
Goals: 
Professional development
Transferable graduate credits
Official course transcript
An Institute "Professional Pathway"*
Course resources:
Can access all course tools and resources, e.g., online discussion boards, wikis and other communications and interactive tools.
Assignments & grading:
Required to submit all course assignments and will receive instructor feedback and grade.
Cost:
$880 per credit
Financial aid:
Eligible for a Community Scholars Scholarship
*The Institute programs have a "Professional Pathways" option for students who take at least 12 credits in courses reflecting the core competencies of each Institute. Culminating in a certificate of competency, these micro degrees allow students to acquire the skills to differentiate themselves and advance their career in a particular area of focus.
Goals:
Professional development or personal edification
Course resources:
Limited access to course tools and resources.
Assignments & grading:
May complete assignments, but will not receive a grade.
Cost:
$795 - $1590 per course
Contact Us
Mount Holyoke College has been on the forefront of providing a rigorous education to passionate changemakers who have gone on to break new ground in education, the sciences, the arts, public service and social justice movements for over 180 years.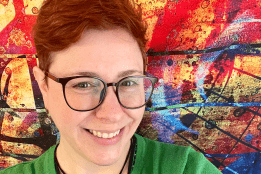 Admissions and Communications Coordinator