Christopher Benfey
Professor Emeritus of English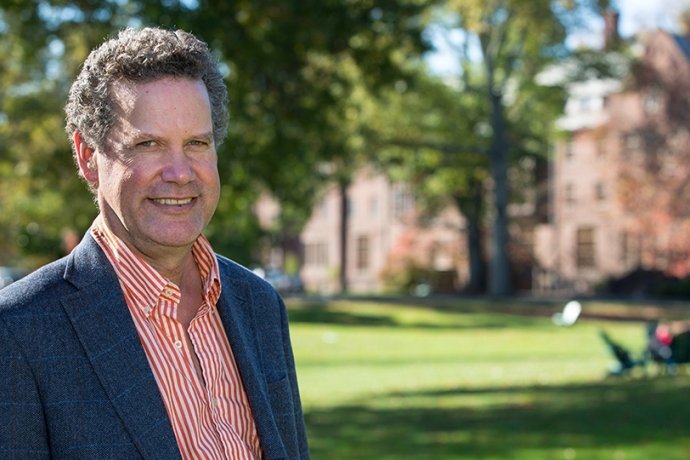 Christopher Benfey is Andrew W. Mellon Professor of English, where he has taught since 1989. He was educated at the Putney School, Earlham College, Guilford College, and Harvard (from which he holds a Ph.D. in Comparative Literature). He has held fellowships from the Danforth Foundation, the Guggenheim Foundation, the National Endowment for the Humanities, and the American Council of Learned Societies. In 2012, Benfey was elected as a member of the American Academy of Arts and Sciences, one of the nation's most prestigious honorary societies. In 2013, he won the Harold D. Vursell Memorial Award, of the American Academy of Arts and Letters, which is given to a writer whose work merits recognition for the quality of its prose style and brings with it a $10,000 prize.
A prolific journalist, Benfey served as the long-time art critic for the online magazine Slate, and is a frequent contributor to The New York Review of Books, The New York Times Book Review, and The New Republic, among many other publications.
A well known scholar of Emily Dickinson, Benfey is the author of four highly regarded books about the American Gilded Age. These include A Summer of Hummingbirds: Love, Art, and Scandal in the Intersecting Worlds of Emily Dickinson, Mark Twain, Harriet Beecher Stowe, and Martin Johnson Heade, which won both the 2009 Christian Gauss Award of Phi Beta Kappa and the Ambassador Book Award. He is also the author of The Double Life of Stephen Crane (1992); Degas in New Orleans (1997); and The Great Wave: Gilded Age Misfits, Japanese Eccentrics, and the Opening of Old Japan (2003). For the prestigious Library of America editions, Benfey has edited both The American Writings of Lafcadio Hearn and the complete poems of Stephen Crane. His edition of essays on the Iliad by Simone Weil and Rachel Bespaloff appeared as War and the Iliad (NYRB Classics, 2005).
Benfey's poems have appeared in The New Yorker, the Paris Review, and Ploughshares. His family memoir, Red Brick, Black Mountain, White Clay; Reflections on Art, Family, and Survival, is to be published in the spring of 2012 by Penguin. The book explores strands of Benfey's family involving brick-making, pottery traditions in North Carolina, and the pioneering educational institution of Black Mountain College.  
Areas of Expertise
Late nineteenth- and twentieth-century American literature; modern poetry; culture of the American South; connections between the United States and Asia; visual arts, craft traditions, and American culture; Emily Dickinson.
Education
Ph.D., Harvard University
A.B., Guilford College