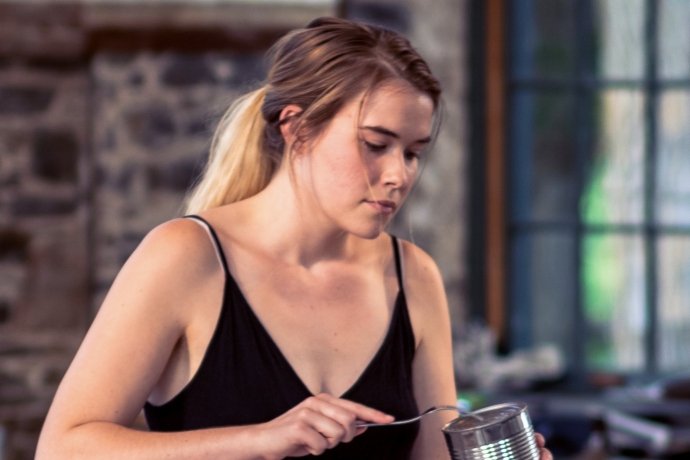 Madeline (Maddy) Dethloff is a percussionist and teacher based in western Massachusetts and the Hudson Valley. She is the primary percussion instructor at Mount Holyoke College in South Hadley, MA. Maddy is also involved in the APS program at Bard Conservatory of Music, teaching and mentoring the undergraduate students. Maddy has played with the Eschaton New Music Ensemble, Chatterbird New Music Ensemble, Roy Wooten's New Village Orchestra, Pioneer Valley Symphony Orchestra, and many others. 
As a soloist, Maddy was a winner of the Southern Adventist concerto competition in 2019, and performed Séjourné's vibraphone concerto with their orchestra in Collegedale, TN. In 2022, she performed "Castine" by Stuart Saunders Smith at the Roulette in Brooklyn, NY. As a fervent advocate for new music, she and Sam Carullo organized and performed a duo concert in the fall of 2019 to premiere five new works by composers from all over the country. Internationally, Maddy has premiered music by Lila Meretzky with the marimba virtuoso, Ji Hye Jung, in Cortona, Italy. In South America, she performed in Colombia with Orquesta Colombo Americana de Vientos and, in Buenos Aires, with colleagues Ignacio Corrales and Ayano Kataoka, as well as presented a masterclass at the Conservatorio de Astor Piazzolla.
Active in her community, Maddy worked at her local New Horizons band, leading sectionals and participating in concerts with the senior citizens of Northampton, MA. From 2021-2023, Maddy has been involved with the staff at the summer festival Yellow Barn in Putney, VT. Maddy has also worked for the Brooklyn-based percussion quartet Sandbox Percussion since 2019.
Maddy received her Bachelor's at Vanderbilt University studying under the direction of Ji Hye Jung and Lee Vinson. She is an MM graduate from the University of Massachusetts Amherst where she studied under Ayano Kataoka. She has attended summer festivals such as Cortona Sessions for New Music, Duff Timpani Masterclass, Chosen Vale Percussion Seminar, Sandbox Percussion Seminar, Sō Percussion Summer Institute, and others.
Education
M.M., University of Massachusetts Amherst
B.A., Vanderbilt University