Meg Pash
Visiting Lecturer in Music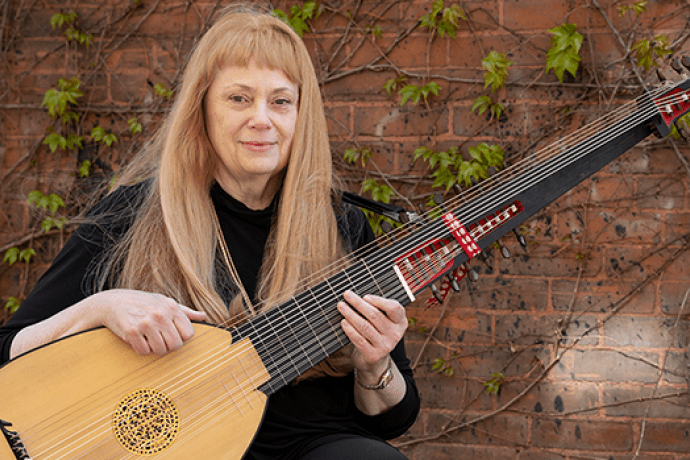 Meg Pash is a faculty member in the Five College Early Music Program where she is an instructor in Lute and Renaissance and Baroque dance, and directs ensembles including the Renaissance and Baroque Dance Band, 17th-Century Song Seminar, and Lute Ensemble.  As a singer, multi-instrumentalist, and dancer, she focuses on repertoires from the late medieval, renaissance, and early baroque periods.  She also frequently performs modern and traditional folk, and Americana.  Her teaching style is informed by performance practices across historical and modern genres and she is glad to work with students at all levels through collaboratively designed course content.
Meg Pash began her career as a professional musician at the height of the 1960s folk revival, singing and playing guitar in a coffeehouse in San Antonio while simultaneously studying classical guitar and voice.  She moved to Boston in the early 1970s to continue vocal studies at New England Conservatory, earning a Bachelor's degree  in Vocal Performance.  She discovered early music in grad school at NEC and went on to receive two Master's degrees in Early Music Performance, the first with a double concentration in voice and viola da gamba, mentored by Daniel Pinkham, the second in historical dance and lute, studying and later assisting Dr. Julia Sutton in a program that merged intensive training in renaissance and baroque dance with the study of dance-derived performance practice.   Following graduation she joined the New England Conservatory faculty, serving as Collegium Director, and teaching performance practice, music history and historical dance.  
Meg has performed in the U.S. and Europe with numerous early music ensembles including Boston Renaissance Ensemble, with whom she won the Noah Greenberg Award from the American Musicological Society for "distinguished contribution to the study and performance of early music," and Sequentia's U.S. tour of Hildegard's Ordo Virtutem.   She also has worked with many local ensembles including Arcadia, Cantabile, Schola Nova, and An Honest Callinge, with whom she enjoyed performing disreputable 17th-century tavern music at Historical Deerfield.  
As a liturgical singer she has been a soloist/section leader in the professional choirs of King's Chapel (Boston), Trinity Church (Boston), Church of the Advent (Boston), All Saints (Brookline), Temple Emmanuel (Marblehead), and is currently a soloist at South Congregational Church in Springfield. She served as Choir Director at New North Church (Hingham).
Meg has extensive experience as an educator.  In addition to her work at NEC, she was Director of the Boston Early Music Festival's Educational Outreach Program for many years, and has been an instructor for summer workshops in the U.S. and Europe, notably teaching with Julia Sutton at events sponsored by the Orff-Institut and the Norddeutsche Orgelakademie, and as a long-time member of the faculty of Mountain Collegium, sponsored by the Kelischek Workshop in Brasstown, NC.  She is also certified in Orff-Schulwerk,  Level 1.  Outside of early music, Meg was the Choir Director and taught classes in guitar, music history, audio technology, and the music business (including intellectual property and copyright) at Palmer High School for 21 years.  
Concurrent with being a performer and educator, Meg has significant experience in the related fields of arts management, production management, audio recording and live sound reinforcement, and instrument maintenance and repair. 
Merging her interest in folk and Americana with early music, Meg is a member of  the early music and crossover quartet AyreCraft (lute, viola da gamba, and voice), and the modern folk trio Muse3.1 (voice, viola da gamba, guitar, and electric bass).
Contact:  mpash@mtholyoke.edu