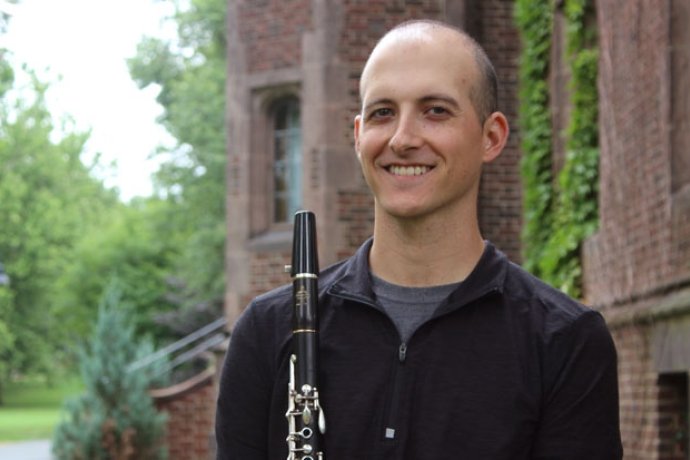 Michael Brignolo has been teaching clarinet throughout the Pioneer Valley since 2010. His students, ranging from elementary school through college, have achieved successful placements in various institutions and ensembles, including District and All-State festivals. His methods work towards bringing out each student's individual voice, building upon strong fundamentals, and providing the means to become as self-sufficient as possible.
 In addition to solo and chamber music, Brignolo performs frequently as a principal clarinetist with The Valley Winds, an artistically driven wind ensemble with an emphasis on community relevance. Winners of the 2016- 2017 American Prize in Wind Band Performance and participants in Boston's Festival Of Bands, The Valley Winds have collaborated with nationally acclaimed artists including Eric Berlin, Nadine Shank, Jonathan Hulting-Cohen, Fumi Tomita, Basil Reeve, Greg Spiridopoulos, Yoni Levyatov, Mary Hubbell, and Romie de Guise-Langlois. As a member of the 501(c)(3) organization, he has also participated in community outreach concerts, such as the Orchestra in the Orchard summer chamber series in collaboration with Small Ones Farm in Amherst, MA.
Brignolo was awarded UMass-Amherst's prestigious Howard Lebow Memorial Scholarship for demonstrating the highest standards of artistic achievement and participation in the life of the Music Department, as well as the University's Concerto Competition in 2011, performing Carl Maria von Weber's Concerto No. 1 in F Minor with the University Orchestra. His principal teachers include Michael Sussman and Steven Jackson. He has performed in master classes for renowned artists such as clarinetist Jon Manasse and the Imani Winds. He has also performed with the Keene Chamber Orchestra, Pioneer Valley Symphony Orchestra, and the Massachusetts Wind Orchestra. With an emphasis on theory and composition during his undergraduate studies, Brignolo also enjoys composing and arranging music. Most recently, The Valley Winds performed the world premiere of his wind band transcription of the first movement from Witold Lutoslawski's Symphony No. 1.
Education
B.M., UMass-Amherst, Clarinet Performance, 2009
M.M., UMass-Amherst, 2011