Announcing new positions and resources to support individuals with disabilities
Announcing new positions and resources to support individuals with disabilities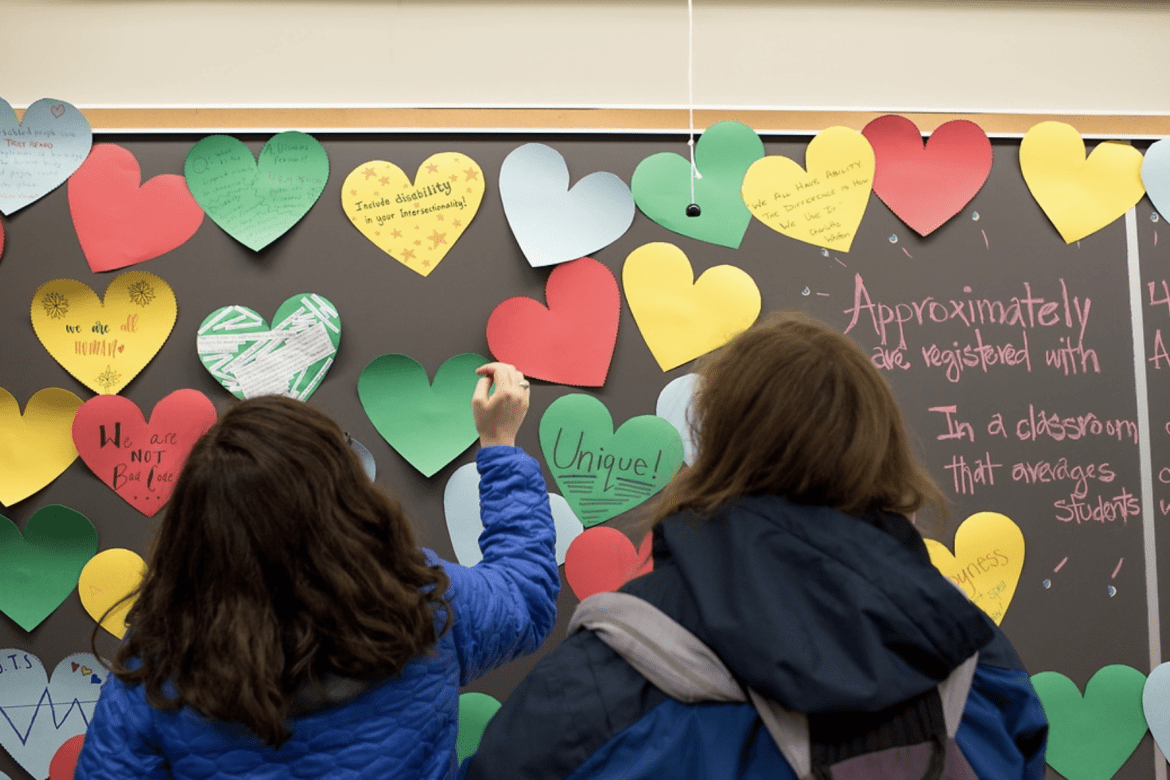 Updates around our community's ongoing work to create a just, accessible and equitable environment for people with disabilities.
Dear members of the campus community, 
On December 3 we marked International Persons with Disabilities Day. At Mount Holyoke, we are proud to recognize the importance of this day, to celebrate the rights of people with disabilities and to reaffirm our commitment to ensuring disabled people have equal access to educational and employment opportunities. 
In honor of International Persons with Disabilities Day, we would like to share updates around our community's ongoing work to create a just, accessible and equitable environment for people with disabilities.
In September, we convened a Disability Cluster Search Committee to actively search for three leaders to help shape our community's work toward this vision. These three practitioners will ensure that the College meets compliance with all applicable disability laws and policies in accordance with the Americans with Disabilities Act (ADA)/Section 504.of the Rehabilitation Act of 1973. They will work collaboratively to implement and develop best practices around accommodations, ensure spaces are accessible and that we are progressing toward our disability justice goals at Mount Holyoke College.  
We are recruiting for the following three roles:
As the search committee begins identifying finalists and planning campus visits, we invite you to be in touch if you are interested in being a part of the on-campus interview process. Please write Lauren Gaia at lgaia@mtholyoke.edu and Emily Dean at edean@mtholyoke.edu. 
We are also proud to share with you important resources we've developed with Dr. Mikiba Morehead, a national leader in the work to support individuals with disabilities. As a subject matter expert in the ADA/504 Compliance, she has led national trainings that key staff have participated in and conducted an anti-bias training with the Disability Cluster Search Committee. For the benefit of our campus community, she has also recorded two one-hour training videos. These captioned videos cover two topics: Creating Accessible Classrooms and Creating Accessible Programs. We encourage each of you to take time in the coming weeks to learn from these materials and to be in touch with your questions, concerns and/or ideas. 
The new positions and vision for creating a community that works toward dismantling ableism and providing ongoing education and support has been stewarded by the 504 Working Group, which began meeting in 2019 and is comprised of students, faculty and staff across campus. Their efforts join in, and seek to build upon, the extensive work of numerous student organizations, the DEI Advisory Committee and faculty-led groups that have continuously amplified the needs of our community. Together, we will continue to examine the policies, practices and strategies that need to be in place to ensure that Mount Holyoke works to build a more just and equitable community and world where disabled people are affirmed, valued and supported just as they are.
In partnership,
Penny Davis
Associate Vice President for Human Resources
Amber Douglas
Dean of the College and Vice President for Student Success
Interim 504 Coordinator
Kijua Sanders-McMurtry
Vice President for Equity and Inclusion
Interim Title IX Coordinator